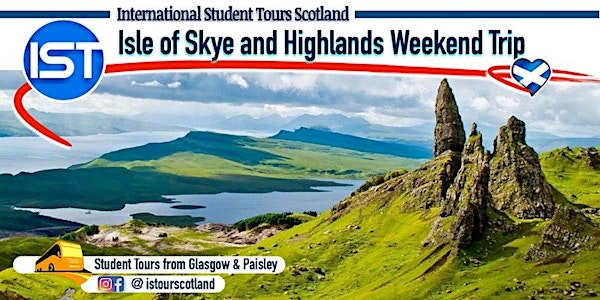 Isle of Skye and the Highlands Weekend Trip Sat 7 Sun 8 May
Location
We offer 2 Pick Up Points at Glasgow West End & Glasgow City Centre.
Departure: Main Gate of Glasgow University
University Avenue
Glasgow
G12 8QQ
United Kingdom
Isle of Skye & the Highlands Weekend Trip
About this event
💥IMPRTANT UPDATE:
PICK UP TIME CHANGED AS FOLLOWS:
07:2Oam, Strathclyde Business School
07:35am, Main Gate of Glasgow Uni
-----------------------------------
● Tour Highlights
Isle of Skye landmarks and the Highlands, hiking/walking, castles, lochs, glens, mountains, rivers, waterfalls, Highlands cows, overnight stay in a lovely accommodation with breakfast, a friendly knowledgable local tour guide and transportation.
● Ticket £120 and it includes
A return journey and transportation by a luxury coach with AC, TV screens and toilet
Accommodation in Isle of Skye and Breakfast
Fully guided tour with a friendly local guide and free time for sightseeing, hiking/walking, shopping and attractions
Visiting stunning and breathtaking landmarks in Isle of Skye and many great locations in the Highlands over 2 full days.
● Accommodation & Breakfast
Accommodation is included in your ticket. We will stay overnight in a lovely standard hostel situated in a beautiful location in Isle of Skye. Accommodations follow the UK Government's Guideline and you will receive more info on how to follow accommodation's guidelines by our team during the tour. You can choose a Shared Room (a shared female-only room or a shared male-only room or a shared mixed room) with friends or other guests in the group. Breakfast (a cup of tea and coffee with cookies) is also included in your tikcet.
● About the Tour and Itinerary 
Skye, a Paradise on Earth, is A MUST-SEE island of Scotland and this fantastic Weekend Tour will take you on a journey through the majestic Highlands of Scotland to the magical Isle of Skye for a fun weekend to enjoy absolutely breathtaking scenery and natural beauty with velvet moors, jagged mountains, sparkling lochs, rivers, waterfalls and towering sea cliffs.
Day 1, we will start to journey to Skye through the most picturesque places in the heart of Scottish Highlands. We will visit the Eilean Donan Castle, 5 Sisters of Kintail, 3 Sisters of Glencoe(filmed in Harry Potter and Skyfall), Fort William, Skye Bridge, Glen Garry, Buachaille Etive Mor, Loch Duich, Loch Tulla, Loch Lomond and more. We will also discover the beautiful places near our accommodation in Isle of Skye and will have time to explore before eating dinner at a local pub.
Day 2 includes a fantastic tour in Skye where we will visit the most iconic landmarks of the island. This will be the most exciting part of the tour as we spend plenty of time to absorb the true natural beauty of Skye with fantastic views and scenery! We will hike to the Old Man of Storr and we will take you to the exact locations filmed in Transformers 2, Prometheus and Harry Styles' song Sign of the Times. We will then journey to Lealt Falls where you will be amazed by the most magical gorge in Skye. This gorge was featured in Kanye West's album, Life of Pablo. You will also learn about the history and legends of Skye when we visit Kilt Rock, Mealt Falls, the historic Sligachan Bridge, River Sligachan, Loch Mealt, Loch Fada, Loch Leathan, stunning views overlooking the Cuillins (the highest peak in Skye) and the charming town of Portree, the Capital of Skye. We will enjoy a picturesque coastal lunch in front of the classic coloured houses at the harbor and have a chance to meet the locals! You will also have a chance to pet a famous Highland coo!
This weekend journey will sure be one that you will remember for years to come!
● Lunch
You will have plenty of time for lunch in restaurants on both days. You can also bring your own packed lunch if you wish so.
● Things to bring with you
Lots of smiles, a face covering, a camera, warm clothes, personal toiletries (toothbrush, towel, shampoo, a face covering, hand sanitiser, etc...), proper walking /hiking shoes and anything you think you may need during the tour.
Note
Tickets are very limited and are available based on first come, first served. 
TICKETS ARE NOT REFUNDABLE IF YOU MISS THE PICK UP POINT FOR ANY REASON.
● Find out more about Upcoming Student Tours on ISTS Eventbrite Page, Facebook Page, Instagram and  Website