A digital election hustings giving our main political parties an opportunity to talk about their active travel priorities for the borough
About this event
This hustings is jointly organised by
Islington Living Streets and Cycle Islington
With campaigning for the forthcoming local elections on 5 May gearing up, we need to understand what aspiring politicians will be focussing on regarding active travel. How will they improve conditions for people walking, wheeling and cycling, and end the domination of our streets by motor traffic ? How will they create a borough where children can walk or cycle safely to school ?
Sign up to ask questions of representatives of our main political parties.
Did you know?
Active Travel contributes to good physical and mental health
74% of Islington households do not have access to a car
Wealthy households are twice as likely to own car as poorer ones
Walking is the most common mode of transport in Islington
Traffic on London's local roads increased by 72% between 2009 and 2019 and we can't afford a car-led Covid recovery
It currently costs more to park a bike than a car in Islington - £107 a year for a place in a bike hangar and only £25 for an EV (Electric Vehicle)
The roamer parking scheme encourages short car journeys in the borough, exactly the trips which could be made by walking, wheeling or cycling
The hosts of this digital active travel hustings, Cycle Islington and Islington Living Streets, are delighted that André Langlois, editor of the Islington Gazette, has agreed to chair the event.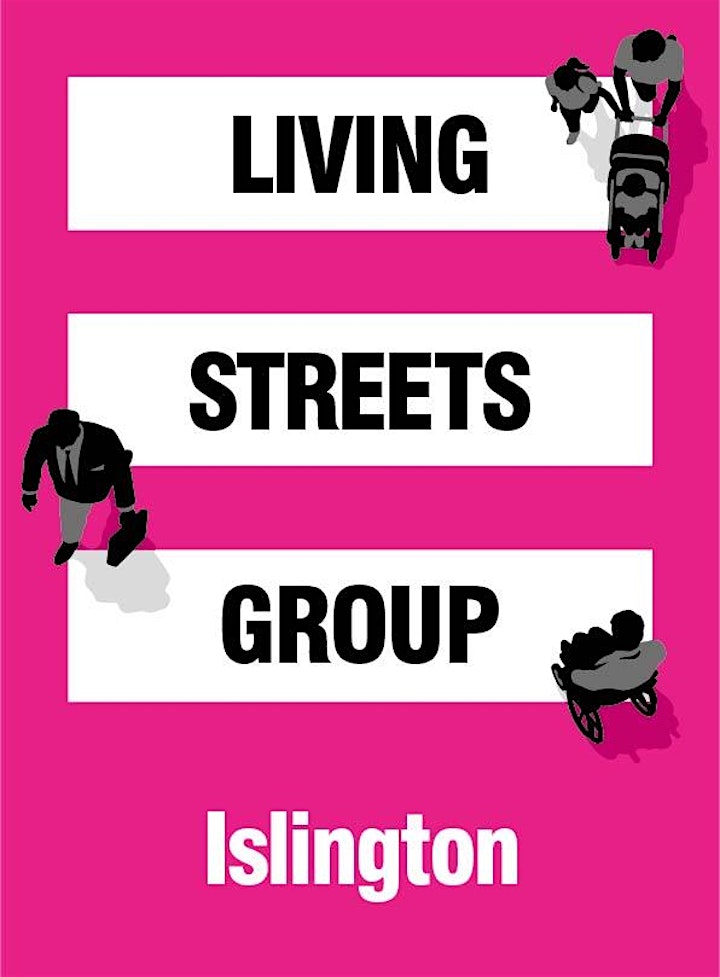 A Vision for Walking in Islington: 2022-2026
It's decision time. Over the next four years, the city faces a choice betweenbecoming a city where cars dominate increasing congestion, danger, carbon emissions and pollution, or a city that prioritises people, their health and wellbeing and the climate. 
Pedestrians are already at the top of the hierarchy of road users, and Islington has made huge improvements, but, in practice, motorists still get the most space and continue to dominate too many of our streets. Islington Living Streets is calling on candidates to support publicly policies that make walking safe and enjoyable and lead to a modal shift to walking. Our long-term vision is a city where walking is the primary and most attractive form of transport. These are the first steps towards that vision.
1) BOROUGH-WIDE LOW TRAFFIC NEIGHBOURHOODS AND SCHOOL STREETS.
2) A NETWORK OF WALKING ROUTES throughout the borough linking key destinations. We have launched an online map of Footways routes for Islington and Hackney has been launched. These routes provide a focus for further infrastructure improvements and greening.
3) SAFE ACCESS ACROSS ROADS - MORE AND BETTER CROSSINGS. Radii at side road junctions should be narrow and splays removed. Wherever possible side roads should be closed to motor traffic.
4) CLEAR FOOTWAYS - WIDE, CLUTTER-FREE AND WELL-MAINTAINED PAVEMENTS.
5) HIGH STREETS: improve conditions for shopping streets on main roads; pedestrianise local shopping streets/neighbourhood centres not on main roads along the lines of Exmouth Market
6) FAIRER PARKING POLICIES to support climate change, air pollution and traffic reduction policies. Wealthy residents are far more likely than poorer ones to own cars, but their parking permits are subsidised. It is time to change our streets by starting to replace some parking with other uses such as rain gardens, parklets and shared mobility hubs.
Compared with all other ways of getting about, walking is the healthiest, the cheapest and kindest to our planet and reflects the widest diversity of our local population. To create this truly sustainable, people-friendly city, we must put walking at the top of our priorities.
1) Protected cycle routes on all busy roads in the borough by 2026
2) People Friendly Streets (Low Traffic Neighbourhoods) to cover the borough by 2024
3) The creation of at least ten hubs, possibly on Council property, where all freight is delivered for final delivery by non-polluting, sustainable means – target May 2026
4) Bring forward the target date for reaching 90% sustainable transport modal share as measured by TfL from 2041 to 2030
5) Deliver secure, affordable and flexible bike parking and ensure that it is never cheaper to park a car or van than to park a cycle.
.More details about each of these on our website.