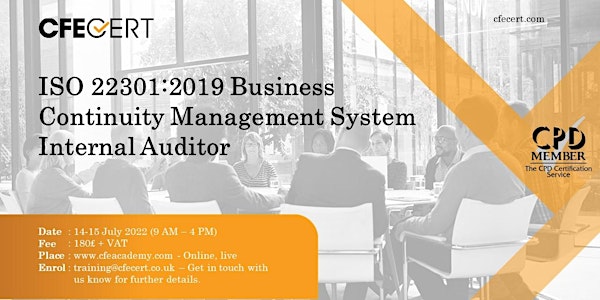 ISO 22301:2019 Business Continuity Management System Internal Auditor-₤180
For improve your knowledge about ISO 22301:2019, you should definitely join.
About this event
This course provides delegates with the knowledge and skills required to perform an internal audit of part of a business continuity management system based on ISO 22301 and report on the effective implementation and maintenance of the management system in accordance with ISO 19011.
With its foundations based on continuous improvement, the internal audit process offers your organization a strong understanding of preparedness for crisis situations. Internal audits also aid independent audits. So, the better your internal control, the better your Business Continuity Management System.
This two-day course gives a brief introduction and overview of the requirements of ISO 22301:2019 BCMS. The main aim of this course is to provide the knowledge and skills for participants to plan and perform effective internal audits on the ISO 22301:2019.
Our training is paid and your Eventbrite registration is for pre-registration purposes only.
The training fee is 180 GBP + VAT
Due to your registration here, when this training is settled, your invoice will be arranged and delivered to you in the information you specify before the course.
Our pre-registration link for our other courses in July;
https://forms.office.com/r/XZDZcpqJN5