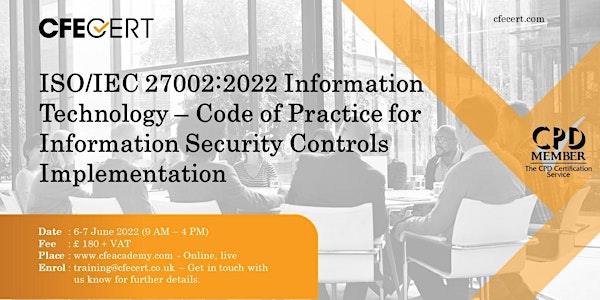 ISO/IEC 27002:2022 Information Security Controls Implementation - ₤ 180
For improve your knowledge about ISO/IEC 27002:2022, you should definitely join.
About this event
ISO/IEC 27002 was renewed in February. The content of this training has been revised considering the new version of 2022. The new version includes 93 controls divided into 4 sections.
ISO/IEC 27002:2022 is an international standard that provides guidelines for best Information Security management practices. These management practices will help your organizations gain confidence in their inter-organizational activities and implement an appropriate set of controls, including policies, processes, organizational structures, and software and hardware functions.
Since the ISO/IEC 27002 standard is associated with many standards and is a guide, it is very important to update your information according to the new version.
Our training is paid and your Eventbrite registration is for pre-registration purposes only.
The training fee is 180 GBP + VAT
Due to your registration here, when this training is settled, your invoice will be arranged and delivered to you in the information you specify before the course.
Our pre-registration link for our other courses in June;
https://forms.office.com/r/442tQd5tun