The 23rd annual ISPA Awards ceremony will take place in London on the evening of 4th November 2021.
About this event
We are pleased to say that the 2021 ISPA Awards will be returning as a live, physical event at Sheraton Park Lane on the evening of 4 November.
The evening will start with a champagne reception at 7pm with a sit down for dinner at 7.30pm.
The evening includes entertainment, a gala awards ceremony and a three course meal with wine.
The event represents and rewards the breadth of the UK ISP sector and winners are determined over a six-month process, following technical testing and deliberation by a panel of expert judges.
The awards categories include ISP categories including Best Business, Ultrafast, Rural and Consumer ISPs, Best Customer Service, Best Infrastructure Provider, Best VoIP, Social Impact Award and many more.... You can find the full shortlist at https://www.ispa.org.uk/2021-ispas-shortlist/.
The dress code is black tie!
Please visit https://www.ispa.org.uk/ispa-awards/ for more information.
If you prefer to pay by bank transfer please email to awards@ispa.org.uk
*If, for any reason beyond the Hotel's or the ISPA's reasonable control (including but not limited to regulations or orders of governmental authorities; travel alerts and/or travel warnings issued by the country of any of the proposed guests; coronavirus) it is impossible, impracticable or illegal for the Hotel or the ISPA to perform its obligations under the Agreement and host the event, all ticket fees will be refunded.
** All attendees will be asked to provide their contact details prior to the event and there will also be NHS 'check in' app available at the entrance to the venue.
***All attendees will be contacted prior to the awards and will be asked to provide their meal preferences -normal, vegetarian or vegan options and if they have any allergies.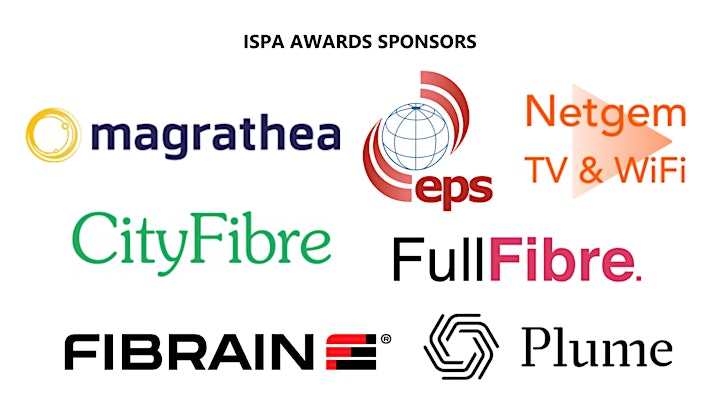 Organiser of ISPA Awards 2021
ISPA , the Internet Services' Providers Association, is the UK's leading trade association for the UK internet industry, representing the sector to government, politicians, the media and public.
Established in 1995, ISPA currently has over 200 members, from access providers and content platforms, to network security businesses and hosting providers.