A 3-day research conference centred on sport and physical activity for academics, professionals and the general public.
About this event
We are pleased to invite you to the 2021 Institute for Sport and Physical Activity (ISPAR) Conference, which will be held from Tuesday 21st to Thursday 23rd September via Zoom.
The full conference programme/abstract booklet is available here: https://www.beds.ac.uk/ispar/conference/
We aim to build on the our previous conference successes and deliver an exciting cutting-edge conference that will give us the opportunity to showcase the work of our students and staff, and explore opportunities for collaboration across the University and the wider community.
The conference programme includes keynotes from external expert speakers within the fields of physical activity, health, sport performance and physical education, and a wide range of presentations from our alumni and current ISPAR research students. Each day will be hosted by one of our three research centres, as follows:
Day 1 - Tuesday 21st September - Centre for Health, Well-being and Behaviour Change (10:00-13:00)
Day 2 - Wednesday 22nd September - Centre for Physical Education, Sport and Human Movement (16:00-18:00)
Day 3 - Thursday 23rd September - Centre for Physical Activity and Sports Performance (10:00-13:00)
Details of the specific presentations are shown below, which include the following keynotes:
Day 1: Keynote: 'Moving medicine: physical activity for the benefit of long-term conditions and public health within an at-risk occupational group', Dr Stacy Clemes, Reader in Active Living and Public Health, Loughborough University
Alumni keynote : 'Multi-component behaviour change interventions to reduce sitting time in office workers: findings from 2 cluster randomised-controlled trials', Dr Ben Maylor, Diabetes Research Centre, University of Leicester
Day 2: Keynote: 'Teaching culturally relevant PE', Albert Adeyemi, Physical education teacher
External speaker: 'Why not PE too?: Social justice teachings', Janelle Meisenheimer, Physical Education teacher
Alumni keynote : 'Socialised practice and its influence on our approaches towards the holistic development of young people through sport and physical education', Dr Michelle Flemons, Senior Lecturer in Physical Education, Sport and Youth Development, St Marys University
Day 3: Keynote: 'Sport science research on the H's – heat, hydration, hunger, high performance, and health', Dr Ruth James, Principal Lecturer in Sports Nutrition & Exercise Physiology, Nottingham Trent University
Alumni keynote : 'Enhancing golf performance through biomechanical analysis, Dr Jack Wells, The Professional Golfers' Association (PGA)', Dr Jack Wells, The Professional Golfers' Association (PGA)
Please contact ispar@beds.ac.uk with any questions.
Follow us on Twitter for regular updates: https://twitter.com/ISPAR_UoB
For those of you who have registered very recently, please see the following Zoom details for each day of the conference:
Day one : Join Zoom Meeting: https://beds-ac-uk.zoom.us/j/95580487050?pwd=U21uVThIS0YycC9rdWFzZ1VRQitFUT09. Meeting ID: 955 8048 7050; Passcode: 632169.
Day two: Join Zoom Meeting: https://beds-ac-uk.zoom.us/j/97920193266?pwd=aGxtTEZjM0dna0VlTEpZcUtoWVpodz09. Meeting ID: 979 2019 3266; Passcode: 733083.
Day Three: Join Zoom Meeting: https://beds-ac-uk.zoom.us/j/97535166127?pwd=T2U3ZWVTNm82TzUvZDM1dkhqL0tpQT09. Meeting ID: 975 3516 6127; Passcode: 134746.
Should you wish to view any of the presentations after the conference or require an alternative platform, we will also be live-streaming via you-tube. The you-tube links are as follows:
Day 1 : https://www.youtube.com/watch?v=-ob8zN0fbhM
Day 2: https://youtu.be/Xb2n1LoHfrY
Day 3: https://youtu.be/Y4qjSZkQVwI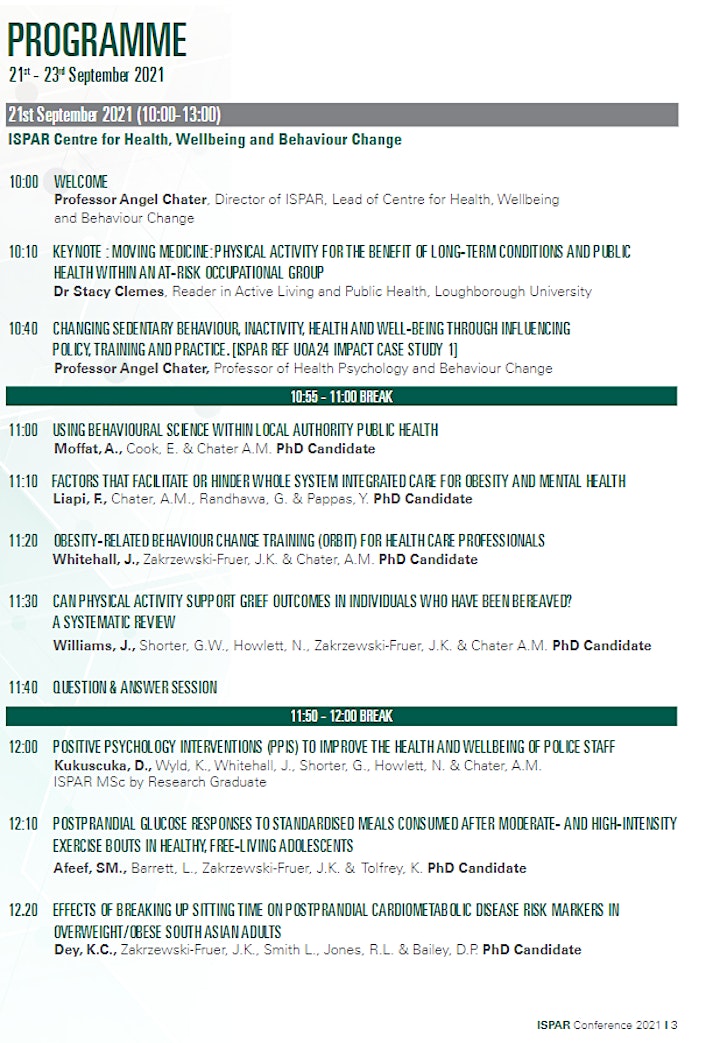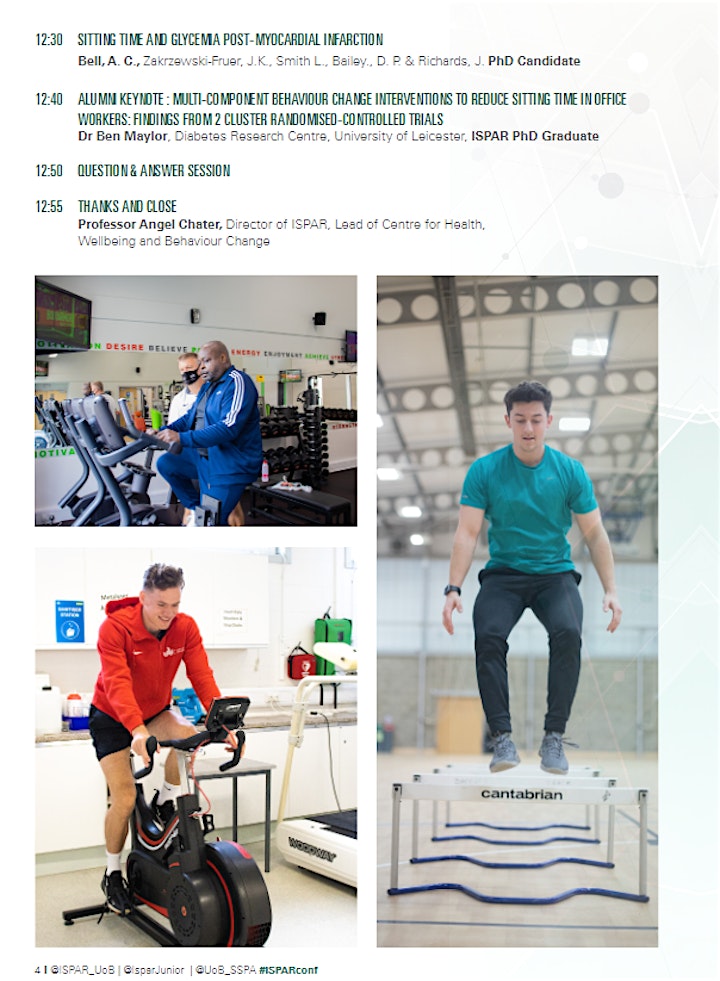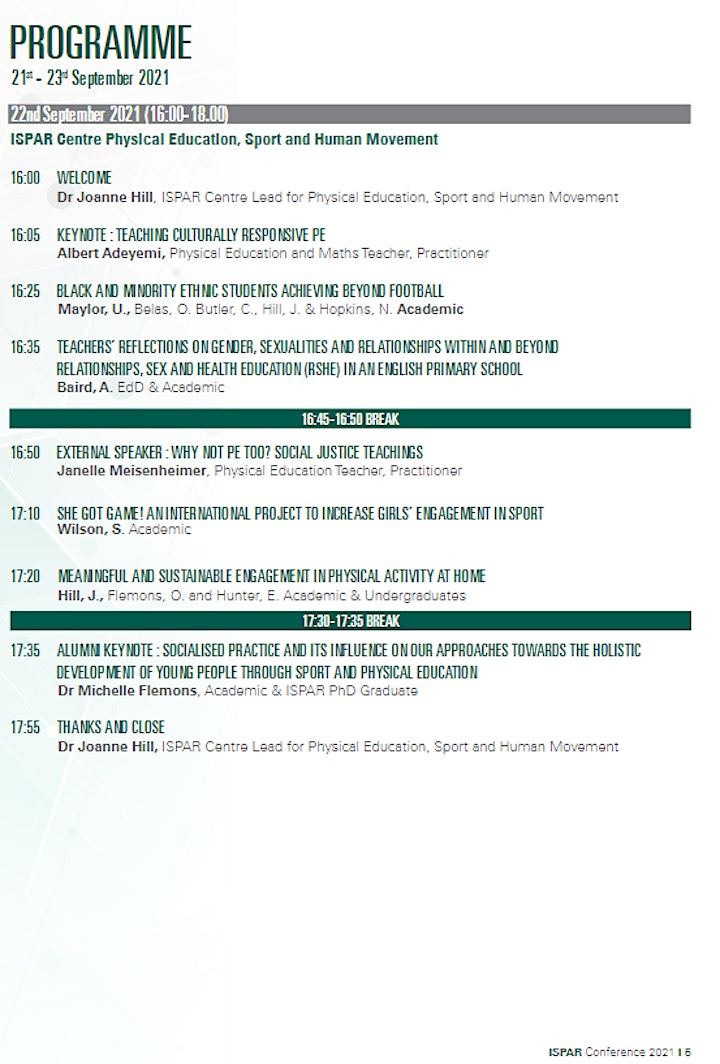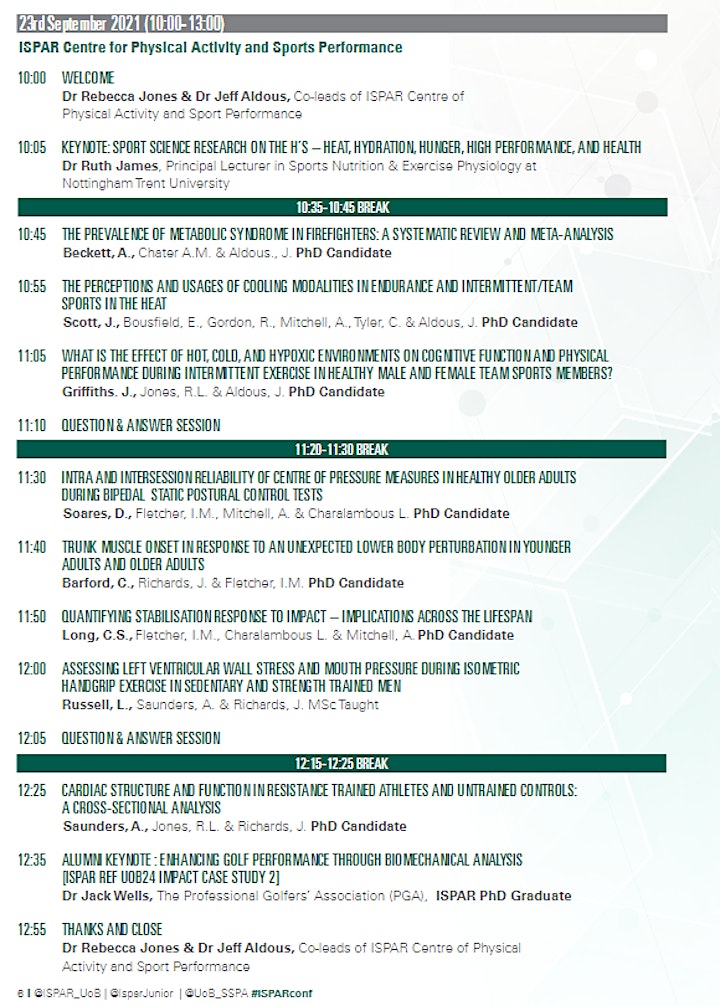 Organiser of ISPAR Conference 2021 - 'Improvement through Movement'