Free subject specific professional learning for Scottish Secondary teachers with an interest in embedding Global Citizenship Education.
About this Event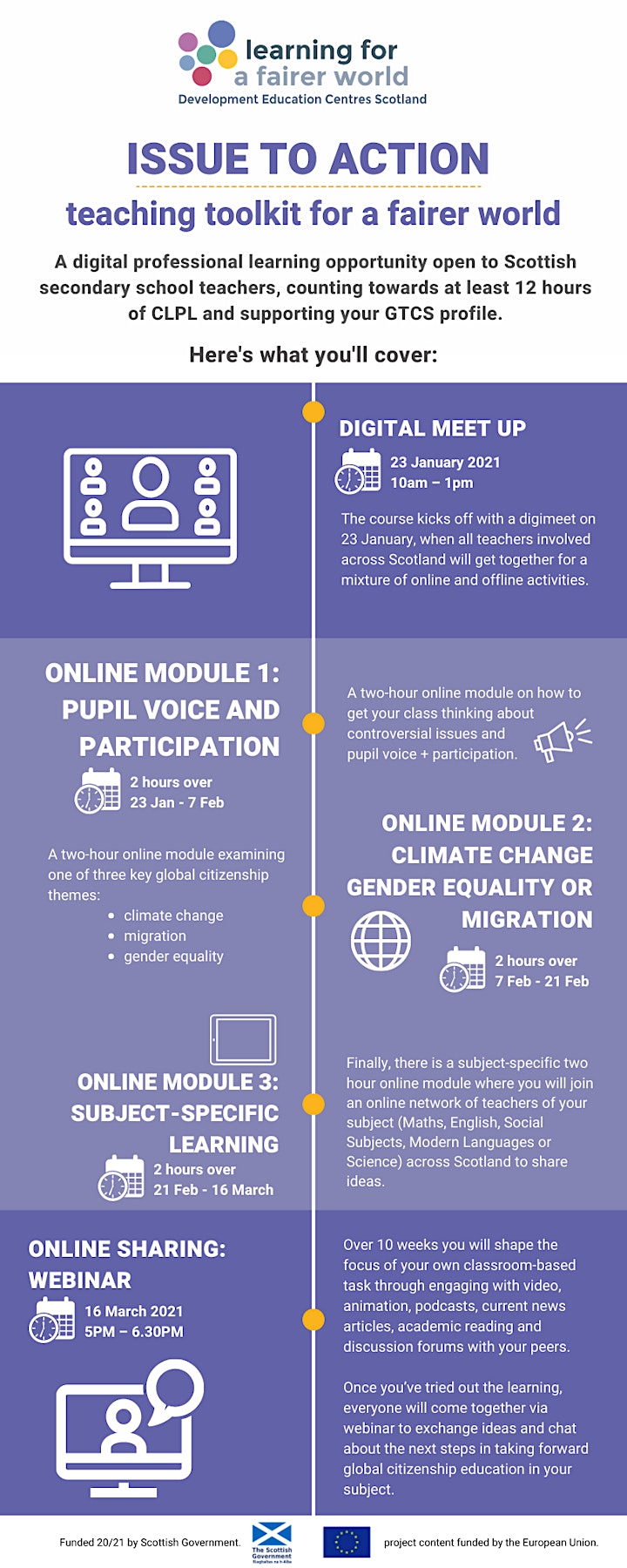 Issue to Action: teaching toolkit for a fairer world is free fully-digital professional learning open to all Scottish Secondary school teachers of Maths, English, Modern Languages, Science or Social Subjects interested in finding out more about embedding global citizenship education (GCE), part of LfS, in the classroom.
Join us online to begin your journey and connect with other teachers of your subject who are passionate about embedding global citizenship education in their practice. The course starts with a webinar on 23 January 2021 and then you are free to work through 3 online modules before joining course participants for a final webinar on 16 March 2021.
Find out more about the course on the Scotdec website.
You'll feel empowered to navigate GCE through the lens of your specific subject, exploring complex issues and ideas in a real-world context in your classroom while supporting your GTCS profile and providing demonstrable action towards the Scottish Government's Learning for Sustainability Action Plan.
You'll come away having undertaken a minimum of 12 hours of CLPL and a subject specific toolkit or classroom activities, along with inspiration, ideas, a network of like-minded practitioners and practical activities that will empower you to teach through a global citizenship lens.
The digital aspect of the learning provides you with flexibility – this course is designed to fit around and complement your day-to-day practice and create an interactive and participatory medium for all teachers involved.
Questions? Contact our Global Education Adviser Charlotte.
Data Protection
When you undertake free professional learning with the Scottish DECs we will continue to hold your information until this Scottish Government funded programme concludes. This is in line with the GDPR legitimate interest provision. We will always strive to be fair, transparent and lawful in the way we hold or use your information. You can unsubscribe from emails at any time.