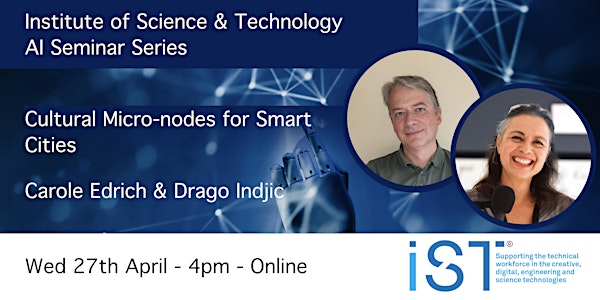 IST AI Seminar - Cultural Micro-nodes for Smart Cities
Sales Have Ended
Registrations are closed
Many thanks for taking the time to register for our event. We will contact you in due course to provide detalis of the access arrangements for the online sessions. We look forward to seeing you at the event
Carole Edrich & Drago Indjic are giving a seminar on culture and community in smart cities
About this event
The Institute of Science and Technology's AI group is excited to announce this latest seminar: "Cultural Micro-nodes for Smart Cities"
The human capital outperforms income and every other variable in the happiness of cities. Yet the "hard to reach", isolated and disenfranchised urban communities in deprived areas are inaccessible through traditional policy channels. We present a route towards unlocking the potential of these urban micro-communities and street-level creatives through engagement that respects their identity, empowers them, their surrounds, and the cities themselves while simultaneously benefiting creative freelance residence. The language of dance is the organic entry point to transcend multiple societal barriers, able to support the inclusion and self-empowerment. The movement vocabs by two dancers and their individual interpretations of alternate real and augmented reality views demonstrate the creative production, capture and non-verbal exchange between the highly diverse micro-communities. The captured digital identities, titles and contracts embedding the collective creative outputs reflect the individual and collective economic agency. The resulting structured, aggregated value tokens facilitate targeted impact and cultural policies and ultimately conflate the Smart City's ratings. The early-stage apps supporting the creative installations and multimedia communication are expected to enter fintech and legaltech accelerators in two countries.
With a portfolio career combining decades of risk consulting, program, project and change management-oriented work in banking, finance, risk and government alongside curation, production and communications in the arts and culture sector Carole Edrich is a person of many hats. She is founder of DanceGRiST (a very friendly incubator for people in the movement arts and related sectors), Trustee of Unlimited (the world's largest funder of disabled arts), Chair of the East London chapter of What Next? (a movement bringing together arts and cultural organisations in the UK to champion and strengthen their role in our society), regular writer and occasional Agile Scrum consultant, has contributed thought leadership to corporate governance, behavioural and reputational risk practice, and her own multidisciplinary artistic practice is around the curation of unique events that speak to the inclusiveness, effectiveness, financial and social values of dance and the movement arts along with its formal quantification.
After a long hedge fund industry career, comprising portfolio management and research roles at several hedge funds, a family office and a sovereign wealth fund, Drago has co-founded five funds and fintech ventures and started teaching at several business schools. He is a quantitative finance and data science practitioner, a Managing Director of Oxquant Ltd and a Dozent at Faculty of Computing, Belgrade, and an Industrial Professor at the University College London. He is a European Union expert, a member of the IEEE and the IET, still passionate about wicked, impact problems across the society and technology as @dindjic feed shows.
Attendees will be sent details of the Zoom link via email a couple of days before the event.
If you need any additional info about this event/group please contact office@istonline.org.uk