Join us in BRADFORD with Shaykh Hasan Ali as he delivers a Live Seminar titled: Istikharah Unlocked: The Artistry of God: How, Why & When?
About this event
Free Event, Reservation Compulsory,
Istikharah Unlocked: The Artistry of God: How, Why & When?
With the World Respected Shaykh Hasan Ali in BRADFORD!
Allah alone knows what is best for us, and there may be good in what we perceive as bad, and bad in what we perceive as good.
If unsure about a decision you have to make, there is a specific prayer for guidance (Salat-l-Istikharah) that you can do to, ask for Allah's help in making your decision. Should you marry this certain person? or should you attend this school? or Should you take this job offer or that one?
What will you learn?
-When should you make Istikharah-How do you if your Istikharah has been accepted
-What are the signs of an accepted Istikharah
-How to conclude after performing Istikharah
- Should Istikharah only be performed for marriage or for many different situations you may find yourself in
Join Shaykh Hasan Ali and book your FREE SEAT below now!
Price: FREE (Registration compulsory via the link below)
If any covid symptoms appear before the event, please take a test and confirm negative result before attending. A test is free via the NHS. *It is imperative not to put anyone at risk.*
1) Bradford: Thursday 14th October 2021
Venue: Horton Barn Lecture Theatre, Horton Building, University of Bradford, BD7 1DP
Time: 6:30pm-9pm (Doors open from 5:30pm)
Book your FREE seat here: WWW.ALBURUJPRESS.COM
By enrolling, you agree to Al Buruj Press being in contact with you and with regards to future events/courses and trips. Your information is not shared with any 3rd party.
IF YOU HAVE ANY COVID SYMPTOMS BEFORE THE EVENT, PLEASE TAKE A COVID TEST BEFORE ATTENDING.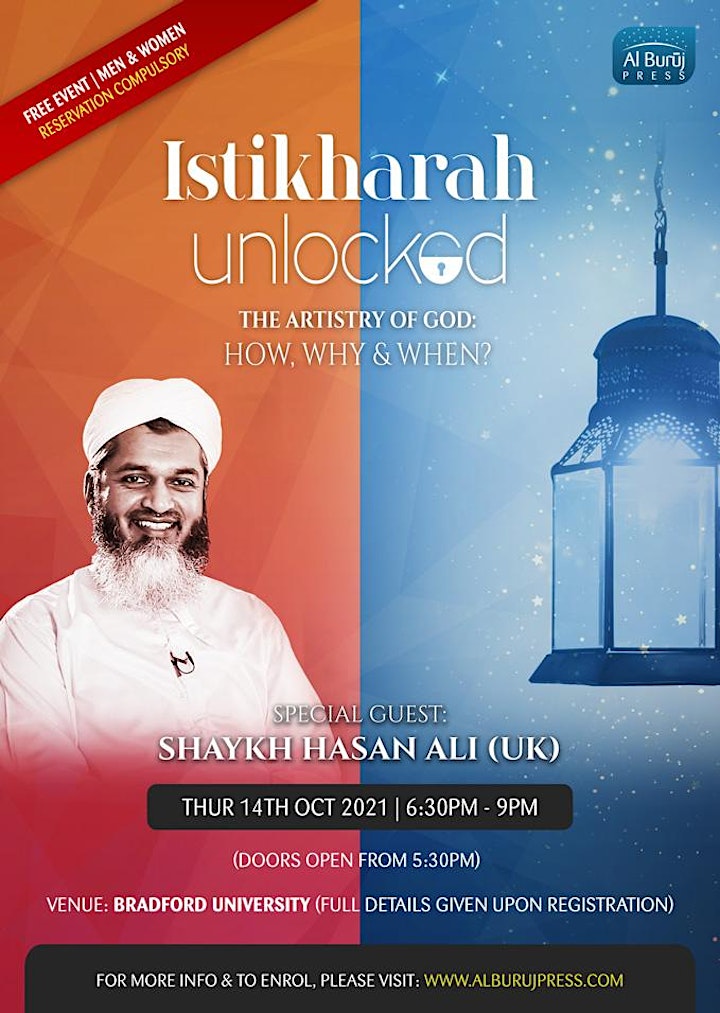 Organiser of Istikharah Unlocked with Shaykh Hasan Ali: BRADFORD: FREE!