Sales Have Ended
Registrations are closed
Thanks for registering for this online access to this event. We will send instructions on how to access the webcast to you over the next week.
Sales Have Ended
Registrations are closed
Thanks for registering for this online access to this event. We will send instructions on how to access the webcast to you over the next week.
Description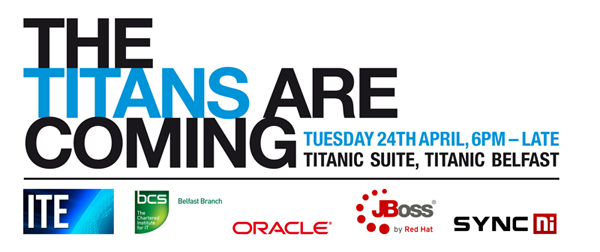 IT Events Network Belfast is delighted to invite you to the stunning Titanic Suite at the Titanic signature building in Belfast. Oracle Technology Evangelist and Java Rock Star, Simon Ritter and Mark Little CTO of JBoss at Red Hat, are the keynote speakers at what's possibly one of the biggest Java events ever held in Northern Ireland. This is an excellent opportunity for all levels of IT professionals, from students to hard core developers, to hear insights into what's happening in the Java space globally right now.
What's Happening with Java?
Simon Ritter, Technology Evangelist at Oracle Corporation and Java Rock Star, definitely knows the answer to this question. Originally working in the area of UNIX development for AT&T UNIX System Labs and then Novell, Simon moved to Sun in 1996. At this time he started working with Java technology and has since spent time working both in Java technology development and consultancy. Having moved to Oracle as part of the Sun acquisition he now focuses on the core Java platform and Java for client applications. He also continues to develop demonstrations that push the boundaries of Java for applications like gestural interfaces. Since acquiring Sun Microsystems in 2010, Oracle has made a clear commitment to the future of Java.
This session will look at what the current landscape is for Java SE 7 and JavaFX 2.0. Simon will then explore what the future holds for Java SE 8, 9 and beyond, as well as JavaFX 3.0.
Do Cloud and Mobile Signal the Death of Middleware?
Find out from Dr. Mark Little who leads JBoss technical direction, research and development. Prior to this he was SOA technical development manager, and director of standards. He was chief architect and co-founder at Arjuna Technologies, and Distinguished Engineer at Hewlett Packard when Arjuna was spun off. He has worked in the area of reliable distributed systems since the mid-80s. His PhD was on fault-tolerant distributed systems, replication and transactions. He is currently also a professor at Newcastle University.
Mark will explore how enterprise Java (particularly Java EE) has a critical role to play in Java-based PaaS and mobile solutions. Also how it can be used as a platform for other languages such as Ruby that are finding growing adoption in both of these areas. The requirements for real world Cloud or Mobile applications include reliability, security, fault tolerance and much more: things that your typical enterprise middleware developer has taken for granted for four decades. In this session Mark will discuss the needs for enterprise Java in both cloud and mobile and will also suggest how Java, the JVM and associated standards and communities need to evolve in order to better serve these two growing and important aspects of computing.
BCS IT Professional of the Year Award - Presented by Adam Thilthorpe
BCS Belfast Branch will present their prestigious IT Professional of the Year award at the event. The IT Professional of the Year award is an opportunity for the local technology community to share some of the exciting work being delivered by technologists in Northern Ireland. The quality of IT professionals currently working in the region is second to none and this is the perfect opportunity to highlight the achievements of some of our brightest stars.
Adam Thilthorpe joined BCS as a key account manager in 2005 but now leads the development of the Institute's professionalism in IT initiative. He speaks regularly at BCS and industry seminars and conferences engaging with companies and organisations that employ IT practitioners. He raises awareness of the changes in the profession; the challenges and the opportunities. Adam gained his early experience in the City of London with financial institutions JP Morgan Chase and Co and Georgeson Shareholder.
Event Details
17:30 - Registration opens and drinks reception
18:30 - Simon Ritter - What's Happening with Java?
19:10 - Q&A
19:20 – Adam Thilthorpe, Director of Professionalism of BCS – The Chartered Institute for IT will present the prestigious IT Professional of the Year Award
19:50 – Dr Mark Little – Do Cloud and Mobile Signal the Death of Middleware?
20:30 – Q&A
20:45 - Drinks reception and an opportunity to network with fellow guests
Places are strictly limited and are in high demand. If you haven't yet booked your place it is advisable to do so this week. If you've already booked your spot we look forward to seeing you there!

In the meantime tweet about it using #ITEBelfast OR join the IT Events Network LinkedIn group
There will be some very exciting information to be revealed this week on the Brightwater NI Facebook page which will be exclusive to anyone who "likes" the page.

We look forward to seeing you there!