Description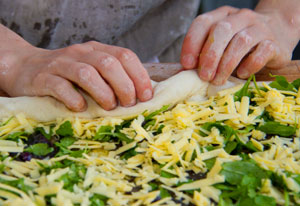 Wet doughs are the essential element at the heart of Italian breads such as Focaccia and Ciabatta. This one-day course will give you all the knowledge, skills and confidence to handle them and produce your own stunning Mediterranean classic breads.
Stone baked pizza is on the menu and you'll be creating it from scratch, with your own choice of toppings, then baking it in time for lunch.
We provide two course tutors to ensure that we are attentive to all of your learning needs. The teaching takes place inside the working bakery space, within a friendly and supportive environment. You'll be baking on the sole of the bakery ovens, exactly as our artisan bakers do day to day. When you leave you'll be taking with you all of your successful day's baking, recipes and full course notes.
Breakfast, lunch, tea/coffee, afternoon cake, refreshments and all baking ingredients are included in the price.