Erfülle deinen Purpose, deine Vision und deine Werte - erstelle in dieser 3,5h Live Coaching Session deinen persönlichen Actionplan!
About this event
Es ist 2022 und wir erleben eine globale Pandemie, die uns nachhaltig verändert. Wie führst du dein Leben ab sofort?
Es ist deine Chance etwas zu verändern. Genau jetzt! It's My Life ist eins der beliebtesten Remote-Eventformate der CoA Academy.
Werde dir klar darüber, was für dich wirklich zählt, um das Leben zu leben, das dich erfüllt.
An diesem Tag nehmen dich unsere professionellen Leadership-Coaches mit auf die Reise, um deinen ganz persönlichen Purpose zu entdecken und deine Vision und deine Werte zu definieren und deinen persönlichen Actionplan für die nächsten 3-6 Monate zu entwickeln.
Nimm deine Zukunft in die Hand.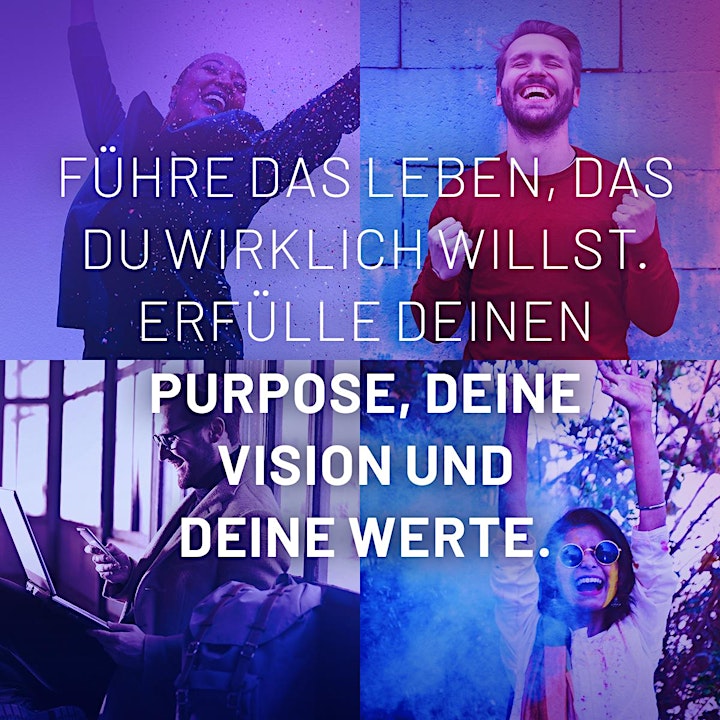 Die 4 Schritte von It's my Life
1. Entwickle deinen persönlichen Purpose
Im Kern geht es um das Warum, Wozu bin ich hier? Es mag groß klingen, doch keine Sorge - wir bringen dich mithilfe einfacher Übungen der Antwort auf diese Frage näher.
2. Wo willst du hin?
2022 ist genau der richtige Zeitpunkt für dein neues Ich – wo möchtest du einmal stehen? Mit anderen Worten, was ist deine Vision?
3. Wie erreiche ich das?
Hier geht es um dein Verhalten. Es geht darum, was dir wichtig ist. Wir nennen das oft unsere Werte.
4. Was sind meine Strategien?
Gemeinsam finden wir heraus, was notwendig ist, um deine Vision zu erreichen und bereits in diesem Jahr richtig durchzustarten.
So wird deine Vision Wirklichkeit!
Über deinen Coach Michael Portz
Michael hat über 25 Jahre Erfahrung als Manager, Unternehmer und Coach. Er hat zahlreiche Marken etabliert und Teams mit bis zu 2.500 Leuten geführt. Teil seiner Vita war der Aufbau eines Unternehmens von 0 auf 400 Mitarbeiter mit einem Umsatz von 500 Millionen Dollar innerhalb von vier Jahren. Das Unternehmen erzielte bei Börsengang eine Marktkapitalisierung von 2,2 Milliarden Dollar. Als Serienunternehmer liebt Michael es, echte Vertriebs- und Marketingmaschinen aufzubauen.Mit seiner jungen Familie hat er bereits auf der ganzen Welt gelebt und Unternehmen in den USA, in Europa, Afrika und im Mittleren Osten geführt. Macht euch gefasst – gebt ihm ein Klavier und ein Glas Wein und er singt vielleicht ein paar Lieder für euch!Michael hat während seiner intensiven Berufserfahrung nicht nur viel über sich selbst und das Leben gelernt, sondern auch, was ihm wirklich wichtig ist und wofür er all das macht. Heute möchte er Menschen dabei helfen, entspannt produktiv zu sein und seine Erkenntnisse darüber, wie dies gelingt, teilen. Er ist außerdem Co-Autor von "Chief of Anything" – dem besonderen Buch über Leadership, auf Amazon mit 5 Sternen bewertet.
Organiser of It's my Life! - Führe das Leben, das du wirklich willst (Deutsch)
CoA Academy offers hands-on remote leadership programs to help people to grow together in a community of leaders and to be the best leader YOU can be. We are convinced that you will achieve even more in a relaxed and productive flow state. This is what we strive for - for ourselves and for all people in the world.