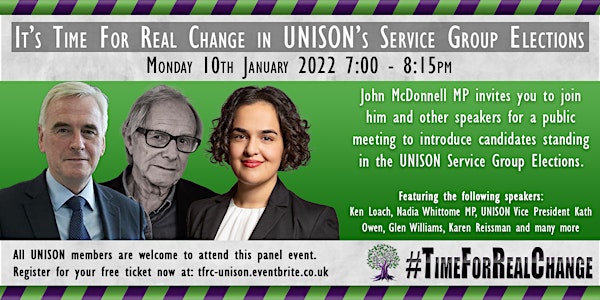 It's Time For Real Change in UNISON's Service Group Elections
Sales Have Ended
Registrations are closed
This event has now ended.
John McDonnell MP invites you to join him & other speakers for a public meeting to introduce candidates standing in the UNISON SGE Elections
About this event
UNISON has Service Group Executive elections taking place in 2022. The election process will start with a branch nomination period which kicks off on Monday 10 January, and culminates in members' voting from April.
UNISON's 7 service groups lead the bargaining and negotiation strategies within every sector of public services which UNISON operates within. The members elected to represent you on your SGE need to have a viable and ambitious programme for change, if we are to reverse a decade of stagnating wages and terms and conditions.
Many candidates in these important SGE elections share the Time For Real Change vision for a truly member-led union and if elected will be seeking to transform our union into a fighting, democratic and accountable force. This work will be taken into the Service Groups where UNISON needs a major overhaul in how it negotiates and bargains for members.
UNISON member John McDonnell MP will host this public meeting about the SGE 2022 elections, with a fantastic line up of speakers anticipated.
Find out what to expect with these Service Group elections and how your branch can take part and what you can do to help get Time For Real Change candidates elected!
The following speakers are confirmed:
• John McDonnell MP, UNISON member and the People's Chancellor
• Kath Owen, UNISON Vice-President
• Nadia Whittome MP and Carer
• Glen Williams, Local Government SGE Chair
• Karen Reissman, Health SGE member
• Mobina Begum, Higher Education SGE Chair
• Saoirse Fanning, Community SGE member
• Ken Loach, Legendary film maker and socialist
• Paul Holmes, UNISON President