A panel discussion featuring experts on the issue of racial disparity in the Youth Justice System with audience Q&A. Hosted by EQUAL.
About this Event
The school to prison pipeline is alive and well in the UK.
The disproportionate exclusion of black boys by schools leads to a stark over-representation of black youth in the youth justice system. The figures speak for themselves.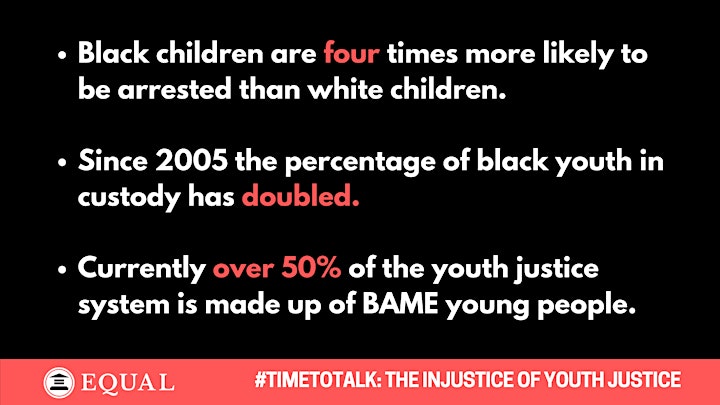 (Sources: Youth Justice Stats 2019/2020; The Guardian 2019)
What's more, whilst the numbers for black youth entering the system is heavily increasing, the figure for white children is decreasing. This is an injustice and shows an institutional failure towards BAME youth, particularly black boys.
What's happening?
Where does this problem begin?
What meaningful action can be taken to stop the Youth Justice System failing black boys?
On Wednesday 25th November, EQUAL (Action for Race Equality in the Criminal Justice System) brings you the chance to have your questions answered on #TimeToTalk.
Hear from leading BAME voices within the Youth Justice System. Our panellists include:
Keith Fraser is a former British police officer, with a career spanning more than 30 years. He currently Chairs the Youth Justice Board, a non-departmental public body responsible for overseeing the youth justice system in England and Wales.
Neena Samota is Programme Director for Criminology and Sociology at St. Mary's University and has monitored ethnic disproportionality in the criminal justice process through prior work with NACRO (the crime reduction charity) She also sits on the EQUAL Advisory board.
Sammy Odoi is a social worker and founder of Wipers Youth CIC, a social enterprise dedicated to engaging and empowering disadvantaged and vulnerable young people. He also sits on the EQUAL Advisory board.
The event will be chaired by a member of EQUAL, an independent advisory group tackling the racial bias in the criminal justice system.
We are committed to improving outcomes for BAME youth and want to start a meaningful conversation around widening disproportionality of young BAME boys that exists in our youth justice system.
Find out more about EQUAL (a BTEG project) and what we're doing to champion and lobby for racial equality in this area and more, here.
It's #TimeToTalk about the injustice of youth justice.
Please bring your questions. We look forward to hearing from you.