Event Information
Refund Policy
Refunds up to 30 days before event
Eventbrite's fee is nonrefundable.
About this Event
This Black History Month life-writing special encourages you to explore and evaluate life experiences that make powerfully inspiring stories. These stories can be of your direct or cultural ancestors or a celebrated icon. Every life is worthy of such exploration and consideration about how it relates to the personal, collective, social and community experience. Whether tragic, uplifting or infamously notorious autobiographical and biographical narratives are wonderfully inspirational.  This is the basis of our Autobiography, Biography and Memoir workshop.
Small group interaction and exercises aim to enable participants to free their imagination and develop a voice through which they can express their own style and rhythm in writing. The workshop is open to anyone who enjoys writing or desires to write; whether a beginner or experienced. This is a unique workshop that also encourages personal development through exploring questions of self and cultural identity, especially focused on themes of Black History, the personal, the collective, the political, the social, the creative experiences that matter to you.
Workshop facilitator: Dr Michelle Asantewa
Dr Asantewa formerly taught English Literature, Editing and Creative Writing at London Metropolitan University and currently facilitates writing workshops as an Independent Scholar. She set up Way Wive Wordz Publishing, Editing and Tuition Services, an education platform to accommodate a range of learning and creative aspirations. Her first novel Elijah and poetry collection The Awakening and Other Poems were self-published in 2014. Guyanese Komfa: The Ritual Art of Trance - her PhD thesis, Something Buried in the Yard and Mama Lou Tales: A Folkloric biography of a Guyanese Elder, were published in 2016. She is currently co-facilitator of The Amazing James Baldwin Course and African Women Resistance Leaders: Spiritual and Political course, both held at New Beacon Books/George Padmore Institute.
OTHER WRITING COURSES:
Saturday 10th October : Come Ancestors Come: how to create a basic altar for African Ancestors (
Wednesday 28th October: Identifying Your Voice (18.30pm - 20.30pm)
Thursday 5th November : What is Sexual Abuse Versus Sacred Sexuality and the Feminine Divine (6.00pm - 9.00pm)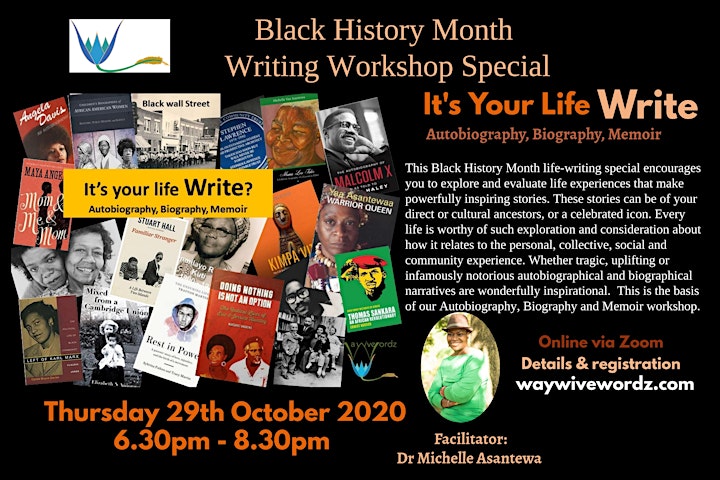 Date and Time
Location
Refund Policy
Refunds up to 30 days before event
Eventbrite's fee is nonrefundable.