Description

The iVentureTuesday Speaker Series features a new programme of talks given by prominent members of the business community. The programme seeks to inspire and motivate those who wish to develop their careers in different directions or have entrepreneurial ambitions.


Sir Tom Farmer CVO, CBE, KCSG, FRSE, DL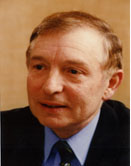 "People make the Business".
Sir Tom is the founder of Kwik-Fit, one of the World's largest automotive parts repair and replacement specialists. He has spent all of his working life in the Tyre and Automotive industry.
Tom Farmer is an excellent speaker, being able to use his experience as a Captain of Industry to bring in themes of leadership and motivation.
Format
18:00 - Registration
18:30 – Lecture
40mins lecture
20min Q & A
19:30 – Networking Drinks