Description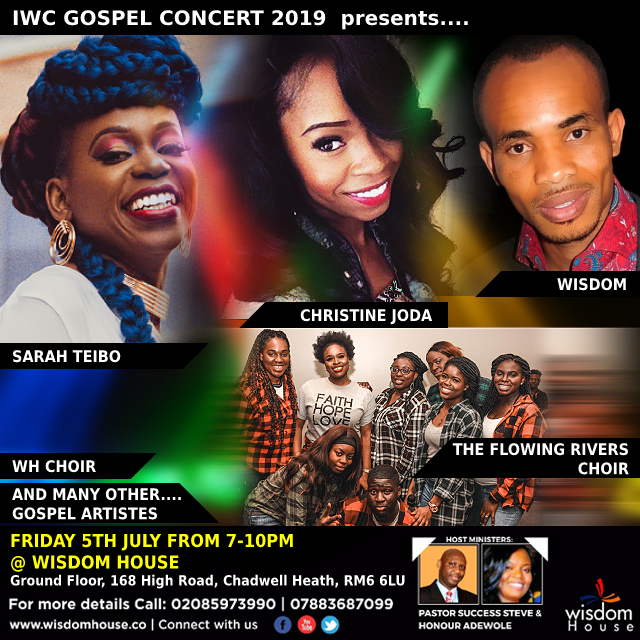 ---
ABOUT THE ARTISTES:

---
SARAH TÉIBO
Sarah Téibo is a breath of fresh air to the UK contemporary and urban gospel music scene. With the Lord's Inspiration and guidance she has shaped her own musical ministry with a unique style that echoes classic musical influences, polished with Gospel to create a soul stirring sound that is evident in all her ministrations.
A prolific vocalist and songwriter, having performed and ministered in Gospel choirs from her teenage years and shared the stage with some prominent artists including Grammy award winning Charles Jenkins and Noel Robinson, Sarah learnt the importance of faith in God and started writing music as a teenager when her family was faced with eviction and the threat of homelessness.
Her vision is to take Gospel Music out of the church and into the world, according to the great commission in Mark 16:15 and true to this, she unveiled her debut album 'Walk With Me' with her own headline gig at the prestigious 606 Jazz club in London in 2016, and her sophomore album 'Keep Walking' at the Pizza Express Live Music Venue in June 2018. Both albums are available to stream or download on all music platforms.
Following the release of her debut album in 2016, Sarah won a string of awards for the excellent execution of the Gospel message through her music and even bagged a MOBO nomination for Best Gospel artist in the same year.
Sarah is married with two children and attends Kings Church London where she serves in the worship team, children's church and also as a marriage counsellor.

---- Watch Sarah HERE for a taste of what awaits you at the Concert ----
---
WISDOM
Wisdom is a passionate Psalmist with a desire and corresponding action to lead souls to God through the only instrument he knows how to....songs of Praise and Adoration to God.

---
CHRISTINE JODA
Christine Joda is a psalmist who leads people into the presence of God. She is a member of Christ Chapel International Churches (CCIC UK) where she leads Worship and serves as a coordinator in the Youth Ministry. To date, she has ministered around the UK as well as in Nigeria, America and Amsterdam sharing her gift and bringing the message of the hope of Christ wherever she goes. Her desire is to continue pouring into others as Christ pours into her and to create atmospheres where people encounter God.

---
THE FLOWING RIVERS CHOIR
The Flowing Rivers Choir, of Flowing Rivers International Ministries, are a passionate and vibrant group who have had the honour of ministering across the globe including in Kenya during missions trips. Their mandate is to birth life through worship.

---
Don't miss the inspiring and glorious opportunity to be blessed by these anointed Gospel Music Ministers. This IWC Gospel Concert 2019 promises to be an evening of lifting up and magnifying our God, our Maker, our King and the One we called Abba, Father.

For all His children, God promises "….to give unto them BEAUTY for ashes, the oil of JOY for mourning, the garment of PRAISE for the spirit of heaviness; that they might be called trees of righteousness, the planting of the Lord, THAT HE MIGHT BE GLORIFIED." (Isaiah 61:3 - KJV).
You will certainly be blessed as you come in Jesus Name!