iwibdus Festival: Challenge yourself to a full business makeup tutorial
Challenge yourself to a full business makeup tutorial with Erika Brunzel
About this event
iwibdus Festival - 8 March, 8 Challenges
Let's Connect, choose a challenge and celebrate the International Women's Day together
__________________________________________________________________________________________
Challenge yourself to a full business makeup tutorial with Erika Brunzel
Join Erika for a full business makeup tutorial. Just 15 minutes to looking and feeling more confident. In this 15 minute session, demonstrate on herself, Erika will show you how to achieve great business professional makeup with a few easy products.
About Erika Brunzel:
Originally from Romania, Erika lived in Cyprus for almost 8 years before moving to Germany 3 years ago. After moving to German, she followed her passion in make-up, becoming a professional make-up artist. Erika loves sharing her passion for beauty with others. Through individual make-up lessons she teaches women how to look good with less effort and a small budget.
https://www.facebook.com/BlueBelleMUA
https://www.instagram.com/makeupbybluebelle/
#bluebellemua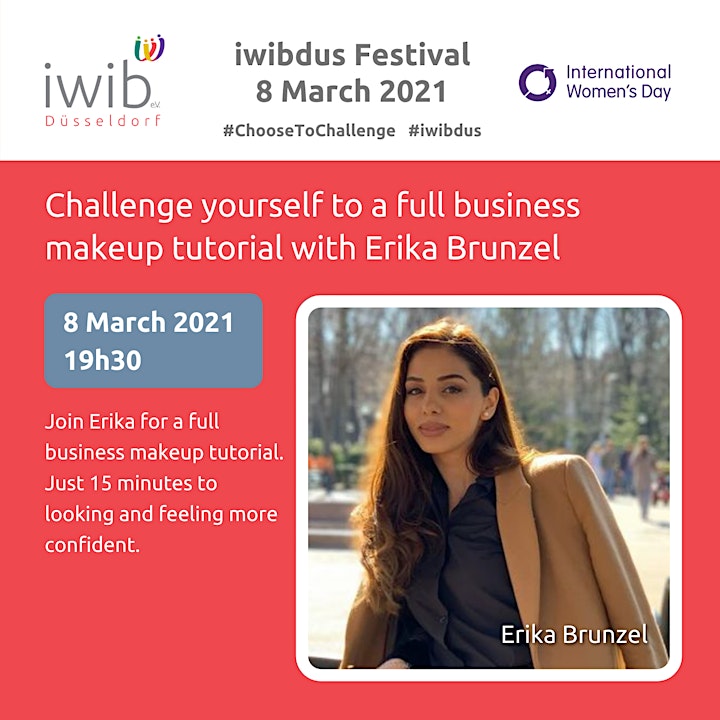 Organiser of iwibdus Festival: Challenge yourself to a full business makeup tutorial
The International Women in Business Düsseldorf e.V. (iwibdus) is a registered non-profit group that supports internationally-minded women living in the Düsseldorf area with the aim of empowering and developing them in such a way that they are better able to achieve their goals and make the most of their talents.
We aim to create a safe space where women can feel empowered, share their professional and personal goals, and find support to achieve them. We connect and support these women by creating business related initiatives and networking opportunities.