Description
Dress to impress and prepare yourself for a night of glitz, glamour and entertainment!
Isle Of Wight Pride invite you to a special fundraising evening to be held at the Stunning, refurbished Royal Esplanade Hotel in Ryde.
You will be treated to a three course dinner, whilst being entertained by three amazingly talented individuals.
Miss Jason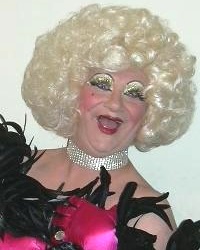 We are absolutely, bloomin delighted to announce that the gorgeous, hilarious and extreemly talented Miss Jason will be your host for the evening. She will bring her wit, charm and humour aswell as Songs that will leave you wanting to put down your knife and fork and join in! For those who were fortunate enough to see Miss Jason at the Gay Mens Chorus Summer concert in Bembridge, you will know whats in store and a night of humour is promised!
Awarding winning Miss Jason (5 time Golden handbag awards) has been entertaining crowds across the UK and Europe for over 17 years. With a huge following her comedy wit and timing goes down well for any adult audience.
As a resident in Legends in Brighton and Two Brewers in Clapham she is renowned for 'Bringing the camp to a venue near you' with her iconic phrase 'Yes Dear'.
As a truly talented character her TV credits include
BBC – The Weakest Link (drag special)
Channel 4 – Come Dine with me Special
BBC – 'Put your money where your mouth is'
Sky1 – Chocky- Wocky- Doo- Dah
Kat Kai Kol-Kes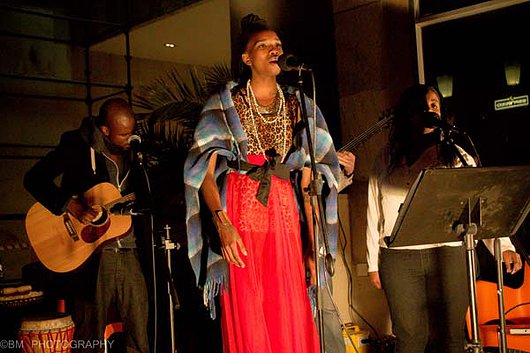 You will also be dazzled by the vocal talents of Kat Kai Kol-Kes.
She describes herself as an ARTivist, who writes plays, sings, is a member of the arts collective Inside/Out, once appeared on Botswana's largest talent competition, MyStar, which propelled her into Botswana's "popularity sphere" and got her noticed elsewhere, and she wants to make the slogan "All you need is love" international law. She has been nominated for numerous awards including the 2015 Chevrolet African Feather of the Year Award , is a Wits graduate, a 2016 Chevening Scholar, a 2016 YALI Regional Leadership Centre Southern Africa Fellow, and she recently joined the advisory team of the Troy Perry awards.
She is Botswana's first openly trans* identifying public figure and not only has a lot to say but is doing necessary social justice work through her art.
Kat Kai is developing a programme to tantalise your musical taste buds and bring you a varied mix, including some traditional African singing! Sure to be a treat.
Finally, we are honoured and priviledged to be bringing the musical talents of Cormac De Barra to the Isle Of Wight for the first time ever!
Cormac De Barra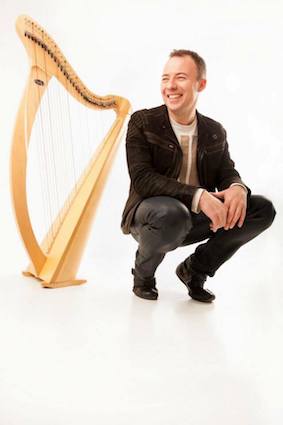 Cormac's professional debut was a six-month tour in Osaka, Japan playing in the Irish Exhibition at Expo '90. While in Japan he gave a performance for Emperor Akihito and Empress Michiko in their palace at Akasaka, Tokyo. Also present at the recital was Irish Nobel Laureate, Seamus Heaney. Cormac also spent six months in Seville, Spain, performing at Expo 92.
He toured with a family group, with harpist Anne-Marie O'Farrell and as a solo artist from 1993 onwards, also finding time to work in theatre in Dublin both as a performer in W.B. Yeats' 'The Cúchulain Cycle' and as musical director of a production of 'Playboy of the Western World' at the Ambassador Theatre.
He has also toured the UK, Europe, US and Australia with Hazel O'Connor since 1998 in her autobiographical show 'Beyond Breaking Glass'. De Barra has also played with The Chieftains and the Irish Harp Orchestra, Cathy Jordan of Dervish, Liam Ó Maonlaí and with his brothers Fionán and Éamonn (a member of 'Slide'). De Barra has recorded with Galldubh, Moya Brennan and Brian Kennedy.
Since winning the Féis Ceoil Harp Competition in 1989, something he refers to as his first big moment, he has performed as a solo musician for the Emperor of Japan in Tokyo (at the age of 17), played at the Edinburgh Fringe Festival with Hazel O'Connor and finished his first CD Barcó in 2003.
As well as performing Cormac presented the traditional Irish music series, Flosc, on TG4, Ireland's Gaelic-language TV channel. Flosc was awarded Best Music Series by Irish Music Magazine in 2002. He is a presenter of the arts series Imeall on TG4.
And theres more.........
If that isnt enough, there will be music throughout the evening in a relaxed gorgeous setting in the heart of Ryde Seafront. You will be welcomed with a glass of bubbles and served a luxurious Three Course meal.
Dress to impress and prepare yourself for an evening to remember!
There will be fundraising opportunities to get involved throughout the evening, so if you want to get involved in supporting pride, or just want to join in for a bit of fun, please bring extra money and help us raise some much needed funds for our main Pride event in July 2017
Tickets are in limited supply, so make sure you dont miss out
#LOVEWINS