Jack O'Clubs Comedy Night at the Adelphi with Raul Kohli
About this event
Jack O'Clubs Comedy Night has is back at The Adelphi!
Opening the show is none other than Tadiwa Mahlunge
Tadiwa Mahlunge is one of comedy's most exciting new acts, already scoring a multitude of awards including winning London and Manchester King Gong in 2018 and 2020, Semifinalist of Amused Moose New Comedian of the Year in 2019 and 2020, winning The Blackout at Up The Creek 2020and most recently winning Beat The Frog at The Frog and Bucket in February.Not bad, after being told that he wasn't allowed to join the Comedy Society at Lancaster University because he 'did not represent the values of the society'.
Tadiwa was born in Zimbabwe before growing up in Cardiff. After spending his whole life in two colonies, it's a bummer for him to now call London home. When his plans to have a career as a professional physicist were dashed, after he was told he would never make the grades for Oxbridge, his obvious second choice was standup.
Other than standup, Tadiwa loves writing software, football, MMA and World of Warcraft. The thinking man's incel.
Your headline act is the fantastic Raul Kohli
Raul Kohli has fast become one of the most captivating acts on the circuit. As one of the few Asians to have grown up in the far north of England (Newcastle Upon Tyne), he's been blessed with a Worldview that upends ethnicity, culture and class. Combining 'Superb political comedy' (The Scotsman) with surreal storytelling, Raul Kohli has is a name in Comedy. His most recent solo show: All My Heroes Are Dead, in Jail or Touched Up Your Nan was nominated for Best Show at the Leicester Comedy Festival 2019 & is about to be released as an album in association with Comedy Dynamics. As well as several radio & TV appearances (Incl: BBC Radio 4, BBC Comedy Underground, RTV Netherlands & more), he currently has his own podcast on BBC SOUNDS: Comic Sanskrit
Raul is an award-winning comedian (NATYS 2017) and appears regularly at some of the biggest comedy clubs around the World (The Stand Edinburgh, Laugh Canvas India, Comedyhuis Netherlands).
Raul also has a short yet ceremonious career in writing & acting too, having wrote the RTS nominated comedy sketch; Splitting the Bill, and having starred in the RTS winning sketch Gannin Oot as well as starring in the RTS winning series Uncommon
'Hilarious' - Judah Friedlander
'A powerful, passionate, open-minded, intelligent voice. It is superb political comedy and commentary' – The Scotsman
'Poisoning the minds of British children with pro-immigrant claptrap' – Nigel Farage
As Featured in/on: BBC Sounds, BBC Radio 4, BBC Radio 3, BBC Scotland, BBC Asia Network, BBC News. Channel 4, TalkRADIO, The Guardian, the Telegraph and the Skinny
And we have support from Seeta Wrightson, Jack Kelly and Ryan Kenny!
Bringing all the night together is Mr Jack O'Clubs himself Jack Vincent!
The night is safe and socially distanced so make sure you get your ticket fast before they go!
Full food menu available: https://www.theadelphileeds.co.uk/content/dam/castle/common/pdf/dn19food/castle-dn19-mon-sat-cppb1.pdf
Get some food before the show starts!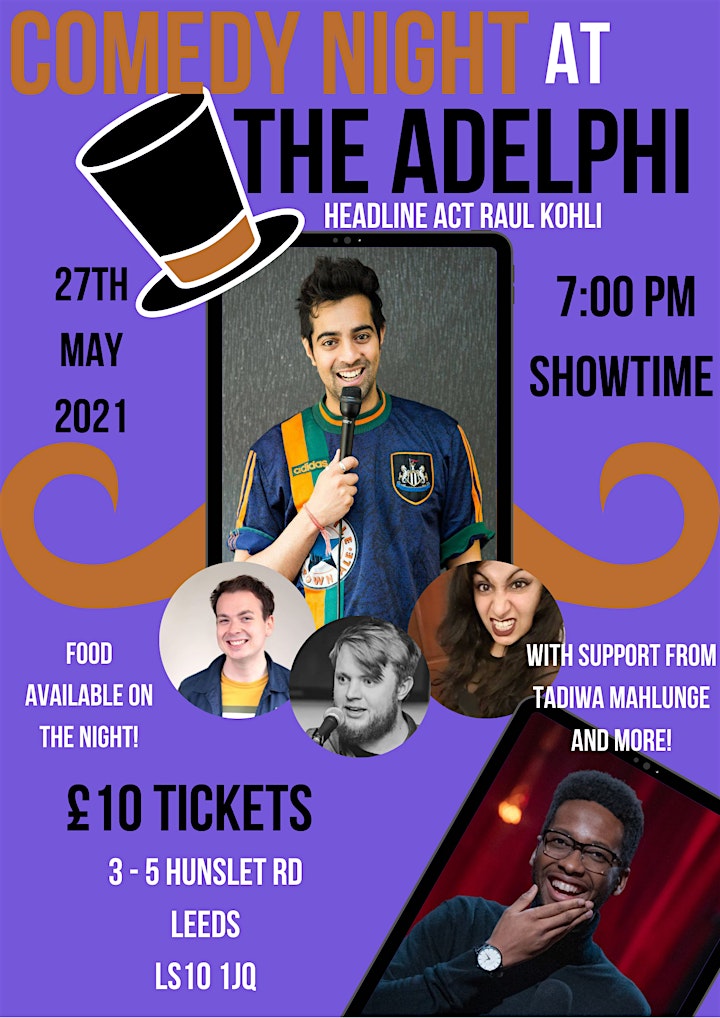 Organiser of Jack O'Clubs Comedy Night at the Adelphi with Raul Kohli