Description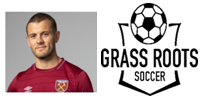 Jack has agreed to be part of the coaching team that will deliver a fun packed three days, set in the beautiful grounds of St Christopher School, Letchworth.
This unique opportunity is open to boys and girls of all abilities. The 6yrs - 15yrs will be split into age groups.
Each day will include themed coaching drills with an end of day challenge against the coaches. The afternoon session will be game based only for the 6yrs- 15yrs.
Every student will be presented with a trophy and signed photograph of Jack Wilshere.


Half Term: Please note that Half Term dates vary in each County.
Tues 30th Oct - Thurs 1st Nov 2018
£75 for 3 Days 6yrs - 15yrs
£35 for 3 1/2 Days 4yrs - 5yrs
9.30am - 12.30pm 4yrs - 5yrs
or
12.30pm - 3.30pm 4yrs - 5yrs
9.30am - 3.30pm 6yrs - 15yrs
Please wear football kit and bring football boots, trainers, shin pads, waterproofs, water bottle and a packed lunch.
For further information please visit grassroots-soccer.com

@JackWilshere

Organiser of Jack Wilshere and Grassroots Soccer School