Description
An evening of side-splitting stand-up poetry from the current Glastonbury Festival Slam champion and National Poetry Slam finalist 2018, JACKIE JUNO.
Expect poems about love, death, sex, bondage, bikers and Betterware.
Jackie casts her perceptive gaze over Life on Earth as we know it, but is also unafraid to tackle such subjects as reasonably-priced home improvement products.
Never one to follow convention, Jackie draws upon her lifetime of wayward experiences to bring you a wonderfully anarchic, irreverent and uplifting show, in the humble hope that it may start a pleasant revolution.
YouTube: Oxygenerators - Jackie Juno https://www.youtube.com/watch?v=MOd2zivGUgc&feature=youtu.be
"Jackie is warm and witty, frank and feisty, but above all, very very funny" Matt Harvey, Radio 4
"Jackie is the arts school, leopard-print wearing rock chick. Her poetry hits you like a slap in the face from a pink handbag. There is plenty to laugh out loud at, but underneath the swagger is a gentler sensibility and a soft heart. Her poems are witty, poignant and full of social message." Lucy English, performance poet & novelist
"Jackie's voice with boogie, shimmy and sashay its way into your head - her words are hellbent and irresistible: listen up!" Chris Waters
Jackie is also holding a performance poetry workshop before the event, 5-7pm. Event details here: https://juno1812b.eventbrite.co.uk


---
Travel information:-
We are a city centre venue and parking can be in short supply. If you are driving, please make sure you leave plenty of time to find a space click here for a map of where the nearest parking spaces can be found.
We recommend Kings Park Road car park: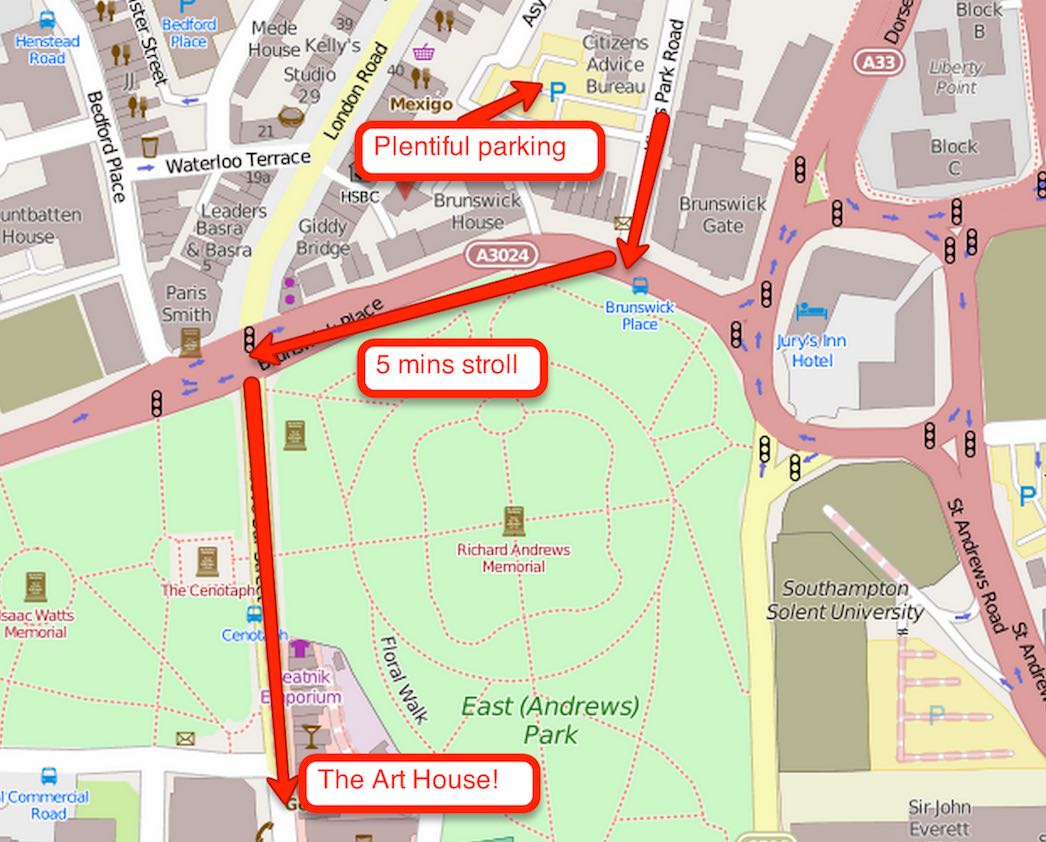 We are about 10 minutes walk from Southampton City Centre train station (head up the hill toward the Guildhall clock tower) and on the route for most city centre buses (the Unilink U1 stops virtually outside.)
Do you have a question about coming to this event? Please click here for a list of our event FAQs
Click here to go to The Art House what's on page
Accessibility info:-
Events are generally suitable for adults, young people and older children - children must be accompanied by an adult at all times, however. Young children are also welcome to come along but be aware some poems and songs may contain adult content (although we try to keep these until after children have left!)
Most events are held on our first floor, accessible by a wide staircase with a sturdy banner. Comformatable seating is provided. We regret that, due to space and other constraints, we are generally unable to relocate our events to the ground floor for those who require ground level access - so sorry, however please contact us as we may be able to make arrangements to accommodate.