JADE Conversations with Dr. Gwenetta Curry
JADE Conversation: The Impact of COVID-19 on people of colour in the UK
About this event
This Justice, Anti-Racism against Discrimination and the fight for its Elimination (JADE) Conversation is being held to mark the International Day for the Elimination of Racial Discrimination.
Dr Curry will discuss the impact of COVID-19 on people of colour in the UK. Dr Curry's presentation will highlight findings from her research on racial disparities in the treatment and infection rates of COVID-19 that was recently published in The Lancet.
Staged as a conversation, this event will begin with a ten-minute interview with Dr Curry on her career journey as well as some highlights on her interests and hobbies. This will be followed with Dr Curry giving a 20-minute presentation on her research and then closing with a 30-minute Question and Answer session. Her research interests are Racial and Ethnic Health Disparities, Critical Race Theory, and Black Family Studies.
Dr Gwenetta Curry, from the College of Medicine and Veterinary Medicine in the Usher Institute, University of Edinburgh is an academic expert on Racial and Ethnic Health Disparities.
The GEM Network welcomes ALL to join this event and to invite everyone to share in the discussion.
JOIN US NOW!!
Copy and paste the following link into your URL
https://eu.bbcollab.com/collab/ui/session/join/cffd87605a884583bf42b2b58720d290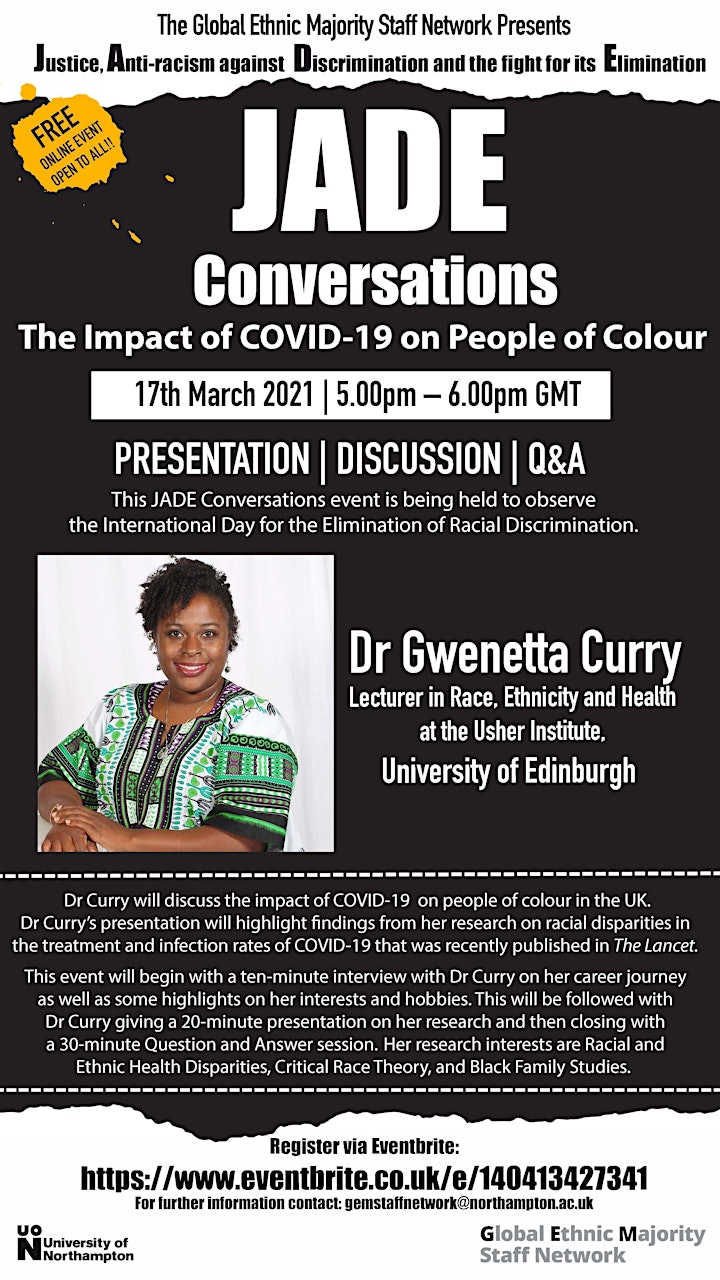 Organiser of JADE Conversations with Dr. Gwenetta Curry