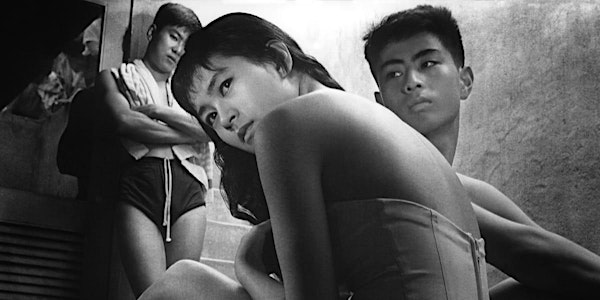 JAEFF: Crazed Fruit + Your Voice Came Out Through My Throat (12*)
Location
Arthur & Paula Lucas Lecture Theatre
Strand Campus
King's College London
London
WC2R 2LS
United Kingdom
Refund policy
Refunds up to 1 day before event
Description
Japanese Avant-garde and Experimental Film Festival marks the beginning of the Japanese New Wave and the passing of acting legend Masahiko Tsugawa (1940-2018) with our opening night film, Kō Nakahira's Crazed Fruit.
Based on the controversial novel by Shintarô Ishihara, Crazed Fruit caused scandal upon release for its frank depiction of the postwar sexual revolution among privileged youths in Japan. The film acts as a manifesto for the sun tribe (taiyozoku) subculture, as well as subsequent youth countercultures (an alternate title for the film is Juvenile Jungle): "Look what the older generation tried to sell us"; "Let's find our own way by wasting time"; "we live in boring times"; "we'll make boredom our credo". And so they do: chasing girls, messing around in boats, endless poker and drinking sessions, and occasional fights to release "pent-up energy". All soundtracked by regular Kurosawa collaborator Masaru Sato, and avant-garde mainstay Tōru Takemitsu's hip score that blends jazz with slack key guitar.
The scorned and outdated traditions of the gang's parents are likened to silent cinema. With Crazed Fruit, Nakahira shows what the "new" cinema will resemble, encapsulated by the striking opening shot of the dead-eyed stare of Haruji (Tsugawa), out for revenge in a motorboat. Postwar youth and masculinity is shown here to be beautiful, virile, and thoroughly nihilistic.
Despite their involvement in this touchstone of cinematic rebellion, novelist Ishihara is now one of Japan's foremost conservative politicians (he served as governor of Tokyo from 1999-2012 and was once leader of the right-leaning Japan Restoration Party) and Tsugawa would play wartime Prime Minister Hideki Tojo in a controversial revisionist biopic. Quite why this ideological flip occurred is up for debate. Perhaps Ishihara and Tsugawa were too startled by the youthful chaos of the Japanese New Wave that they helped unleash.

Crazed Fruit is paired here with award winning artist and filmmaker Chikako Yamashiro's Your Voice Came Out Through My Throat. Yamashiro performs the results of audio interviews she conducted with those who lived through the traumatic Battle of Okinawa from WWII. She explains that "rather than objectively listening to the pain they felt, I endeavored to imagine the stories they were telling me as if they had actually occurred to me, while also trying to feel their pain as if it were my own.... In telling or listening to the stories of the war, the war witness and the listener should surmount that dual relationship. That is, when a story about the war is being told, both the teller and the listener should share the pain, as the former is recovering his/her memories and the latter is envisioning the story."
Japan 2009, dir. Chikako Yamashiro, 8 min, digital presentation w/ English subtitles
Japan 1956, dir. Kō Nakahira, 86 min, digital presentation w/ English subtitles
* = recommended classification
Countercultural new wave cinema from the 60s and 70s comes face-to-face with new experimental films in the Japanese Avant-Garde and Experimental Film Festival's investigation of youth and protest in Japan. Expect drag queens, surreal rock musicals, juvenile delinquents, street performance artists uprisings, and astonishing innovation at JAEFF 2018: Youthquake.