Description
Adwoa Dickson - Soprano
Lorraine Liyanage - Piano
Jamaica has a rich musical heritage spanning a diversity of styles and forms. Throughout the island's modern history, music has played a significant role in the social, political and economic life of its people.
Adwoa's recital draws from the wealth of Jamaica's folk music – the music of the Jamaican people which, with its colourful range of forms, reflects the way of life of individuals or entire communities. The Jamaican folk song gives voice to the heart, soul and experience of the Jamaican people.

Adwoa Dickson (Soprano) is a professional singer who trained with Eiddwen Harrhy at the Royal Welsh College of Music and Drama where she graduated with distinction. She later studied with Mary Brennan and has sung at theRoyal Opera House, Sadlers Wells, Pegasus Opera, Grand Union Orchestra, and Chineke Orchestra, amongst others. Adwoa is a solo performer of classical and Caribbean music and was recently a part of an ensemble formed by Voquality who performed the vocals for Black Panther the latest Marvel superhero film released earlier in 2018.
Accompanied by Lorraine Liyanage (piano).
Early bird tickets cost £12. Standard tickets will cost £15 from December 1st. Children's tickets cost £5 - please email info@bellhouse.co.uk to purchase this. Ticket price includes a glass of rum punch or soft drink.
We are very grateful for the sponsorship of Port Royal Patties and J Wray and Nephew for this event. There will be an assortment of cocktail patties to sample on the night and rum punch, wine and soft drinks.

Some free and subsidised tickets are available - please email info@bellhouse.co.uk.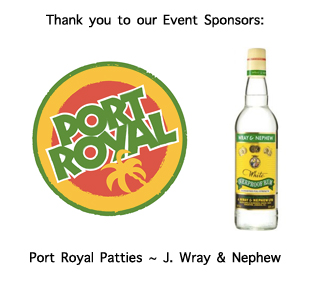 Organiser of Jamaican Folk Songs