Event Information
Location
Graham Storey Room
Trinity Hall
Trinity Lane
Cambridge
CB2 1TJ
Description
Join Professor James Montgomery in the Graham Storey Room at Trinity Hall as he talks about his new book, War Songs - in association with Heffers Bookshop.
'War Songs' is a selection of poems taken from the 'Epic of 'Antar', translated into English for the first time. It is the story of outcast turned warrior and poet 'Antarah ibn Shaddad. 'Antarah was shunned from his community, and, not being fully Arab, had to fight to gain the recognition of his father and tribe. He fought fiercely to defend his people, win their recognition and gain the woman of his dreams, 'Ablah. 'Antarah carefully documented his epic story, in which love and tenderness reside alongside blood-curdling violence, resulting in collection of verse that originates from the highlands of Najd on the eve of the rise of Islam, and which has inspired the Arabic world for generations.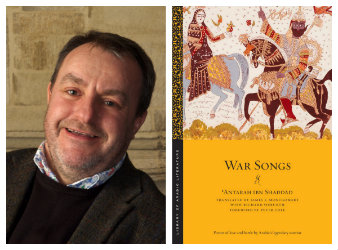 James E. Montgomery is Sir Thomas Adams's Professor of Arabic at the University of Cambridge and Fellow of Trinity Hall. He is the author of Al-Jahiz: In Praise of Books and the editor-translator of Ahmad ibn Fadlan's Mission to the Volga, the oldest surviving first-person travel narrative in Arabic, written by the leader of a diplomatic mission from Baghdad to what is now central Russia, and one of the earliest descriptions of Viking societies.
The event is free to attend but booking is essential as spaces are limited. Tickets can be booked through this page, by calling 01223 463200 or in person at Heffers bookshop.

Like this? See a full list of our forthcoming events by clicking here.
Date and time
Location
Graham Storey Room
Trinity Hall
Trinity Lane
Cambridge
CB2 1TJ