JamToday Fair 2015

Wednesday, 11 February 2015 from 09:00 to 18:30 (CET)
Event Details
The JamToday Fair 2015 is the first in a series of annual events organised by the JamToday Network. In 2015, the JamToday Fair will be hosted by the Unioncamere Piemonte in Brussels:
Rue du Trône, 62 
1050 Brussels
Belgium
Through a number of interactive workshops and lively, practical sessions, you will learn about:
Applied game design and game-based learning

Game jams and the JamToday Toolkit

Experience from game-jam organisers and participants

The JamToday Network

Transfer and Evaluation methodologies

Concrete examples of applied games and games developed in the framework of the JamToday game-jams
In 2014 JamToday tackled the area of eSkills. In 2015 the annual thematic area will be Healthcare and Wellbeing.   
JamToday Fair 2015 will focus on these two areas with professionals and keynotes speakers from both areas. Our aim is to bring you up-to-date with applied games and how to run a game jam. And we will show exactly how to do this! 
So, if you are interested in some quick but effective new ways to take your work forward, come along and enjoy the day with us in Brussels.
Places are limited for this event so if you are interested, please register quickly as they will be allocated on a first-come, first-served basis.
If you have any questions about JamToday Fair 2015 then please 

contact us

 : info@jamtoday.eu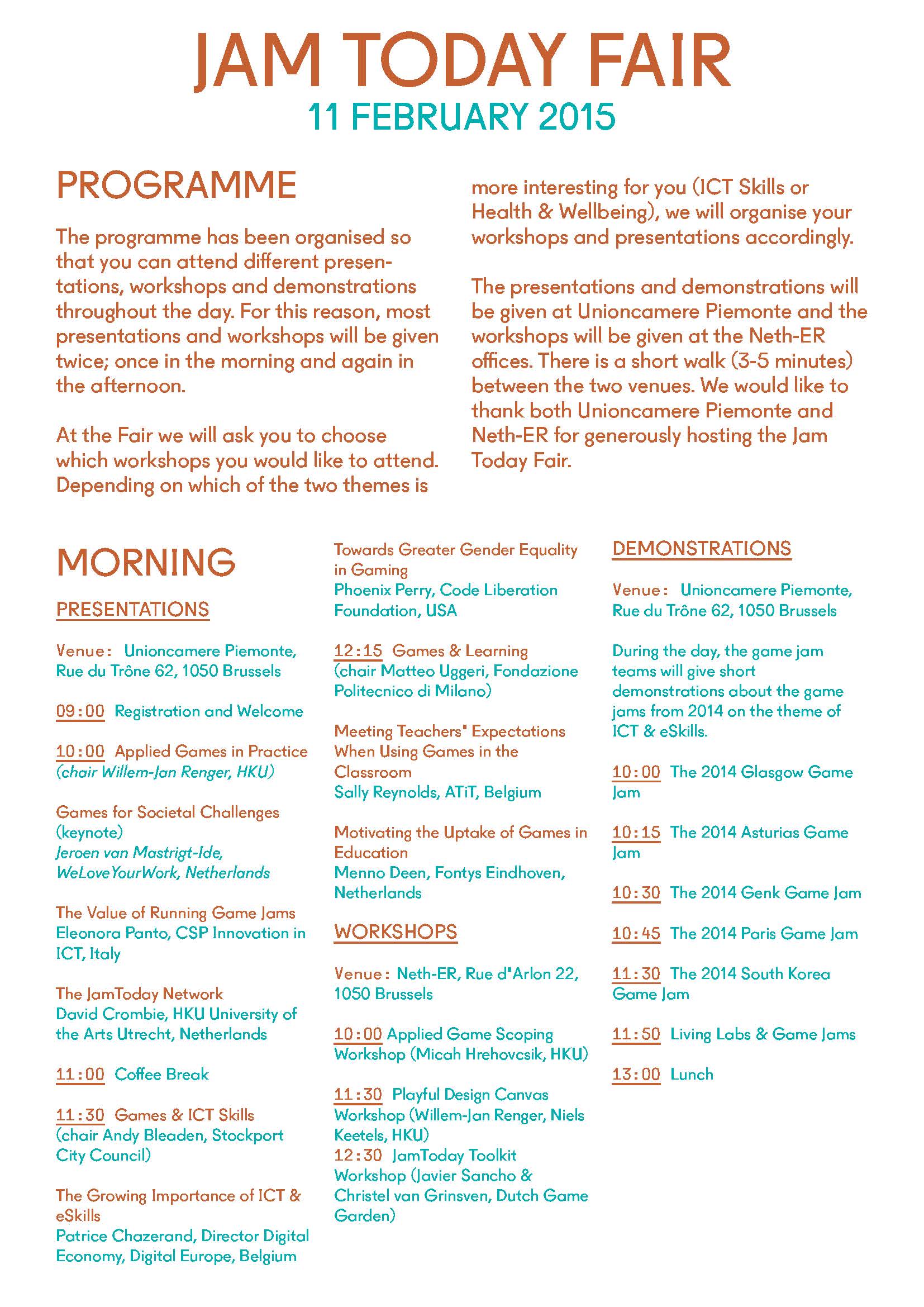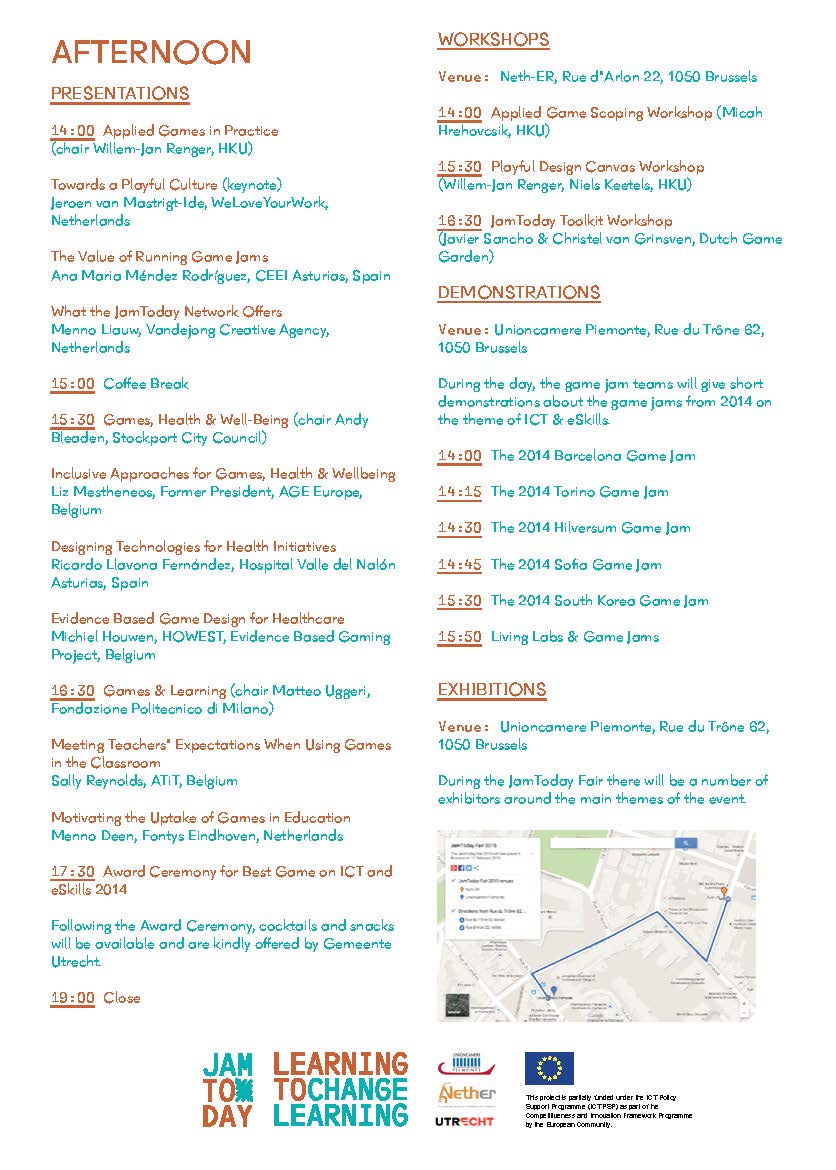 When & Where

Unioncamere Piemonte
Rue du Trône, 62
1050 Brussels
Belgium


Wednesday, 11 February 2015 from 09:00 to 18:30 (CET)
Add to my calendar
Organiser
JamToday is the first pan-European Network dedicated to applied game design. It brings together different types of stakeholders (such as creative clusters, game companies, education and research institutes, public sector institutions, municipalities etc.) from various sectors, fields and expertise for running game jams across Europe.
JamToday aims to make it easier to create applied games by providing you with the know-how and expertise and by bringing together the different people who are involved in the process of designing and deploying game-based approaches to learning. In so doing we hope to help to bridge the gap between applied games and their wide fields of application. 
The JamToday Network looks at how applied games can contribute to improving teaching and learning. 
Each year, JamToday will focus on a particular theme and will:
set up game jams in several European locations

define a common assignment in consultation with experts in the thematic addressed

provide a framework for evaluating the results of the game jams and their potential impact

provide a framework for transferring the games into learning contexts
The JamToday Network receives support from the European Commission under the CIP-PSP framework as part of the Competitiveness and Innovation Framework Programme by the European Community