Jane Carter 360° Transformation - Love Your Hair, Love Yourself

Saturday, 1 June 2013 from 14:00 to 17:00 (BST)
Event Details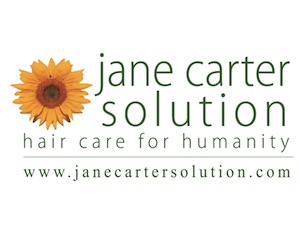 Jane Carter Solution and the UK Blogger Collective bring to you the highly anticipated 360 Transformation, "Love Your Hair,Love Your Self" an exclusive event on Saturday, June 1, 2013 from 2pm – 5pm at Jewel Convent Garden in London.
The day will include product giveaways, swag bags, door prize raffle and have the opportunity to shop our exclusive NEW products, participate in interactive sessions or live styling, Q&A, personal consultations
This UK Blogger Collective featuring Crystal of United Kinkdom, Fiona of Love Your Tresses, Pelumi Rae of Care For Your Hair, Laila Jean of Fusion of Cultures and Wunmi Akinlagun of Woman In The Jungle will give many women of color in the UK exactly what they have requested – hair care knowledge to empower them to treasure their natural tresses. The event will stream live on the Jane Carter Solution website and Facebook page, allowing hair lovers across the globe to tune in for tips, techniques, before and after live styling and to simply experience the natural hair movement in London!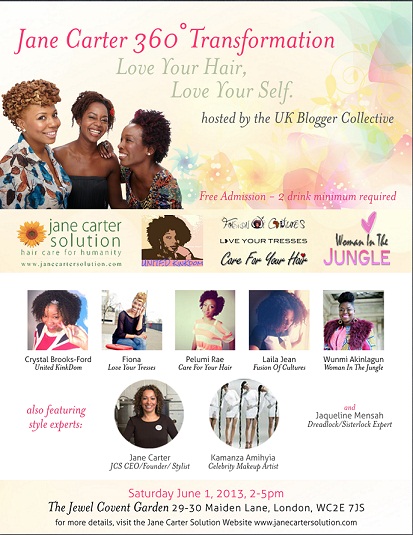 Crystal Afro is the Author of United Kinkdom created as a platform for promoting the beauty of natural hair, documenting her experiences and discussing attitudes towards the Afro aesthetic in Great Britain. Crystal was featured in 2012 as one of "Britain's Top Natural Hair Bloggers" in Black Hair Magazine. She is currently a Committee member for the Origins of the Afro Comb Exhibition at The Fitzwilliam Museum, in Cambridge.
Fiona is the London based writer of UK hair blog Love Your Tresses which follows her venturesome and adventurous journey towards healthier and longer Hair. Fiona started to blog in the early months of 2010 and her thus far 3 year healthy hair journey has been a demonstration of achieving healthy, long hair which is often perceived as unachievable within the black hair community. She featured on Channel 4 as the UK's top Hair Blog for Black Haircare and now goes on to track her new journey to becoming natural through a two year transitioning journey.
Laila-Jean, also known as Neffyfrofro in the natural hair community, is a London based YouTube vlogger acclaimed for her unique natural hair styling tutorials and hair care videos. Her passion and enthusiasm for natural hair care along with her charismatic personality has seen her presence in the natural community evolve worldwide. 
Pelumi Rae is the founder of Care for Your Hair, a UK hair blog; started as a blog to document her hair journey for family and friends. Now with over 23,000 likes, Care for You Hair has been dubbed one of "Britain's Top Natural Hair Blogs" as it's a platform that impacts the lives of women by, inspiring them to embrace their hair, informing them about haircare & encouraging them to see the beauty in their hair.
Wunmi Akinlagun  is the Founder and Editor of the online blog Woman in The Jungle. Born out of her love for hair care, styling and beauty, Wunmi started by making YouTube videos to document her healthy hair journey as a UK natural and to showcase her beauty finds in London - a one stop hair and beauty spot for Afro-Caribbean/African women in the UK and Diaspora.  
When & Where

Jewel Covent Garden
30 Maiden Lane
WC2E London
United Kingdom


Saturday, 1 June 2013 from 14:00 to 17:00 (BST)
Add to my calendar
Organiser
Shannon Cook : shannon@janecartersolution.com
Crystal Afro: Crystalafro@hotmail.co.uk
Fiona: fiona@loveyourtresses.com
Pelumi Rae: cfyh@hotmail.co.uk
Laila Jean: lailajean.washington@gmail.com
Wunmi Akinlagun: wunmi@womaninthejungle.com