January 2020, 2-7 Day Secular Mindfulness & Compassion Retreat in Snowdonia
Sales Have Ended
Ticket sales have ended
Many thanks for completing the booking form. We will be in touch, usually within a week, to confirm we have received it and, if need be, follow up on any information provided. We will be in touch in early November 2018 to request payment of the balance. We look forward to seeing you on the retreat in January 2019. Warm wishes Tim and Annette
Sales Have Ended
Ticket sales have ended
Many thanks for completing the booking form. We will be in touch, usually within a week, to confirm we have received it and, if need be, follow up on any information provided. We will be in touch in early November 2018 to request payment of the balance. We look forward to seeing you on the retreat in January 2019. Warm wishes Tim and Annette
Description
Please note - our retreat is full for bookings from people new to our retreats for the moment (but this may change). You can still book to go on our wait list: should a space become available we will get in touch with you.
This flexible 2-7 day retreat is open to anyone who has attended Integrated Mindfulness/Mindful Resilience Enhancement mindfulness practice days or training workshops.
It is also open to anyone who has undertaken training in other mindfulness-based and/or compassion-based training or other professionals who have experience of attending mindfulness practice days.
The retreat is led by Annette Dunn and Tim Duerden who are lead trainers for Integrated Mindfulness and experienced mindfulness teacher-trainers and retreat facilitators.
The retreat is held in the wonderful Trigonos centre which has views of Snowdon, lovely grounds, walks by the lake and amazing food.
The image below shows the practice room we use on the left, taken in January 2016:


This is a view from the centre, taken in January 2017:

For those concerned about winter weather, Trigonos assures us that it has been many years since the local roads were closed due to snow and even that was for less than a day. We have been lucky to have had really good weather for the previous January retreats held at Trigonos prior to 2018: our 2018 was the first with more wet days than dry days.
Our 2019 retreat had very good weather:

And we also had the lunar eclipse on a clear night with this amazing full moon lake view: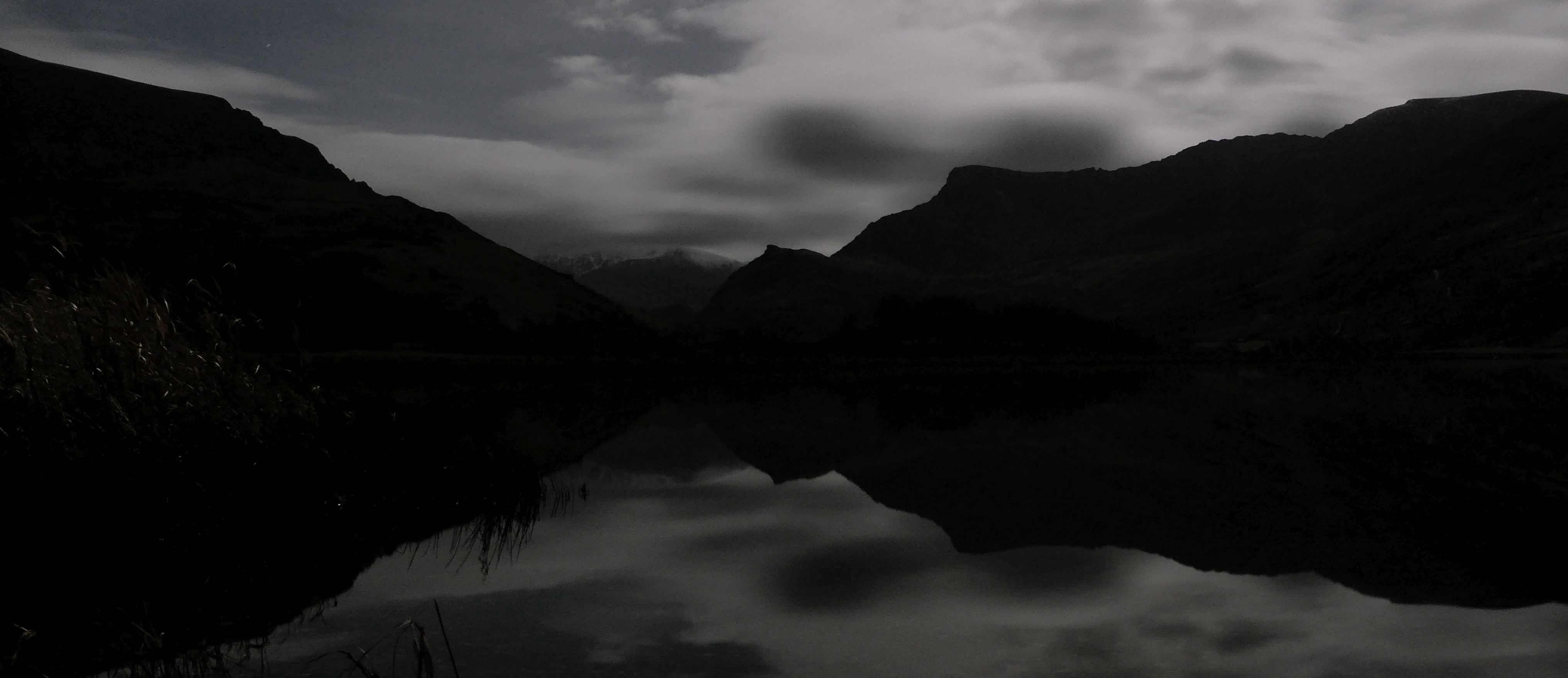 For those coming by train, there is a local driver who will do group pick-ups from Bangor station at a very reasonable cost.
The retreat can be attended to meet the Good Practice Guidelines for Mindfulness Teachers requirements for retreat attendance whether this is partially through attending for 2-3 days or fully by attending for 5-7 days. Some training courses have very specific requirements for the retreats that are needed as part of their qualification process: so please check with your training organisation that this retreat will meet the requirements.
We aim to have a common start time of Friday evening, although arriving early Saturday morning is an option. We find the retreat is well paced by staying on Sunday night until Monday mid-day (though some people leave Sunday evening).
From Monday lunchtime onwards, people are welcome to stay for additional days up to Friday lunchtime. These additional days have the same structure of practice times as the first 3 days, but the practice periods are almost all unguided. We therefore suggest that anyone who has not been on a mindfulness practice retreat before attends, at most, Friday evening to Monday lunchtime.
The theme of the retreat is Kindness and Ease with the programme and associated practices infused with the invitation to explore how each of us can make kind choices about our needs throughout the retreat. We have a particular focus on exploring the way we approach mindfulness and self-compassion practice and how we experience transitions both within periods of practice and as we move from one form of practice to another.
What we aim to cultivate, in each retreat we facilitate, is a supportive community of practice where everyone participating has the space 'to be and to do' in the way that is best for themselves and with kindness for each other. In this spirit, the programme for the retreat is always optional and is best seen as a series of starting points for what emerges as the kindest way for each of us to practice being mindful and self-compassionate.
We will lead a range of sitting, lying, standing and moving practices in the periods where we practice together between breakfast and the evening meal. Weather permitting, this will be a mixture of practice inside the group practice room and outside in the grounds of Trigonos. We usually also share new approaches to teaching mindfulness and self-compassion we have been developing in the previous year.

We encourage people (if it is within what is most kind for themselves) to start these guided practice periods with us all together but with the equal encouragement to leave the group practice at any point if what is best is another way of practicing, another type of activity or simply resting.
The great thing about Trigonos is that there are spaces to go inside if you don't want to engage in any of the guided practice sessions as well as well-maintained paths in the grounds and by the lake that offer easy walking and a whole range of paths through the adjacent disused slate mines and in the nearby hills and valleys. It is also a short drive to the coast.
While mobile phone reception is patchy at best, free wifi at Trigonos means you can easily stay in touch with family etc. Please note that, beyond mutual respect of each other, confidentiality and being supportive of each other's needs to have the best shared retreat experience, we do not make any requirements on how you choose to be on the retreat. So we have no rules on how much or how little contact you have with 'the outside world' while being on retreat (though we do ask you to check out with others about whether they want you to share the latest news or celebrity gossip!). Rather, we see the retreat as giving each of us the space to notice and track, hopefully with warmth and generosity, the different waves of reaction and response that arise from whatever we are doing while on the retreat.
A note on companionable silence: we hold a period of time over the first part of the retreat where we tend towards not talking. This is from the end of Saturday evening to just before the evening meal on Sunday. The purpose of this is to explore how it is to choose not to engage in optional conversation. The aim is to tend towards not talking – so if we need to ask something etc. we can do so, but with the invitation to then return to not-talking afterwards. There is no requirement, during this time, to move or eat any differently than normal - we are not trying to recreate the hush of a library! We also find non-verbally connecting to each other - for example, smiling or nodding a greeting - adds to the companionable nature of the period. As outlined above, it is up to each person to decide whether or not the period of not talking with others on the retreat extends to being in touch with friends or family at home. The additional days, from Monday evening onwards, are held mainly in companionable silence.
For those wanting to undertake the first part of the retreat in companionable silence( this may be due to a training requirement to attend a silent retreat), please let us know and we will make arrangements for this such as a specific area to eat at meal-times.
Annette and Tim are available through the retreat if anyone needs time to reflect on their experience or has any issues arising while on the retreat.
Preliminary Programme:
Friday January 17th 2020
Arrivals from 4pm onwards.
6.30pm evening meal
7.45pm - 9pm at the latest - Welcome meeting and practice
Saturday January 18th
7.00am-ish – 8.00am - For early risers, a 'very optional' unguided time to practice together. You can arrive or leave at any point during this time.
7.30 - 9.00am - Breakfast
9.30 – 11.00 – Practices for fully arriving and settling in
11.00 – 11.20am – Break
11.30am – 12.45pm – Practice together
1.00 – 2.00pm – Lunch
Afternoon break
4.00pm – Afternoon tea
4.30 – 6.30pm – Practice together
7.00 - 8.00pm – Evening meal
8.15 – 9.00pm-ish – A 'very optional' unguided time to practice together. You can arrive or leave at any point during this time.
Last thing Saturday evening - period of companionable silence begins.
Sunday January 19th
7.00am-ish – 8.00am - (Companionable silence continues.) For early risers, a 'very optional' unguided time to practice together. You can arrive or leave at any point during this time.
7.30 - 9.00am - Breakfast taken in companionable silence
9.30 – 11.00 – Practice together in companionable silence
11.00 – 11.20am – Break taken in companionable silence
11.30am – 12.45pm – Practice together in companionable silence
1.00 – 2.00pm – Lunch taken in companionable silence
Afternoon break (possibly in companionable silence or people may decide between them to go for a walk with talk - it's up to each individual)
4.00pm – Afternoon tea in companionable silence
4.30 – 6.00pm – Practice together in companionable silence
6.00 – 6.30pm – Companionable silence ends for the group with a period of practice and reflection. Individuals can carry on with being in silence should they wish (speaking is not enforced!).
7.00 - 8.00pm – Evening meal
8.15 – 9.00pm-ish – A 'very optional' unguided time to practice together. You can arrive or leave at any point during this time.
Monday January 20th
7.00am-ish – 8.00am - For early risers, a 'very optional' unguided time to practice together. You can arrive or leave at any point during this time.
7.30 - 9.00am - Breakfast and packing
9.45 – 11.00 – Practice together (starting a little later for packing)
11.00 – 11.20am – Break
11.30am – 12.30pm – Practice together and goodbyes
1.00 – 2.00pm - Lunch (Packed lunches are available for those leaving early).
From Monday mid-day to Tuesday, Wednesday, Thursday or Friday, additional retreat days are available for those that have attended a retreat before.
Fees

The fee includes full board and depends on the type of room. The fee is based on the accommodation costs charged by Trigonos plus a small addition amount to help cover Annette and Tim's costs for organising, administering and leading the weekend retreat.
If the room type you want is not available we will contact you to let you know the room options remaining.

If you are willing to share a double room the total fee is reduced by £12 a night - so £36 for a 3 nights booking.
The rates by room type are as follows: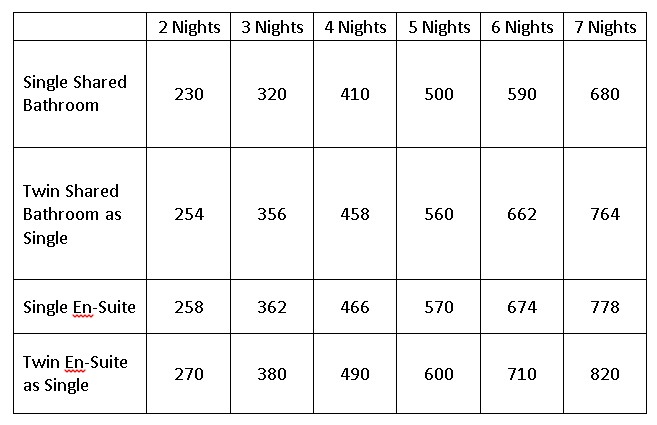 To secure your place for the 2020 retreat we require a £66 deposit. After June 1st 2019 the deposit is non-returnable as Trigonos will charge us a £20 per person per night cancellation fee. However, our retreats are usually fully booked so we can often transfer a cancelled place to another booking in which case we can return £60 - this is less the £6 Eventbrite booking fee that is not returned to us.

The full balance will be required by December 1st 2019 otherwise your place may need to be reallocated. We will contact you in November to arrange payment of the remaining balance.
Places on the retreat are limited so we offer places on the basis of the date order of bookings received.
To Book: Just Click 'Register'

When you register there is a detailed booking form that provides information we need in order to facilitate the retreat ethically and in the best way to meet everyone's needs. If you would prefer not to answer any of the more personal questions electronically please email us to arrange a telephone conversation instead.

If you have never attended a residential retreat before (and especially if you are new to mindfulness practice) it would be best to contact us, via the email below, before booking and paying the deposit. We can then advise you as to whether the retreat is a best next step in terms of developing your mindfulness practice. If you haven't attended a retreat (and haven't been in discussion with us), please email us with a brief outline of your experience of mindfulness so far and any personal development experience that might relate to being on a mindfulness retreat.
If you have any questions or want more information please email Tim and Annette via booking@integratedmindfulness.com
We hope you can join us at Trigonos in early 2020.
Warm regards
Tim & Annette