Description
Loose-Locked and LA LA LAB, are proud to present:
JANUARY BLUES - High Hopes on the Low Slopes of the New Year.

A night of sharing new projects, promises and premises in front of the backdrop of a bluesy speakeasy
Acknowledge the blues and celebrate with us for one night only at our festival of creativity! Both new and old work beside one another. January Blues will feature performance, music, fine art, sculpture, design, writing and more. A Trans-disciplinary Showcase of creative projects falling under the theme of "High Hopes, Low Slopes".

Come get a bevy at the bar.

Help develop creatives practice and give feedback on their work (we will have 'tip' jars dotted around for you to leave your thoughts in).

A raffle with wonderful prizes to be one - wine, a wonderful massage and art supply vouchers!

Profits going to the local mental health Safaspace.

Friends, family, creatives and all other humans welcome!

Doors Open: 6:00PM

Performance Starts: at 6:30PM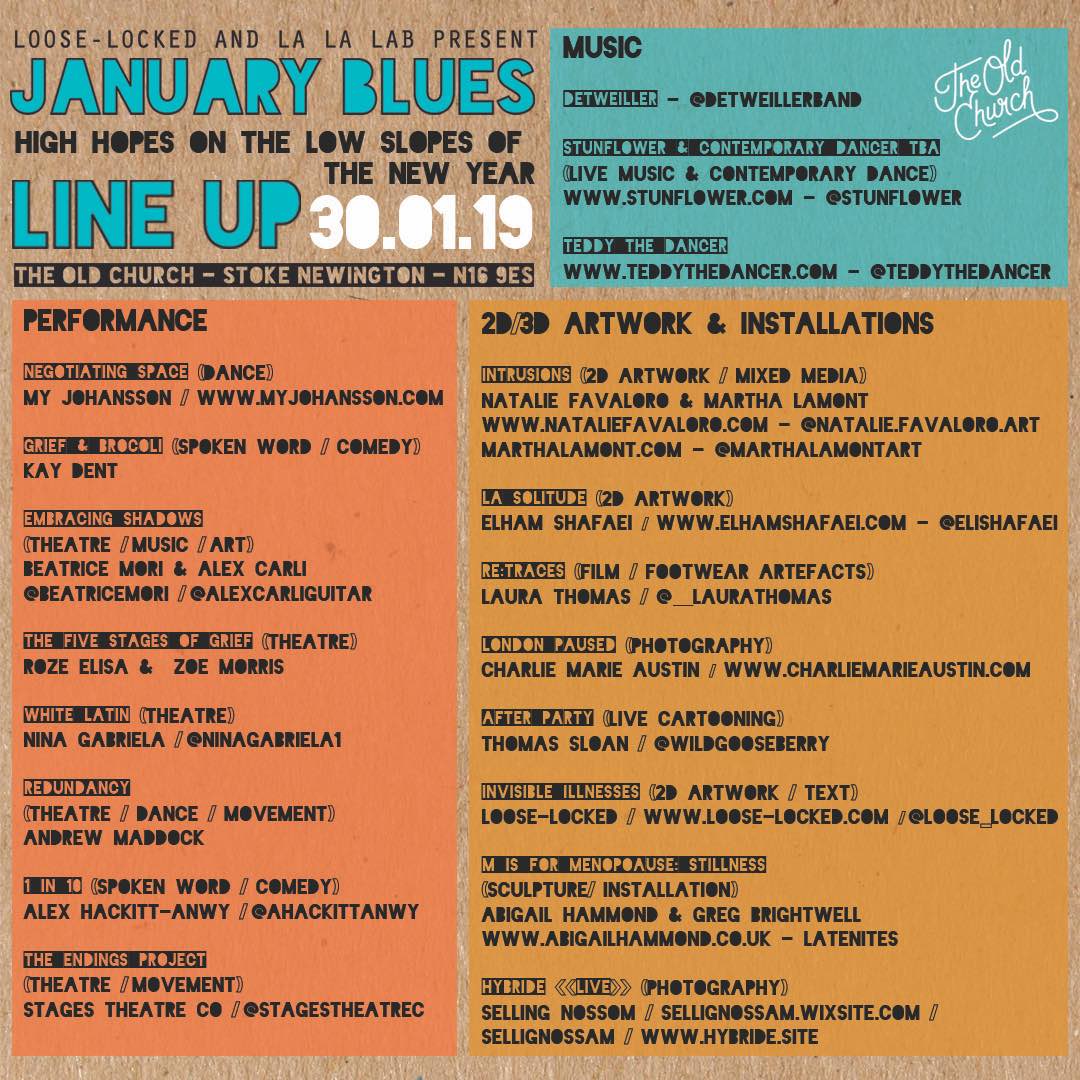 FEATURED ARTISTS:

2D/3D Artwork and Installations :

Intrusions (2D Artwork/ Mixed Media)
Natalie Favaloro & Martha Lamont
www.nataliefavaloro.com - @natalie.favaloro.art
marthalamont.com - @marthalamontart
-
La Solitude (2D Artwork)
Elham Shafaei
www.elhamshafaei.com - @elishafaei
-
Re:traces (Film/ Footwear Artefacts)
Laura Thomas
@__laurathomas
-
London Paused (Photography)
Charlie Marie Austin
www.charliemarieaustin.com
-
After Party (Live Cartooning)
Thomas Sloan
@wildgooseberry
-
Invisible Illnesses (2D Artwork/ Text)
Loose-Locked
www.loose-locked.com - @loose_locked
-
M is for Menopoause: Stillness (Sculpture/ Installation)
Abigail Hammond & Greg Brightwell
www.Abigailhammond.co.uk - Latenites (Soundcloud)
-
(Photography)
Hybride/Selling Nossam
https://sellignossam.wixsite.com/sellignossam /
www.hybride-site
-

MUSIC

Detweiller
@detweillerband
-
Stunflower & Contemporary dancer Shao-Chien Huang
(Live Music and contemporary Dance)
http://www.stunflower.com - @stunflower
-
Teddy The Dancer
www.teddythedancer.com - @TeddyTheDancer


PERFORMANCE

Negotiating Space (Dance)
My Johansson
http://www.myjohansson.com
-
Grief & Brocoli (Spoken Word / Comedy)
Kay Dent
-
Embracing Shadows (Theatre/Music/Art)
Beatrice Mori & Alex Carli
www.facebook.com/beatrice.mori.547 - @alexcarliguitar
-
The Five Stages of Grief (Theatre)
Roze Elisa & Katie Warnusz-Steckel
-
White Latina (Theatre)
Nina Gabriela
@ninagabriela1
-
Redundancy (Theatre / Dance / Movement)
Andrew Maddock
-
1 in 10 (Spoken Word / Comedy)
Alex Hackitt-Anwyl
@ ahackittanwyl
-
The Ending Project (Theatre/Movement)
Stages Theatre Co
www.facebook.com/stagestheatreco - @stagestheatrec
Public Transport to The Old Church:
Bus: The 393 route runs past The Old Church. The 73, 476, 141 and 341 routes run nearby.
Tube: The nearest stations are Manor House, Arsenal, and Highbury and Islington
Overground: The nearest station is Canonbury.
Rail: The nearest station is Stoke Newington.