Description
We're kick-starting 2020 with 20 natural wines; our January Tastings consist of four weekly pop-up events taking place on Friday evenings at our humble abode in Hillsborough!
---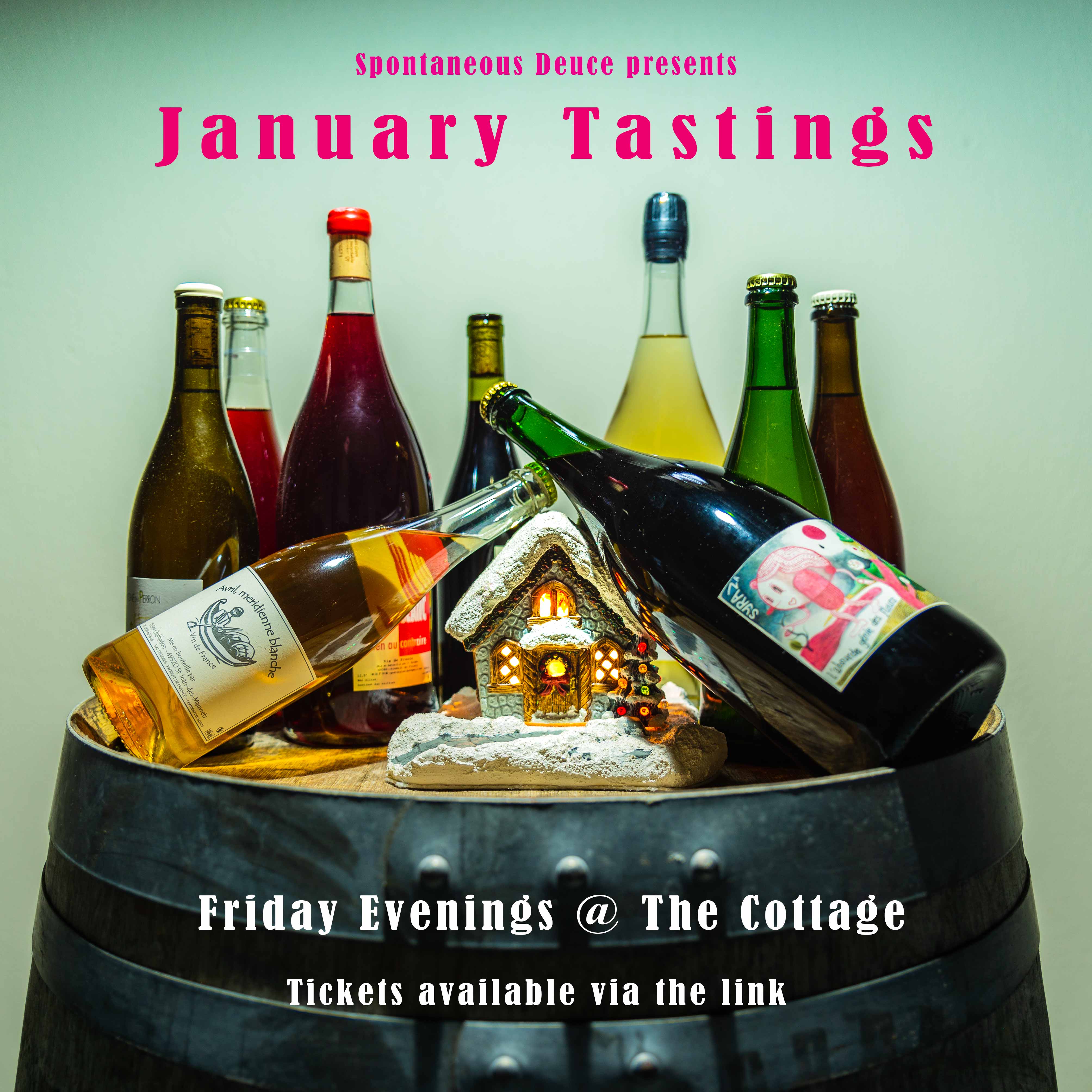 Our January Tastings are aimed at natural wine newcomers, enthusiasts and sommeliers alike; no prior knowledge of natural wines or winemaking is required.
Natural wine, as the name suggests, is wine without any additions; zero additives, zero preservatives, zero hangovers! It is produced with minimum intervention, both in the vineyard and in the cellar -- the result is a living wine; energetic, wholesome, and full of spontaneous microbiology!
For each event, we'll offer a 3-course tasting menu and wine pairing handpicked from our exclusive portfolio of growers; the selections will change every week with more details of our menus to follow here, and via our story on Instagram (follow us @spontaneousdeuce), closer to the time.
One ticket includes general admission; a set menu of small plates*; and complimentary wine pairing of 5 tasting glasses (60ml). We like to keep things cosy, so there's a maximum of 8 spaces per evening; tickets may be purchased individually or as a group -- perfect to treat yourself, or a Christmas gift for a special someone, or a casual night out (in) with friends!
Oh, and if the above wasn't enough, we'll also be featuring tunes from artists including Fleetwood Mac, Tears for Fears, and REO Speedwagon our Linear record player...
See you in Jan!

Spontaneous Deuce (Hannah & Shane)
*If you have any specific dietary requirements then please contact us in advance, you can reach us via our Instagram or email spontaneousdeuce@gmail.com