Japan Now North: From Place to Place by Suzanne Mooney– exhibition launch
Description
Part of Japan Now North
From Place to Place
by Suzanne Mooney– exhibition launch
Bloc Projects
Thursday 22nd February, 6-8pm (exhibition runs from 21st February through 3rd March)
This exhibition combines selected images from two series, Come away, O'…, which explores city-view observatories in Tokyo, and an ongoing series of self- portraits taken over more than a decade in locations around the world. Some images explore the experience of the (Tokyo) city view, focusing on elements such as the window frame, reflections of light and distortion, while in others the figure (subject/artist/viewer) is placed within the Japanese landscape, natural or manmade, indistinct or inseparable from the surroundings. There is a continuous shifting of the boundary between the figure and the landscape, between man, nature and the man-made.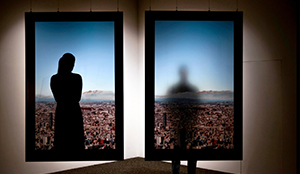 Suzanne Mooney is an award-winning visual artist and art academic, based in Tokyo. She won the Aesthetica Art Prize in 2015. www.suzannemooney.com


---
Japan Now North is a week of activities celebrating art, culture, literature and film in Sheffield, home of one of Europe's leading academic centres for research and teaching on Japan. Events take place across the city, including talks with renowned filmmaker and photographer Mika Ninagawa, writer Tomoyuki Hoshino and an exhibition and workshop with Japan-based photographer and visual artist Suzanne Mooney. We will also welcome documentary filmmakers Megumi Sasaki and the Peabody award-winning Kyoko Miyake, and host the UK premiere of Sasaki's documentary A Whale of a Tale.
---
Programmed by University of Sheffield in partnership with the Japan Foundation and Modern Culture.
Supported by University of Sheffield, Great Britain Sasakawa Foundation and the Japan Society