Event Information
Refund policy
Contact the organiser to request a refund.
Eventbrite's fee is nonrefundable.
Join this Japanese calligraphy workshop and learn about character 梅 Ume (Plum blossom).
About this event
This is a series of workshops designed by Azumi Uchitani to explore Japanese culture through the art of calligraphy and language. We will meet bi-weekly, slowly moving from season to season and uncovering new characters, rituals, concepts and beliefs deeply rooted in Japanese lifestyle. Each event we will centre around a new symbol: we will learn its meaning, discuss a poem about it, meditate and experience the power of the concept through calligraphy practice.
The 4th winter session will focus on character 梅 Ume (Plum blossom) and explore The Art of Ume. Ume is known as the flower of February which starts blossoming at the end of winter in Japan. It is a special flower that has been a popular theme of Japanese paintings and poetry for centuries. The plum blossom is one of the three set of Japanese symbols of celebration along with pine 松 and bamboo 竹 with brings luck and prosperity. Ume symbolises perseverance and hope, as well as beauty, purity, and the transitoriness of life. The plum blossom also stands for the principles and values of virtue.
About the series:
During the short meditation you will be invited to a moment of alignment between your body and soul, to find a channel through which you can listen to your inner voice. This approach helps to concentrate and sense the power of now.
This calligraphy session doesn't have a goal to master the technique or achieve excellence in the process. Instead, what you are more likely to gain after this session is a state of peace, a feeling of wholeness, a sense of alignment.
For the more immersive experience, please, prepare calligraphy tools before the session: we will use calligraphy ink, a brush and several sheets of paper. If you already have them from previous events with Azumi Uchitani – you can continue using them. If not – you can order a calligraphy kit online or purchase items at your local art store.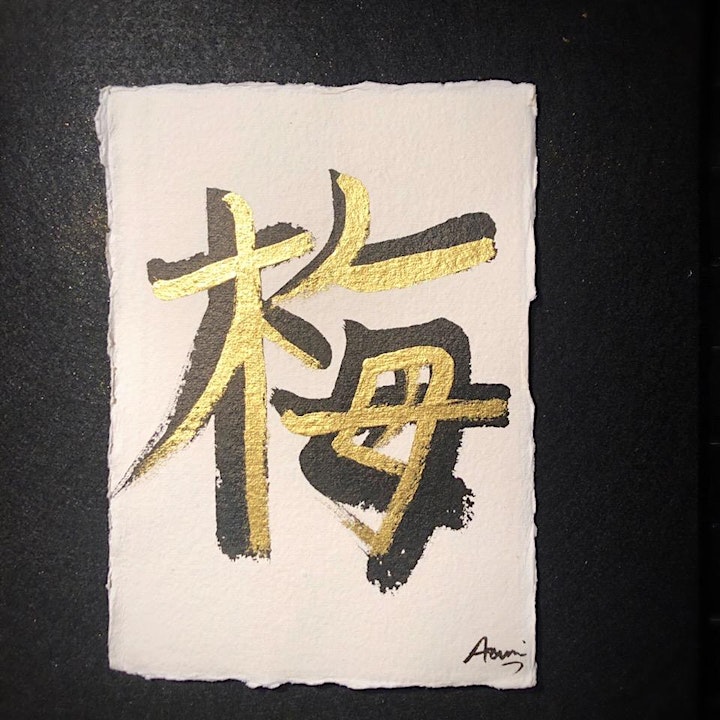 GUIDE – AZUMI UCHITANI
Azumi Uchitani is an Intercultural business consultant, keynote speaker, writer, artist and founder of Japanese SALON art & culture, based in the Netherlands. She is a two-times TEDx speaker, appearing Dutch TV and media and delivering talks to an international audience in Europe and in the US.
Azumi is on a mission to build an essential bridge between Japan and Europe, helping global leaders discover Japanese ancient wisdom beyond culture, teaching how to apply its wisdom in everyday life, act with inner peace and create
conscious leadership and fulfilling life. Azumi decodes the complexity of Japanese culture, tradition, philosophy, spirituality and unspoken rules into a simple essence of wisdom. She was born into a traditional spiritual Japanese family and raised with the teachings of Shingon Buddhism and Shinto. The spiritual and cultural practices, such as tea ceremony, flower arrangement, calligraphy have always been a part of her life, besides that, her grandmother was a kimono maker.
Her insights, a series of talks are available on her YouTube channel "5 minutes on Japanese Wisdom" on YouTube.
http://www.azumiuchitani.com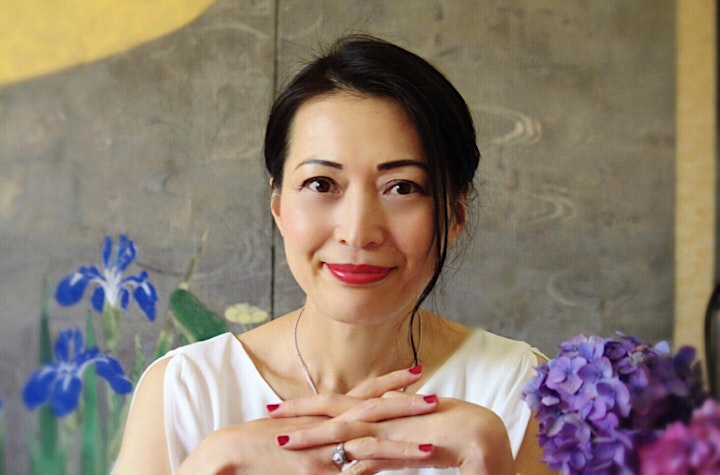 Before
All attendees will be sent joining instructions in advance of the event. Please check your junk/spam folder if you don't hear from us by 12h before the event. Also, please, note that if you unsubscribe from us (Different Level) before the event, we will not be able to share updates and event details with you.The talk will be on Zoom, so if you join us on a mobile device (mobile phone or tablet) you will need to download the app (free) from the App Store / Google Play Store beforehand.
After
Unfortunately, this session will not be recorded. However, you can explore videos from previous events here: https://vimeo.com/differentlevel
Refunds
Please, note that we issue refunds on tickets cancelled at least 24h prior the event.
When price is an issue...
We understand and respect different life situations. If you are in a position that price is a barrier for you to attend this event, contact us directly and we will grant you a free ticket, no questions asked. We design these events to be as inclusive and as open to everyone as possible.
***
Full list of events can be found on our website:
www.different-level.com/events
Please, subscribe to our email list and you will never miss new event announcements, special offers and updates (https://mailchi.mp/b46ea5e68e17/newsletter-sign-up)
Follow our calendar:
https://www.addevent.com/calendar/jU386284
Date and time
Location
Refund policy
Contact the organiser to request a refund.
Eventbrite's fee is nonrefundable.