Event Information
Location
Lecture Theatre G.03
50 George Square
University of Edinburgh
Edinburgh
EH8 9LH
United Kingdom
Description
The Consulate General of Japan in Edinburgh is delighted to welcome you to a free Japanese Film Festival at the University of Edinburgh.
Friday 26th January and February 2nd, 9th and 23rd, we will be offering a free screening of different Japanese films.

Screenings start at 18:30 (doors open at 18:00) and all films have English subtitles.
◆26th January: Dr Junod [2010] ジュノー
An animation depicting the life of Swiss doctor Marcel Junod, who lived by a selfless love that transcended country and race. The story of one doctor as seen by two young girls. An animated film telling of the selfless love, beautiful heart and indomitable spirit of Dr. Junod, and giving people courage and hope.
◆2nd February: Mameshiba [2009] マメシバ
A film adaptation of the TV series which depicts the journey of a middleaged man with a two-month old puppy in search of his mother who has run away from home. The film has a rich lineup of established actors from TV dramas, films and stage performances under their belts, including Sato Jiro who stars in this film. One day Jiro (Sato Jiro), a 35-year old unemployed male who has never stepped out of his town, runs into Ichiro, a Mameshiba puppy with a red scarf around its neck. Ichiro turns out to be a puppy Jiro's runaway mother had sent for her family to come looking for her.
◆9th February: Nobody to watch over me [2009] 誰も守ってくれない
A deep drama depicting the fears of a modern day society, it portrays the distress of the family of a juvenile criminal and the conflicts of the detective ordered to protect them. A film by Kimizuka Ryoichi, the writer and director of "Bayside Shakedown" series. The Funamura family is the target of mass media attention after their first son commits act of murder. Furthermore, every move of detective Katsuura (Sato Koichi) takes in protecting the bewildered daughter of the family, Saori (Shida Mirai) is being fully exposed over the internet. In a deadly game of hide and seek Katsuura and Saori are eventually freed from the malicious attempts of internet addicts.
◆23rd February: Thermae Romae [2012] テルマエ・ロマエ
An adaptation of Yamazaki Mari's popular manga, which has won both the 2010 Manga Taisho (Cartoon Grand Prize) and the Tezuka Osamu Cultural Prize for Best Short Work. Abe Hiroshi and the rest of its cast of talented actors with sharply sculpted faces throw themselves into their roles as citizens of ancient Rome. Another striking aspect is its large open set built at Cinecitta, Italy's largest film studio. Lucius (Abe), an architect of spa baths for the Roman Empire, inadvertently travels through time and finds himself in a modern Japanese bathhouse. He takes elements of Japanese culture that he learns there back with him to Rome and is hugely successful, which leads the Emperor to command him to build a massive spa.

This is a free event that is open to all. However, there is a seating limit in the venue, so please book your place in advance through EventBrite.
If you have any queries about the film event, you can contact Jessica at the Consulate General of Japan.
Email: info@ed.mofa.go.jp
Phone: 0131 247 3518
Looking forward to seeing you there!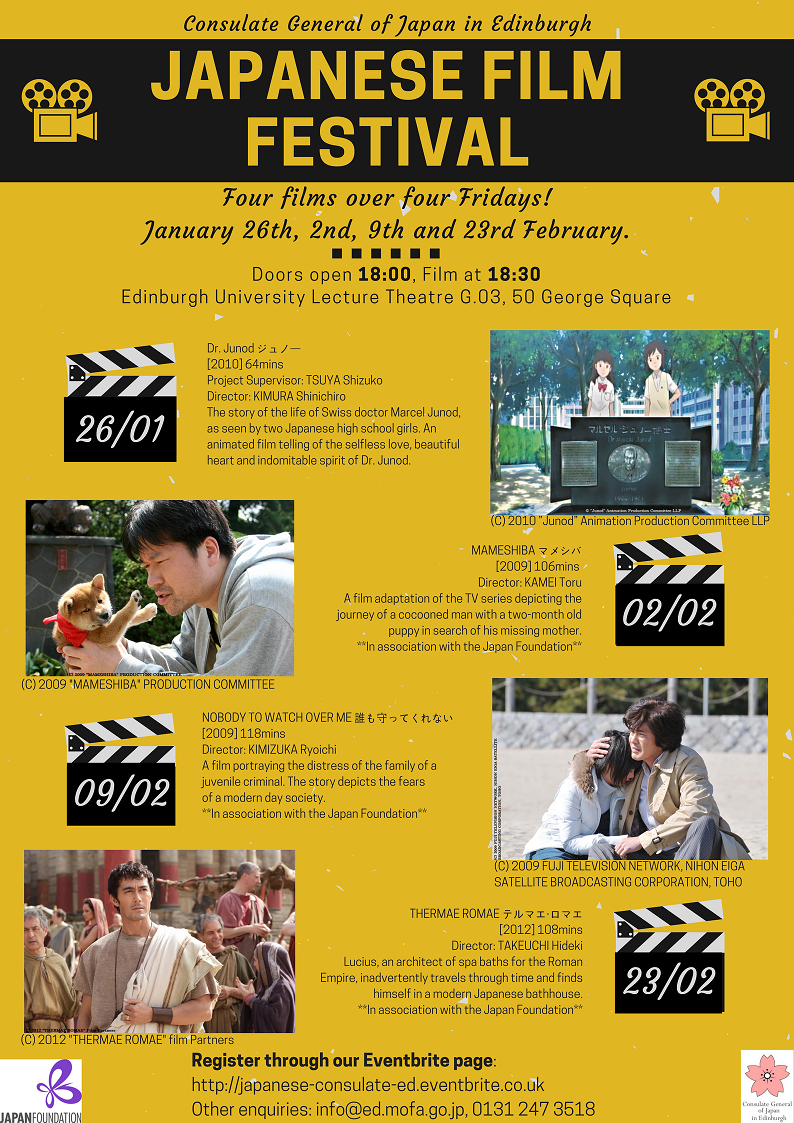 Date and time
Location
Lecture Theatre G.03
50 George Square
University of Edinburgh
Edinburgh
EH8 9LH
United Kingdom
Organiser of Japanese Film Festival