A series of 7 online talks organised in partnership with the Japanese Garden Society ,varied dates @6.30 from 23 Oct, £5 each or £28 for all
About this event
We are presenting a series of talks on Japanese Gardens, past present and future, in association with the Japanese Garden Society in the UK.
Dr Jill Raggett, an Emeritus Reader in Gardens and Landscapes at Writtle University College and long-time student of the history of Japanese style gardens in Britain and Ireland will open the series by exploring the legacy of such gardens in the British Isles. Jill will discuss why were they built, how stereotypes emerged and what the future holds. The author and academic, Yoko Kawaguchi, will describe the Japanese garden aesthetic in terms of the various styles and forms of Japanese gardens and their key elements. Later in the lecture series Yoko will explore how the Japanese garden aesthetic has developed in the modern gardens in Japan.
Japanese gardens are undoubtedly beautiful spaces and foster general wellbeing, but they can be used to realize additional social and cultural benefits. Professor Seiko Goto of Nagasaki University will present her research on how Japanese gardens impact on the behaviour and psychological state of viewers particularly the elderly or those suffering from Alzheimer's and dementia. Hoichi and Michiko Kurisu of Kurisu International Inc will discuss the design of their Japanese gardens in Oregon which were integral to the community regeneration in Lebanon and prisoner rehabilitation at the State Penitentiary in Salem. Graham Hardmen of the Japanese Garden Society, Rebecca Bollands a primary school headmistress with a special interest in cross cultural education, and Robert Ketchell the Japanese garden creator will describe how a karensansui garden was constructed in the War Memorial Park in Coventry in collaboration with local schoolchildren. The garden is part of a wider cultural programme reflecting Coventry's role as an International City of Peace.
The lecture series concludes with the internationally respected and most thoughtful designer Dan Pearson speaking about the design and development of Tokachi Millennium Forest, a naturalistic ecological public park garden in northern Japan. Dan will describe the big thinking and detailed consideration required to realise this long-term project which combines the culture, aesthetics, and horticultural practices of East and West.
.....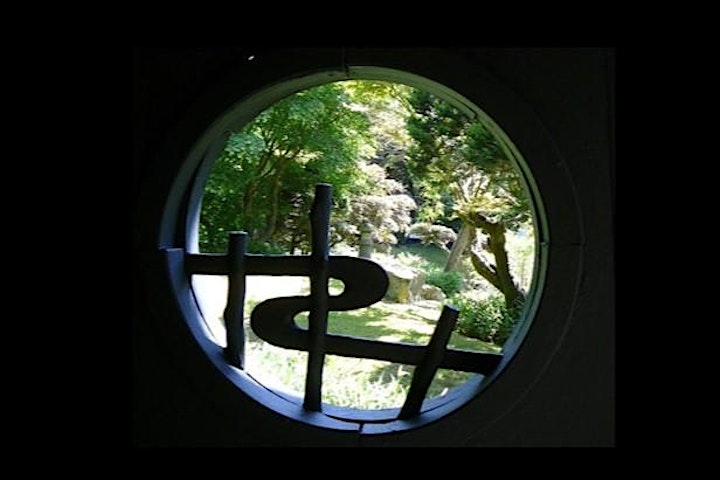 Talk 1. Sat 23 Oct @ 6.30: Japanese-style Gardens in the British Isles with Dr Jill Raggett
There are considerable challenges and issues in transplanting the Japanese garden to another country and these can be both philosophical and practical. The gardens we see in Britain inspired by the Japanese tradition are the result of the ongoing relationship between the two nations alongside the motivations, knowledge and skills of individual owners, designers, and gardeners and these will be explored.
There are new gardens being built, and old ones being restored and modified. The interpretation of Japanese-style gardens in Britain has been extremely diverse ranging from thoughtfully constructed interpretations striving for authenticity to a nod to a Japanese stereotype with the addition of lanterns, bridges or plants. The Japanese garden has been absorbed into British gardening culture along with plant species from and used in Japan, and a growing understanding of Japanese design techniques and maintenance skills
…..
Jill is a long-time member of the Japanese Garden Society and has studied historic Japanese-style gardens in Britain and Ireland for the last 35 years. She is an Emeritus Reader in Gardens and Designed Landscapes and is a tutor and assessor for the Royal Horticultural Society's Master of Horticulture qualification. Jill is normally to be found in her garden trying to find a place for one more plant!
.....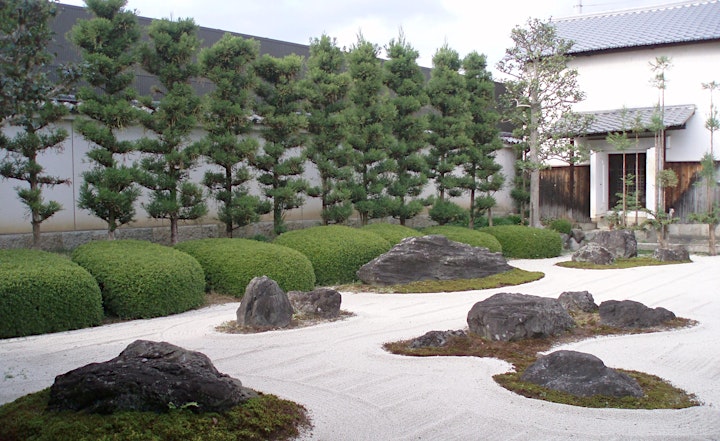 Talk 2. Thu 28 Oct @ 6.30: Key elements of Japanese Gardens with Yoko Kawaguchi
Japan is as famous for its exquisite pond gardens as it is for its austere gardens comprised of rocks and raked gravel. While the two styles may not look as though they have much in common, they share one characteristic that lies at the heart of all Japanese garden traditions: the idea of creating a landscape.
We will look at which features were considered essential for a garden landscape and why these features were culturally so important to the Japanese. We will also examine the cultural and religious importance of different landscapes, and how they were reflected in various types of Japanese gardens, from the early aristocratic pond gardens of Nara and Kyoto, paradise-style Buddhist temple gardens, karesansui (dry-landscape) gardens, tea gardens, and the ʻstroll' gardens of sixteenth to nineteenth-century Edo-period feudal lords.
…..
Yoko Kawaguchi is a cultural historian who writes and lectures on Japanese gardens, as well as many other aspects of Japanese culture. Her publications include Japanese Zen Gardens and Authentic Japanese Gardens. She is a committee member for the South-west Region of the Japanese Garden Society.
…..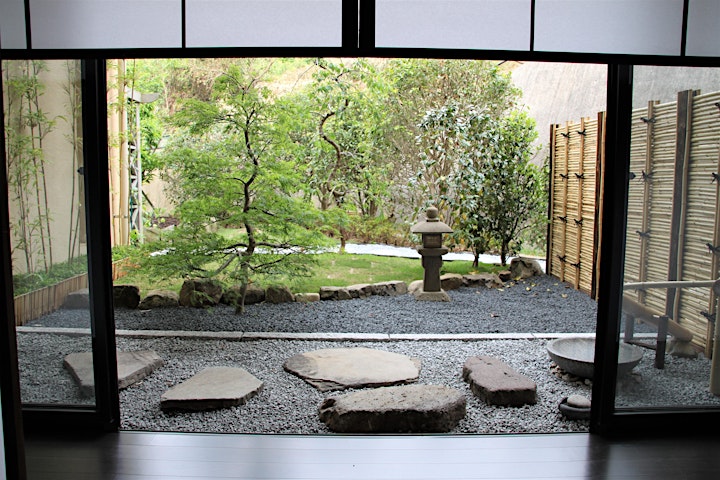 Talk 3. Fri 5 Nov @ 6.30: Japanese gardens as a therapeutic landscape for Alzheimer's and dementia patients with Seiko Goto
Since the Muromanchi period (1333 – 1578), Japanese gardens have been designed to calm the mind for meditation and the tea ceremony. Their design recreates natural beauty and tranquility to maximise a calming effect. Studying the impact of viewing on 'the viewer' has been Professor Goto's research focus over the last ten years. This lecture will describe a series of studies assessing the responses of elderly residents when viewing Japanese gardens created in nursing home settings in the US and Japan
One study carried out in the US examined the behavioural and physiological response of residents, having an average age of 88 years old and advanced dementia, when exposed to a Japanese garden or a Snoezlen room (an established non- pharmacological therapy for dementia). The combination of a behavioral assessment checklist completed by a trained observer, a finger heart rate monitor and review of video recordings of each participant showed that the Japanese garden was more beneficial than the Snoezlen room.
Another study, undertaken in Japan, investigated the effect on residents with dementia under different viewing situations: (a) open view of the site before construction of the Japanese garden (the control space), (b) open view of the Japanese garden, (c) view of the Japanese garden through closed door, and (d) view of Japanese garden through closed door with aroma. The direct view of the Japanese garden significantly reduced heart rate and improved behavioural symptoms compared with the other test conditions. The findings from these studies demonstrate that direct viewing of a Japanese garden is an effective non-pharmacological invention for individuals suffering from advanced dementia.
…..
Seiko Goto is Professor, School of Environmental Science at Nagasaki University, Japan. She was born in Japan, received B.A. in Art History from Tokyo University of Fine Art and Music, M.L.A. from Harvard University, M.A. in Horticulture and Ph.D. in History of Japanese Garden from Chiba University. From 1998 to 2014, she taught Landscape Architecture Design and History of Landscape Architecture in University of Toronto (Canada), University of Manitoba (Canada), and Rutgers University (US). Her teaching, research and publications focus on landscape architecture, history and design, and healing effects of Japanese garden. She has published extensively on the subject. She is an academic expert in Japanese garden history and the healing effects of its design.
…..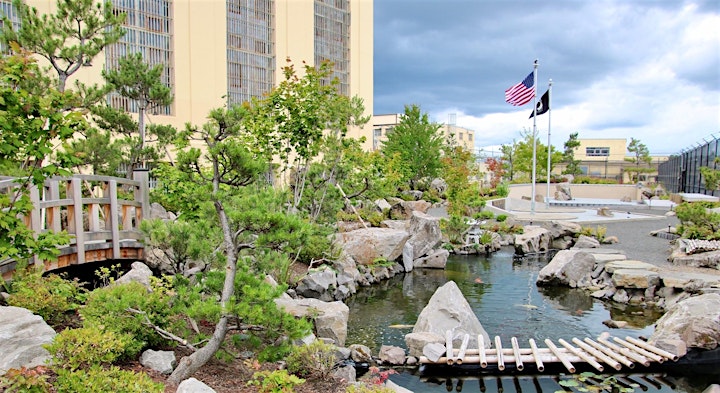 Talk 4. Thu 11 Nov @ 6.30: A Ripple Effect: The Role of Two Japanese-Style Healing Gardens in Transforming Healthcare Delivery, Community Revitalization, & Prison Culture with Michiko and Hoichi Kurisu
Hoichi and Michiko Kurisu will share the stories of the development, design and construction, and impact of two Japanese-style healing gardens in Oregon, the Healing Garden at Samaritan Lebanon Community Hospital (Lebanon, Oregon), and the Memorial Healing Garden at the maximum-security Oregon State Penitentiary (Salem, Oregon). While serving very different populations, both gardens demonstrate the role of Japanese-style healing gardens in fostering healing, physical and mental rehabilitation, and fundamental resilience in individuals, communities, and society as a whole.
Located in a formerly dying, economically depressed rural town, the Healing Garden in Lebanon's community hospital helped to spark the revitalization of the entire area, including the development of a new healthcare campus, world-class hotel, conference centre, and osteopathic teaching college. The Japanese-style healing garden at Oregon State Penitentiary, possibly the first of its kind in the world, demonstrates the necessity of nature's restorative powers in pursuing mental and spiritual rehabilitation even in the most restricted environment. This prison garden serves not only some 2,000 incarcerated men at this facility, but the staff and guards who work inside the prison as well.
…..
Hoichi Kurisu has established a reputation for designing gardens of the highest quality, driven by the conviction that encounters with nature's restorative powers are essential to the lasting health of our minds, bodies, and to society as a whole. His designs include Anderson Gardens (Rockford, Illinois), Roji-en Japanese garden at the Morikami Museum (Delray Beach, Florida), and the Richard and Helen DeVos Japanese Garden at Frederik Meijer Gardens and Sculpture Park (Grand Rapids, Michigan). He is the recipient of numerous awards, including the prestigious Academic Society of Japanese Gardens award in 2019.
…..
Michiko Kurisu is a professional photographer with a background in fine art and art history. Based in Delray Beach, Florida, Michiko is also the co-founder and director of an urban permaculture-based food forest.
.....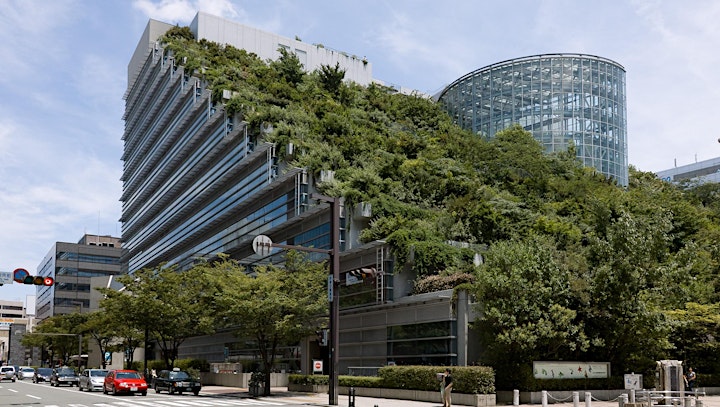 Talk 5. Thu 25 Nov @ 6.30: Modern Japanese Gardens in Japan with Yoko Kawaguchi
The design of Japanese gardens has always had a symbiotic relationship with the architectural style of the buildings to which they are attached. It is not surprising, therefore, that the rapid westernisation of people's way of life, which took place through the twentieth century, but especially after the Second World War, has had a profound influence on modern Japanese garden design. The effect of this change was not just felt in the domestic sphere, but also in the use of public spaces.
This lecture will look at how changes both in the taste in plants and the expectations people have of their gardens have influenced garden design. More broadly, we will be examining how designers have addressed the issues raised by the pressures on space in modern cities.
…..
Yoko Kawaguchi is a cultural historian who writes and lectures on Japanese gardens, as well as many other aspects of Japanese culture. Her publications include Japanese Zen Gardens and Authentic Japanese Gardens. She is a committee member for the South-west Region of the Japanese Garden Society. …..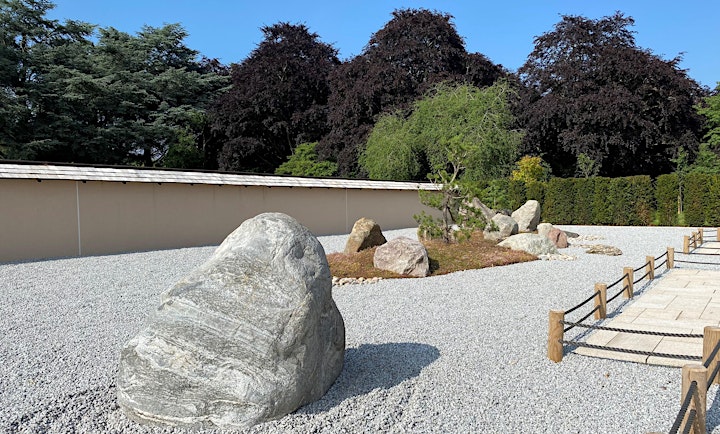 Talk 6. Fri 3 Dec @ 6.30: Islands of Peace - a karesansui garden and community cultural project in Coventry with Rebecca Bollands, Graham Hardman & Robert Ketchell
The subject of this illustrated lecture is the newly constructed 'Islands of Peace' Japanese garden in the War Memorial Park, Coventry. The realisation of the garden came about through a collaboration between five Primary Schools in Coventry, two contractors, the War Memorial Park management, and volunteers from the Japanese Garden Society.
Reflecting Coventry's role as an International City of Peace, and its strong city to city link with Hiroshima, Rebecca Bollands will explain how these factors fed into a series of Japanese culture related projects for children at the schools. The culmination was learning about the dry stone, or karesansui, gardens of Japan, which ultimately led to the garden being constructed.
Designer Robert Ketchell will explain how he incorporated the children's ideas in the final design for the garden. Project Manager for the construction, Graham Hardman, will then outline how the garden was constructed, involving the children where possible.
…..
Rebecca Bollands has been involved in Japanese education for many years and recently organised a study tour to Japan for pupils from five Coventry primary schools. She has been working on a Japan Society initiative Cities of Peace project that has seen pupils from Coventry schools have poems exhibited in the Embassy of Japan and in Coventry Cathedral. As part of this project, pupils designed and built the Islands of Peace Japanese Peace Garden in Coventry's War Memorial Park.
…..
Graham Hardman has been a freelance Garden Designer for over 20 years, with a special interest in Japanese gardens. He has designed and managed construction of several Japanese gardens, including Birmingham Botanical Gardens, Norwich Cathedral and Walkden Gardens in Manchester. He has lead garden tours for members of the Japanese Garden Society and is a regular speaker on Japanese gardens. In 2015 the Japanese Government awarded Graham the 'Order of the Rising Sun with Gold Rays and Rosette' for services in furthering awareness of Japanese culture in the UK through Japanese gardens.
…..
Robert Ketchell is a Japanese garden creator, author, and teacher. He was one of the founders of the Japanese Garden Society and has led guided tours of gardens in Japan. In 2017 he was awarded the 'Order of the Rising Sun with Gold Rays and Rosette' by the Japanese Government for services to promoting Japanese Culture through gardens.
Robert has designed and constructed over 200 gardens in the UK and has written Japanese Gardens in a Weekend; Shishu, a film produced by Espirita, as well as being a major contributor to the Japanese Garden Society booklet Visions of Paradise and to the Society's journal Shakkei over the last 26 years.
…..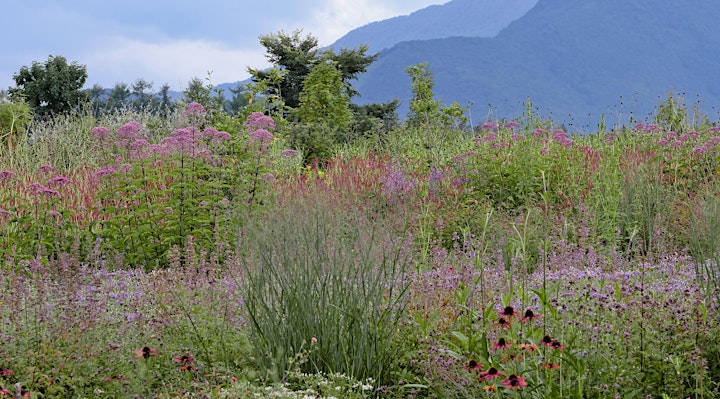 Talk 7. Thu 9 Dec @ 6.30: Tokachi Millennium Forest – a naturalistic garden in Japan with Dan Pearson
Thirty years ago, in an extraordinarily progressive move, Japanese media entrepreneur, Mitsushige Hayashi, bought 400 hectares of land in the Tokachi region of Hokkaido, the northernmost island of the archipelago, with the aim of off-setting the carbon footprint of his national newspaper business. Ten years later he invited internationally respected British landscape designer, Dan Pearson, to help design an ecological public park on the site that would allow visitors to reconnect with nature and preserve and improve a piece of land that had been lost to intensive forestry and agriculture. With the aim of safeguarding this place for a thousand years Mr Hayashi named it the Millennium Forest. This project is at the heart of the book Tokachi Millennium Forest: Pioneering a New Way of Gardening with Nature (Filbert Press, 2020), co-written by Pearson and Midori Shintani, Head Gardener at Tokachi Millennium Forest.
In this talk, Dan Pearson will discuss the design and development of the forest and gardens including the big thinking required to engage with such a large and unfamiliar site to a detailed examination of its cultivated areas. He will look at how traditional Japanese cultural practices have guided and influenced the process from nature worship and animism, the Japanese calendar of 72 seasons, the concept of satoyama as a guiding principle in the forest, and the use of traditional Japanese garden design methods such as shakkei, the borrowed view. He will also consider how a very naturalistic strand of European garden and planting design which prizes respect for the environment and ecology came to find a new natural home in Japan.
…..
Dan Pearson trained at the RHS Gardens, Wisley and at the Royal Botanic Gardens, Kew. Two years spent working at the botanic gardens of Jerusalem and Edinburgh enhanced his innate understanding of plant ecology which, along with an appreciation for natural landscapes, inspires his garden design today. His international work for public and private clients is widely celebrated and he has received numerous accolades including Honorary Fellow of the Royal Institute of British Architects, Royal Designer for Industry in 2012, and Society of Garden Designers awards. He has designed five award-winning Chelsea Flower Show gardens including Best in Show in 2015, writes a weekly gardening journal DIGDELVE and lectures widely.
…..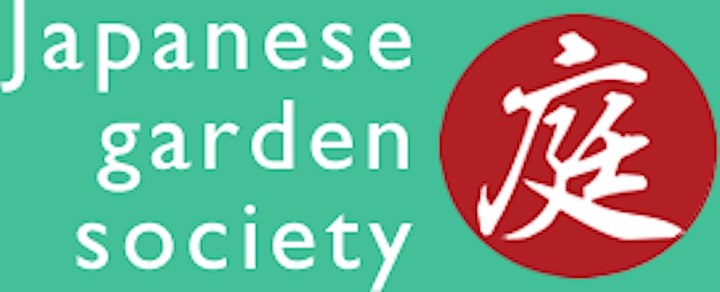 Organiser of Japanese Gardens
The Gardens Trust is the UK national charity dedicated to protecting our heritage of designed gardens and landscapes. We campaign on their behalf, undertake research and conservation work, train volunteers and encourage public appreciation and involvement, working with the national network of County Garden Trusts.

Please join or donate to support us: http://thegardenstrust.org/support-us/
For details of our privacy policy see: http://thegardenstrust.org/privacy-cookies/