Description
♪Experience a night of experimental Japanese music, sand art, Japanese street food and Sake at London's newest venue, The Shaft!♪
*** This page is for the Friday event ***
① 8pm, Friday 20th October 2017
£10/ £5 concessions & students (student ID/proof of your concessionary status must be shown on entry)
Reasonably priced Japanese food and drinks (specialty sake, beer and soft drinks) served from 7pm ~!

After her debut experimental multi-media project Yugenism: Animated Soundscapes of the Japanese Sublime sold out across London, soundscapist and composer Verity Lane is back with an exciting new project entitled Japanese Sandscapes: The Story of Mt. Fuji.
With an international debut performance by up-and-coming Japanese sand artist Akifumi Kasanuki, this collaborative project aims to create elements of the Japanese sublime in the form of audio-visual installations that depict the famous Japanese story of The Bamboo Cutter. To compliment Kasanuki's live sand art display, acclaimed Japanese instrumentalist Kaho Aso will be bringing Lane's music to life, with audio experiences scored for the kotsuzumi drum, Japanese flute and dance.
Event supported by The Daiwa Anglo-Japanese Foundation & Great Britain Sasakawa Foundation
What to Expect
You will be presented with four new works that explore the story of Japan's iconic mountain, with narratives told in both sand and sound. To compliment Kasanuki's live sand art display, traditional Japanese instrumentalist Kaho Aso will be bringing Lane's music to life, with audio experiences scored for the kotsuzumi drum and Japanese flute, as well as avant-garde piano provided by free jazz legend Veryan Weston, experimental violin by Alison Blunt and awe-inspiring performances by percussionist Beibei Wang. Expect interactive performances throughout the course of this 1 hour show between traditional Japanese dance and visuals, as well as spoken word performances and storytelling.
Medley for Yugenism: Animated Soundscapes of the Japanese Sublime
https://soundcloud.com/verity-lane/yugenism-medley
The event will be held over two days at The Shaft, Brunel Museum (Railway Ave, Rotherhithe, London SE16 4LF) www.brunel-museum.org.uk/
*** This page is for the Friday event ***
① 8pm, Friday 20th October 2017
£10/ £5 concessions & students (student ID/proof of your concessionary status must be shown on entry)
Reasonably priced Japanese food and drinks (specialty sake, beer and soft drinks) served from 7pm ~!
DonDonburi (Gyudon & Yasaidon) https://www.facebook.com/dondonburistreet/
*************************
Creative Participants
Verity Lane (Composer/Soundscapist)
Akifumi Kasanuki (Live sand art performance)
Kaho Aso (traditional Japanese dance/shinobue/nohkan/kotsuzumi)
Beibei Wang (percussion)
Alison Blunt (Violin)
Veryan Weston (Piano)
Tomoko Komura (storytelling)
*Detailed information below*
****************************
Food
DonDonburi
"We are a street food stall that sell Gyudon and Yasaidon (vegan version), a popular Japanese dish of thinly sliced beef, cooked in a sauce served on a bed of rice. We also do a vegan version, we call Yasaidon, which is our own creation. We substitute the beef for fried tofu, mushrooms and daikon radish, which is then cooked in a vegetarian Dashi (stock)."
https://www.facebook.com/dondonburistreet/
***********************************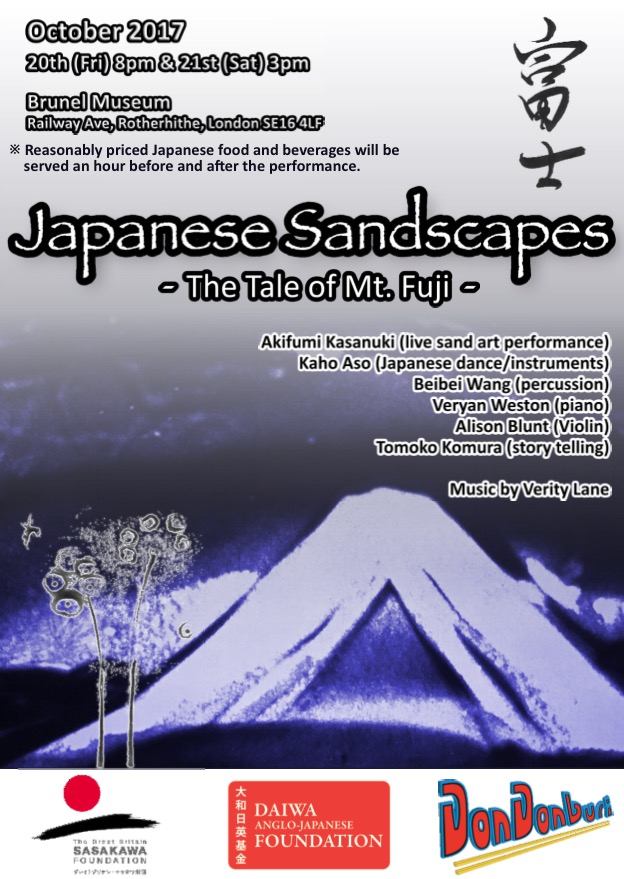 Verity Lane/ Sound Artists and Project Leader
Verity Lane Born in Tottenham and spending the last 10 years in Japan, soundscapist, audio artist and producer Verity Lane specialises in creating highly visual soundscapes for traditional Japanese instruments.

Her recent music project Yugenism: Animated Soundscapes of the Japanese Sublime (supported by Great Britain Sasakawa Foundation) saw her launch herself within London's experimental music scene, selling out venues across London.

https://www.facebook.com/veritycomposer/
https://soundcloud.com/verity-lane
Kaho Aso/ Kotsuzumi (drum), Japanese Flute & Dance (Buyo)
Kaho Aso is a traditional Japanese dancer, multi-instrumentalist and actor from Tokyo, Japan. She completed a PHD at the prestigious Tokyo University of the Arts where she focused on traditional Japanese instruments. As well as performing internationally, she has appeared in a variety of Japanese advert campaigns, TV programmes and films, as well as the Hollywood film Blue Eye Samurai. She was appointed as a Japan Cultural Envoy by the Agency of Cultural Affairs, and currently resides in London.
www.youtube.com/watch?v=t0NuvfojMGA
http://aso.kaho.jp/ (Japanese)
Akifumi Kasanuki/ Sand Art
A graduate of Japan's renowned Tama Art University where he specialised in Japanese art, Akifumi Kasanuki is now a fast emerging figure within Japan's sand art scene. Resident sand-artist at Kawakuchiko Music Forrest, Kasanuki has developed his craft, and exhibits his work regularly at various exhibitions around Japan, including the Teshikaga Art Festival and Fuji's Carne exhibition. Living and working in close proximity to Mt. Fuji has given Kasanuki a profound appreciation of this iconic mountain, which is reflected heavily in his work. This will be Kasanuki's first performance outside of Japan, and promises to be a rare insight into the many aspects of Mt. Fuji not to be missed. www.youtube.com/watch?v=pBaHs1zMJPY
Beibei Wang/Percussion
Beibei Wang is an international breakthrough artist from China, focusing her talents on the field of percussion. She has attended various prestigious music schools in both China and the UK, including Central Conservatory of Music and Royal Academy of music. Her performance approach is uniquely expressive and engaging, blending both theatrical sensibilities with dramatic elements. Wang is a highly versatile musician, and enjoys working in various genres including classical, contemporary, jazz, rock and Chinese traditional music. She enjoys challenging perceptions, performing works that include non-conventional instruments such as fire and water. She has also worked with highly praised composers such as Tan Dun (composer of the soundtrack to Crouching Tiger, Hidden Dragon, (2000)).
http://www.beibeimusic.com/
Veryan Weston/Piano
Veryan Weston is an internationally acclaimed pianist, composer, arranger and improviser from Cornwall, England. He completed a degree in performance art at Middlesex University, followed by a master's degree in composition at Goldsmith's College, London. His unique style blends elements of modern composition with contemporary improvisation, as demonstrated in his collaborative works with renowned artists such as Phil Minton, Trevor Watts, Luc Ex, Hannah Marshall and John Edwards. He received a fellowship from the Digswell Arts Trust in Hertfordshire, where he co-founded and composed for the group Stinky Winkles ('Young jazz Musicians of 1979', by Greater London Arts Association). Other notable achievements include performing music on Derek Jarman's Caravaggio alongside Lol Coxhill in 1986.
http://veryanweston.weebly.com/
Alison Blunt/Violin
Alison Blunt was born in Mombasa (Kenya), grew up in Nairobi, and subsequently the Lake District. Since undertaking classical violin training at prestigious music colleges including Birmingham Conservatoire and the Guildhall School of Music and Drama, Blunt has been creating and performing new works utilising or consisting of improvisation. She has performed throughout Europe, Scandinavia, US, Brazil, Australia and New Zealand with a wide array of artists including Evan Parker, Mark Sanders, BARREL, Barcode Quartet and Berlin Improvisers Orchestra as well as performing as a soloist. Amongst broader performance and research activities, Blunt was a member of collective ASITIS, 'Experiments in Spontaneous Performance' and Apocryphal Theatre. A writer of articles and voice on radio and podcasts, she is also a highly experienced workshop leader exploring music-making with people of all ages and abilities. Blunt refuses to be pigeon-holed.
https://www.alisonblunt.com
Tomoko Komura/Storytelling
Tomoko Komura is a London-based performer, actor and instrumentalist from Japan. She completed an MA at London International School of Performing Arts, and performs regularly around the UK as a member of Japanese band No Cars and the Frank Chickens.
Yoshie Omata/ Assistant Project Manager
Born in Yamanashi, Japan, Yoshie Omata studied piano performance at Tokyo's Kunitachi College of Music. She then completed an MA in Arts Administration & Cultural Policy at Goldsmiths, University of London. She has worked at several international music agencies and production companies in London, as well as taking on the accompanist role at the long-running multi-media project Sand Art & Live Music, Kawaguchiko Music Forest, Japan. She is the resident designer for the London-based community project Tottenham Soundscapes; her unique poster designs incorporate an element of hand-drawn calligraphy, bringing a traditional Japanese flavour to her work.
Organiser of Japanese Sandscapes: The Tale of Mt Fuji (7PM Friday Performance)
★Our Producer & Organiser★
Born in Tottenham and spending the last 10 years in Japan, music-maker, sound artist, producer and returnee resident Verity Lane is working in conjunction with All Hallows' Church to create a diverse music programme for the Tottenham community. 
Mentored by the late Indian composer John Mayor, she attended various prestigious music schools and orchestras, including the Junior Royal Academy and Guildhall School of Music and Drama. She completed a BA Hons in Japanese and music at School of Oriental and African Studies (SOAS), and won an award by JASSO to study at Osaka University, Japan. She then went on to complete an MA in composition at Osaka College of Music. In her ten years of living in Japan, she gained experience in organising numerous events. Recently, two pieces from her '3 Summer Pieces' for bass koto(Japanese harp) were premiered on BBC Radio 3's 'Late Junction'.
https://soundcloud.com/verity-lane