Japanese Textiles and Craft Festival 2021
About this event
"Welcome to the Japanese Textiles and Craft Festival 2021. 
This fifth edition of the JT&CF is once again part of the official Japan UK Season of Culture 2019-2021 by the Japanese Embassy in London.
With a strong focus on techniques and process, this carefully curated boutique event presents a host of traditional and contemporary Japanese crafts in the spacious Craft Central Gallery. An exciting mix of exhibition and market, this edition of the festival features 15 Japan and UK based artists as well as the delicacies of Guchokipan, London's Japanese Micro Bakery. 
Covid-19 precautions in place, maximum attendance restrictions apply (you might have to wait outside for a few moments in the event that for whatever reason full capacity is reached). Face masks and social distance etiquette required.
Saori Weaving - Kogin - Sakiori - Shibori - Suminagashi - Boro - Indigo - Ceramics - Arashi Shibori - Katazome - Dorozome  - Bengala Pigment Dyes - Indigo - ..and more"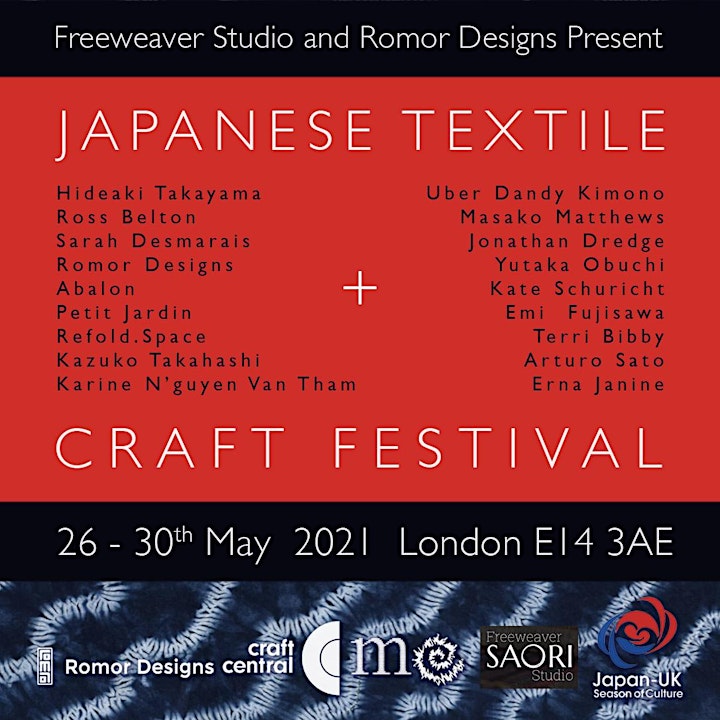 Organiser of Japanese Textiles and Craft Festival I