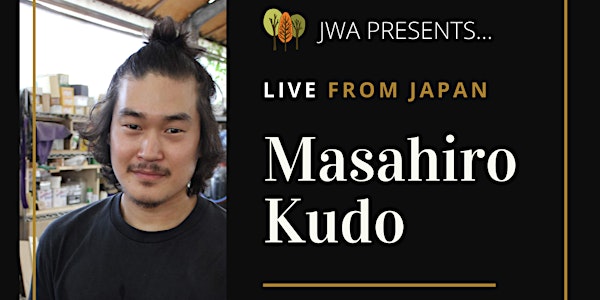 Japanese Woodwork Masterclass Webinars With Masahiro Kudo | Live From Japan
Japanese Woodwork Masterclasses With Masahiro Kudo | Watch LIVE Or Download
About this event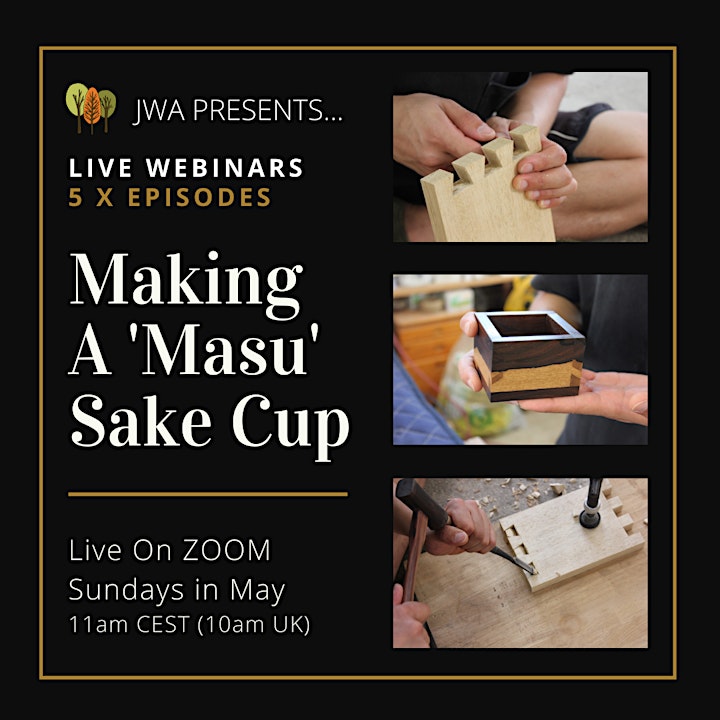 Making A 'Masu' Cup | 5 x Episodes With Live Q & A
Watch and learn as talented young craftsman, Masahiro Kudo, takes you on his journey crafting a traditional wooden sake cup or 'masu'.
Brought to you by the Japan Woodcraft Associaton, this live webinar series of 5 x 1 hour episodes sees Masahiro using traditional Japanese hand tools and techniques to craft and finish intricate dovetail joints called 'ari-gumi'. Witness Masahiro work the wood with precision techniques, all by hand. Interact and ask questions directly to Masahiro as part of a live Q & A session during each episode.
Every Sunday throughout May plus the first Sunday in June, the JWA will be broadcasting live via Zoom from Masahiro's workshop in Chiba, just outside Tokyo.
Missed An Episode? Download.
Don't worry! Follow the Eventbrite ticket links on this page to purchase access to recordings of any episodes you've missed.
PLEASE NOTE: An initial free episode, Episode 1 is available to view free of charge (see YouTube link below). All further episodes (2-5) will be available to watch and download by paying ticket holders only.
Uncover The Secrets Of Japanese Woodwork
This is a rare opportunity to watch and learn directly from a talented Japanese craftsman enjoying his work. Translation will be provided in English by narrator and translator, Kaho Sakuta.
Please note: this is a professional demonstration webinar not a follow-along craft workshop to make your own 'masu'.
FREE PREVIEW EPISODE | AVAILABLE ON YOUTUBE
Episode Summary
This masterclass webinar series can be booked as a whole for 75 euros (saving 25%), or each episode can be booked individually (25 euros each). Episode 1 is free on YouTube - see above.
May 3 - Episode 1: Masu Cup Overview | Sumitsuke - Measuring + Marking (free preview episode on YouTube)
May 10 - Episode 2: Nokohiki - Sawing | Cutting The Pins & Tails (recorded webinar available to purchase via Eventbrite)
May 24 - Episode 3: Aradori - Rough Chiselling The Joints (recorded webinar available to purchase via Eventbrite)
May 31 - Episode 4: Shiage - Finishing | Kumitate - Assembly PART 1 (recorded webinar available to purchase via Eventbrite)
June 7 - Episode 5: Shiage - Finishing | Kumitate - Assembly PART 2