Japan's role in the World by Japanese Ambassador Koji Tsuruoka
Description
School of East Asian Studies at the University of Sheffield
Special Guest Lecture
Japan's Role in the World
by
H.E. Mr Koji Tsuruoka,
Ambassador Extraordinary and Plenipotentiary, Embassy of Japan in the United Kingdom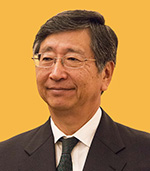 H.E. Mr. Koji Tsuruoka was appointed as the Ambassador of Japan to the United Kingdom in April 2016. Prior to this appointment, he was the Chief Negotiator for the Trans-Pacific Partnership (TPP) (2013-2016). He has served in embassies in Moscow, Washington and Jakarta. In the Ministry of Foreign Affairs he has served as the director of the legal division and North American division, Deputy Director General of the Foreign Policy Bureau (2003-2006), Director-General for Global Issues (2006-2008), Director-General, International Legal Affairs Bureau (2008-2010), Deputy Vice-Minister for Foreign Policy (2010- 2012), and Deputy Minister for Foreign Affairs (2012 –2013).