Location
Jabulani (at the Plot)
80-84 Union Street
Plymouth
PL1 3EZ
United Kingdom
Let's put joy & connection in jars by making jams & preserves together!
About this event
JARSQUAD brings people together through communal food-preservation, to practice sharing ingredients, recipes, and know-how by making jams and preserves as a 'squad'.
At our Assemblies, we work together to put up communally harvested local abundance into tasty jars!
We're thinking of making different sorts of pickles with surplus produce from our friends at The Community Fridge, and we're open to your tangy ideas for what we'd like to co-learn and make for future 2022 sessions.
No experience necessary, just a willingness to get involved & chip in with some fruit prep and cooking. :)
PLEASE BYO APRON (if you have one - it helps us lots to launder less!), and hair ties or caps.
PLEASE LET US KNOW if you have any food allergies in advance.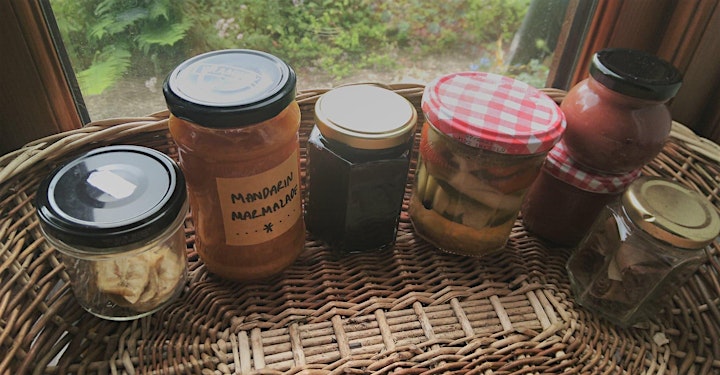 INFO ON HOW TO BOOK:
We're limited to 8 persons per hour. Choose a one-hour slot that works best for you.
We'll have lots of space to work with socially distanced (you are welcome to wear a mask/shield), and lots of various jobs that'll need your special touch.
You're welcome to keep company if there's space in the previous or subsequent spot on the day.
We'd welcome a Choose-What-You-Give donation when you book: £2 helps cover the cost of supplies; £5 helps us with supplies and upkeep of equipment; £10 covers supplies, equipment and space upkeep; £15 covers all the above, plus the time of our co-animators.
We'd also welcome any extra fruit or supplies you'd like to offer/trade using our exchange rate (image below) onsite.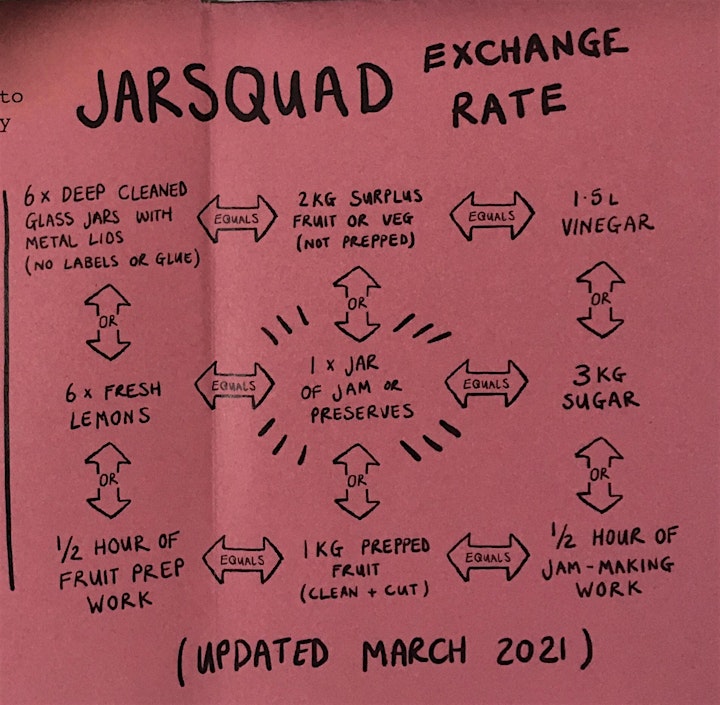 ANY QUESTIONS? GET IN TOUCH!
Do you have a special recipe or ingredients to share? Email: hello@jarsquad.com
AND SAVE THE DATE!
Our next session MON JUNE 13 (same timeslots: 1-2pm // 2:30-3:30pm // 4-5pm)