Description
Welcome to ES6 - ESNEXT!
In this workshop we will demystify modern Javascript through hands on exercises. After our workshop you will be comfortable using all the newest language features and explaining them to other devs!
Over the course of the evening we will explore the use of:
Transpilers:
- babel, babel-node
ES6
- Arrow Functions, Class syntax, Template strings
- Destructuring
- Default paramaters, Rest operator, Spread operator
- Let and Const vs Var
- ES6 iterators and functional programming in JS
- Modules
- Promises
ESNEXT (ES2016 - Stage 3)
- Understanding language updates - difference between ES7 and ESNEXT
- Rest + Spread properties


There will be a 45 minutes talk to explain the key concepts of ES6 and ES Next, what makes it really special. Then a 1.5 hour workshop to practise those concepts, for which we have prepared a challenge for you to work on. We encourage you to do pair programming to solve our challenge. There will be a mentor to answer your questions during the hacking session.


Drinks
There will be coffee, tea, and, cider, and beers!

Agenda
• 6:30pm to 6:45pm: Mingle, Drinks & Setup
• 6:45pm to 7:30pm: Talk "ES6 and ES Next", by Alex Lobera, tech lead at LeanJS
• 7:30pm to 9pm: Hands-on Workshop


Requirements
A computer with node (at leat v4.4.5 LTS) and git installed.

Sponsors

WeWork is the platform for creators. We provide the space, community and services you need to create your life's work. To learn more send an email to joinuslondon@wework.com or call 0203 695 4926.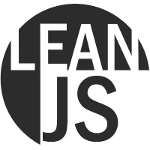 LeanJS is a boutique of excellence focused on Lean, JavaScript, UX, Agile, and people.