About this Event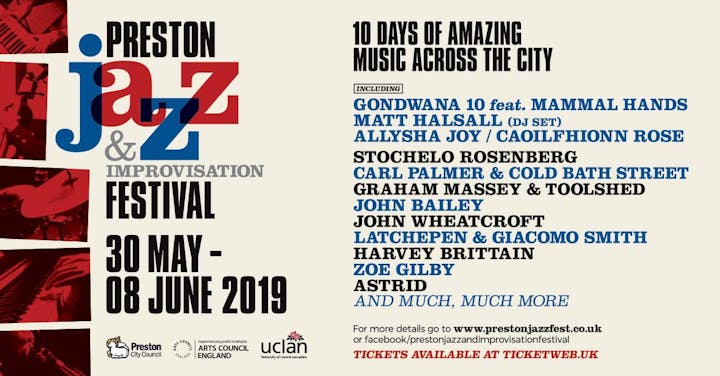 **Venue Information**
The conference will take place in the Greenbank Lecture Theatre (Greenbank Building) starting at 11am. A UCLan campus map can be download via the link below, with the Greenbank Building located in the purple zone - key reference 'GR'.
This conference will bring together the latest research in jazz as it has been appropriated, assimilated and created/recreated in European culture. As the question of Europe is being put under pressure by Brexit and nationalist movements across the continent, this conference will seek to situate jazz as both a marginal and mainstream cultural practice which is inherently borderless and multivalent. We invite you to explore the intersections between jazz and European music, analyse key performers and genres which have emerged out of European jazz movements, contextualise the development of jazz in Europe in terms of cultural, political and historical forces, or offer new insights into the current state-of-play in contemporary European jazz. The conference committee will consider a broad range of jazz, from trad jazz to free jazz, from gypsy jazz to Nordic jazz, and will be particularly interested in the environments which jazz flourishes and how these have shaped the music's reception and development in Europe, including festivals, jazz clubs, journals and conservatoires.
Keynote speakers include: George McKay, Catherine Tackley and Alyn Shipton
Programme
11am – Welcome and Keynote
George Mackay (East Anglia), 'British jazz festivals in/and sites of transatlantic slave trade heritage'
11.45 Panel 1: Jazz and Continental Philosophy
Marithé Van Der Aa (Oxford), 'Jazz and Nothingness: An Existential Approach to Improvisation and Music Performance'
Alexander Douglas (ADM), 'Adorno and Sartre on jazz: a cautionary tale for musical hermeneutics'
Lawrence Woof (Edge Hill), 'Grappelli and Forgetting'
12.45 Lunch
1.30 – Keynote
Catherine Tackley (Liverpool), 'Tales of the Jazz Age: a British story'.
2.15-3.15 Panel 2: Archives and Broadcasts
Tim Wall (Birmingham City), 'British Radio Broadcasting and the idea of European Jazz 1962 to 1972'
Nicolas Pillai (Birmingham City), 'Impact on television screens: quantifying Jazz 625'
Pedro Cravinho (Birmingham City), TBC
3.30-4.15 Panel 3: 'Jazz Manouche' Contexts and Practices
Jeremiah Spillane (Goldsmiths), 'Codifying Jazz Manouche: A Brief History and Definition of Jazz Manouche in Relation to the Belgian and Dutch Manouche Community'
Tom Sykes (Liverpool College), Matt Holborn (Latchepen) and Lawrence Woof (Edge Hill), 'The Jazz Violin'
4.15-5 Keynote
Alyn Shipton, 'Django's People'