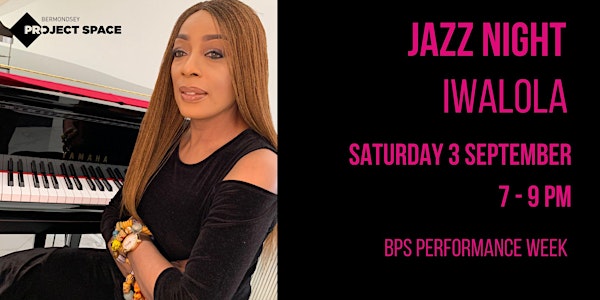 Location
Bermondsey Project Space
185 Bermondsey Street
#183
London
SE1 3UW
United Kingdom
Bermondsey Project Space Performance Programme presents a night of Jazz with Iwalola
About this event
As part of Performance Week Lola Owalabi - 'Iwalola ' treats audiences to a night of jazz
Iwalola is a lover of all things creative from art , to fashion, to the culinary space and finally to music .
With over 30 years as a jazz artiste she adores the way jazz music gives her the ability to be authentic and allow the use of her God given talent to truly express who she is .
Her latest recorded work was a collaboration with the world famous Premises Studio and other jazz enthusiasts .
After a long haitus 'Iwalola' is back supported by an excellent and accomplished band and band leader Femi Sofola .
Doors open at 7pm
performance starts at 7.30pm
set 1: 7.30 - 8.00
Interval: 8.15pm - 8.30pm
set 2: 8.30 - 9pm
Events ends 9pm
To use the paypal processing method please make sure you have enabled pop ups
If you are still having trouble with the payment processing please click Pay At Door (at check out) and your ticket will be reserved for payment and collection at the event
Advanced ticket £15+ processing fee