Jedburgh Abbey Archaeology - Jedburgh &Hawick CARS Traditional Skills
Ian Hill from HARP Archaeology discusses the repair works at Jedburgh Abbey Ramparts and the human skeletal remains uncovered.
About this event
Recent repair works at the Jedburgh Abbey Ramparts have helped to uncover the history of the site whilst also uncovering human skeletal remains from the former Abbey graveyard. Ian Hill of HARP Archaeology presents these findings, discussing the history of the ramparts, and what we can learn from the human remains uncovered.
Jedburgh and Hawick Conservation Area Regeneration Schemes (CARS), partnership projects funded by Historic Environment Scotland and Scottish Borders Council, are committed to providing opportunities for the local communities to enhance the knowledge and understanding of their town's rich history, as well as raising awareness and increasing relevant skills to ensure the appropriate care and repair of both town's traditional building fabric. As part of this commitment Jedburgh CARS and Hawick CARS have organised a series of talks this summer. The talks are FREE to attend and open to anyone with an interest in the history of the local built environment and conservation issues as well as a more technical audience such as Building Professionals and Contractors.
The talks are being delivered in partnership with the Scottish Historic Buildings Trust as part of the Jedburgh CARS and Hawick CARS Education and Training Initiative.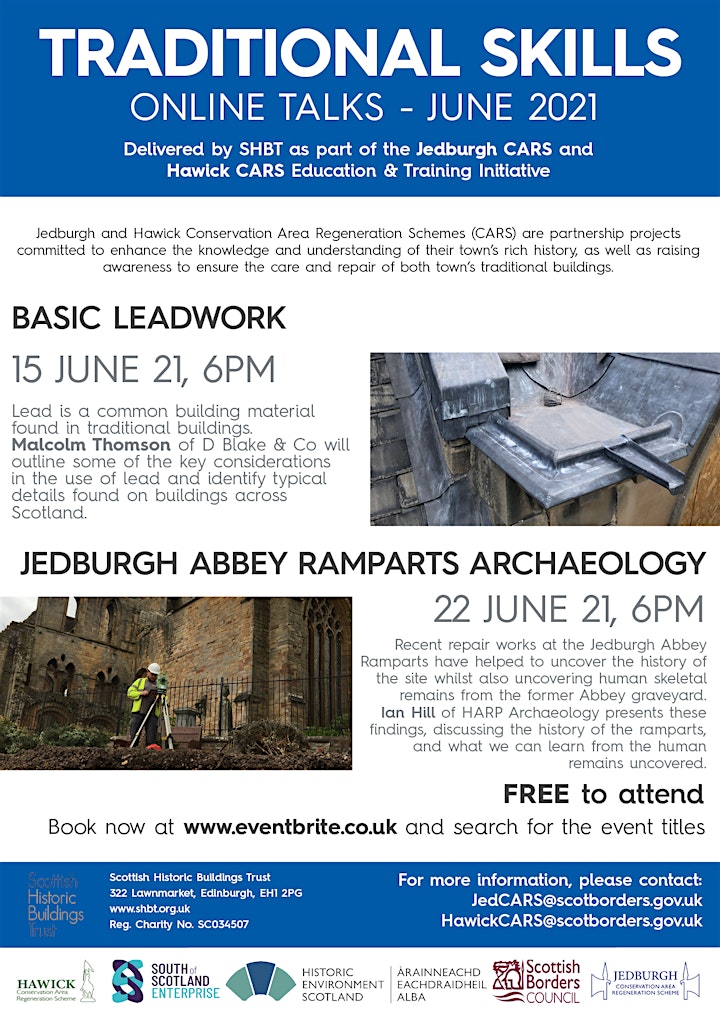 Organiser of Jedburgh Abbey Archaeology - Jedburgh &Hawick CARS Traditional Skills
The Scottish Historic Buildings Trust plays a unique role in preserving and promoting the nations heritage. The Trust collaborates with local communities and others to preserve significant properties at risk in Scotland. Through interpretation and education programmes, we engage with the community and heritage specialists to discover each building's unique story, contributing to Scotland's reputation for outstanding heritage.