Description
Come for a cream tea and a glass of something fizzy ....
My last day as a member of staff at Oxford Brookes University is on the Friday 7 July and I would like to invite you to join me for a drink - tea, coffee or something sparkling and some strawberries and cream at Brooke's restaurant to mark this occasion.
When I started working back in 1975 Harold Wilson was Prime Minster and Margaret Thatcher had only just been elected leader of the Conservative Party, Theresa May was at school down the road in Wheatley, Jeremy Corbyn had just become a Haringey Councillor and Donald Trump, then merely a second generation minor property shark, was only just beginning to get acknowledged in the US as a liar, crook and total idiot. The Vietnamese War ended, North Sea Oil came on stream and Sony introduced Betamax videotapes. Tammy Wynette was No1 on Top of the Pops, coincidently, with what is still my favourite karaoke hit "Stand by your man", Queen released Bohemian Rhapsody and I went to see Led Zepplin, The Who and Frank Zappa play live. Beer cost just 32p a pint but on average we only earned £50 a week. A phone was something that sat in your hall and when it rang you all wondered who it could be and also who should answer it. A text then was something from the Bible. Jaws was breaking the box office, Fawlty Towers came to BBC2 and John Peel was on the radio at the weekend. Memorable sporting events included Wales winning the 5 Nations, England the Wooden Spoon, the mighty Hammers won the FA Cup,Australia or rather Lilee and Thomoson the Test Series and Muhammed Ali beat Joe Frazier in the Thriller in Manilla. I drove a little MG midget which had both a leaky roof and rusty see through floor panels so that you literally had the road at your feet. When people talked about going travelling it mostly meant Cornwall or the Isle of Wight for a weeks camping. If you did fly you would see people turning at the top of the stairs as they entered the aircraft to wave farewell to no one in particular but probably to civilisation in general. Spain was exotic, Greece ubercool, USA aspirational and only hippies in the main ever went to India and always came back somehow different or with ameobic dysentry and often both. You can see it was truly a rubbish time - unlike today of course and I confess, it really all seems like only yesterday.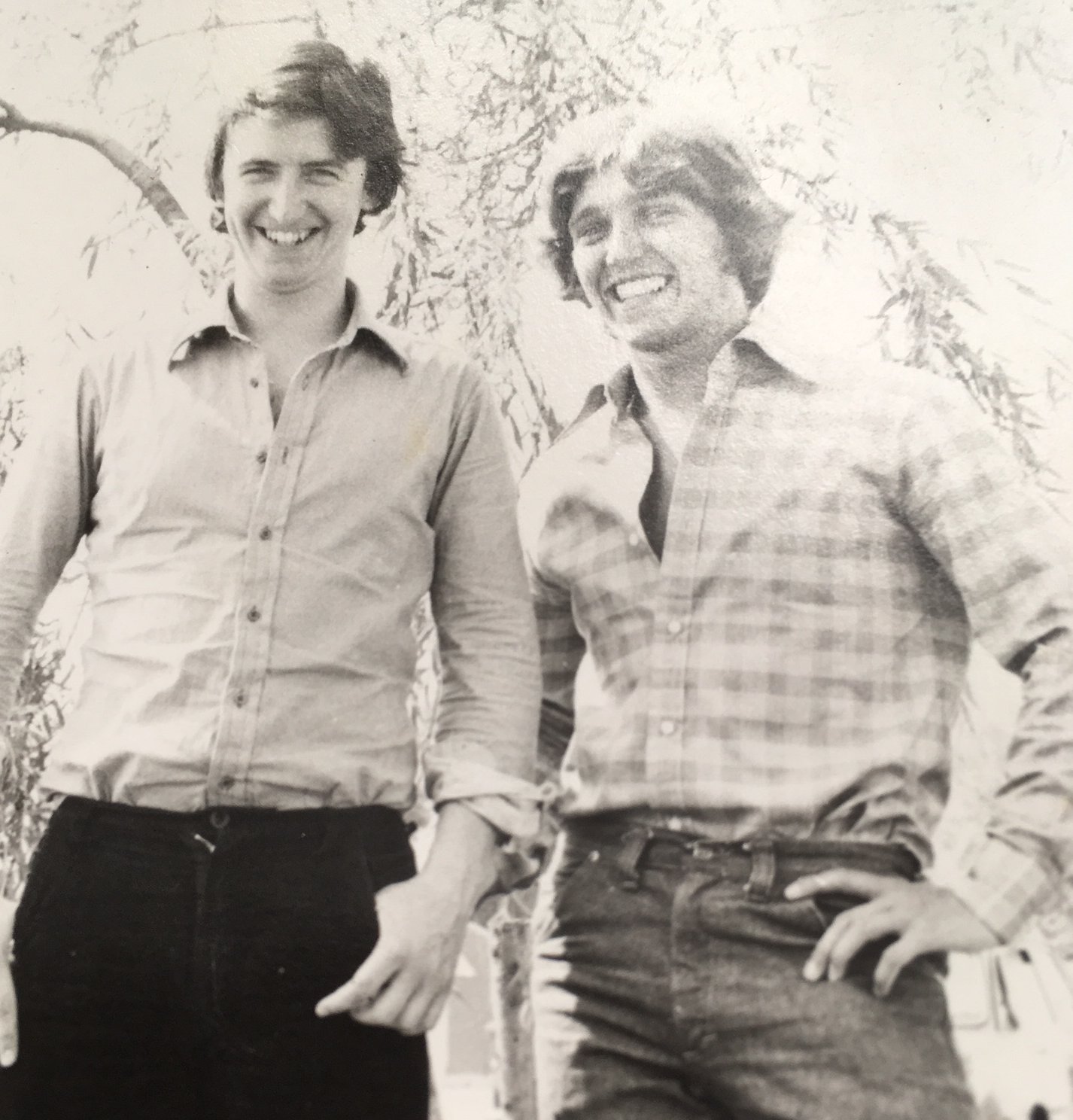 So here I am in 1975. Judging by the picture and the pose you could easily think that I must have had a career in films as an extra in the porn industry but am here with one of my oldest friends - Jeremy Jennings - now Professor of Political Theory at King's College London. Just after this was taken and a failed attempt to work for my Father in the family firm of accountants (a man of impeccable judgment, he fired me - twice), I too started teaching at the equally academically renown Newbury College of Knowledge. This is where I taught economics and marketing, played rugby and cricket and met Anna who was then a mature Student Union President. As well as teaching I also had a staff /student liaison role - and after numerous business meetings the two of us did just that. She became my long suffering wife and Mother of our two sons Adam and Jake. Jobs followed in Weybridge, Yeovil, High Wycombe - as you can see I needed to keep moving - and finally ending up almost by accident here at Oxford Brookes University.
My career has mostly been a catalogue of mediocrity and not worth recording at length. But I think it's only right we should all now celebrate it and my passing on. I look forward to a world of bus passes, hospital waiting lists, winter fuel allowances, silver surfing, pensioners specials and complaining about ... well just about everything really. The Plan now is simplicity itself - to die young as late as possible.
So the chances are that over the past 42 years or so I've worked with you in some capacity or maybe our paths will have crossed in other ways. Either way it's probably worth celebrating that you survived the experience and this event should give me the opportunity to apologise to you all en masse in a sort of Truth and Reconciliation Commission way- but with just prosecco rather than a brief spell in prison afterwards.
So please do come to my retirement party, it's a Friday afternoon, its Summer, there's some free booze and you can watch Jeremy Kyle or do your Facebook anytime. What more can I say?