100 years ago a man came and changed an area... Live theatre, and a celebration party Fundraiser and tribute to Rob Inglis.
About this event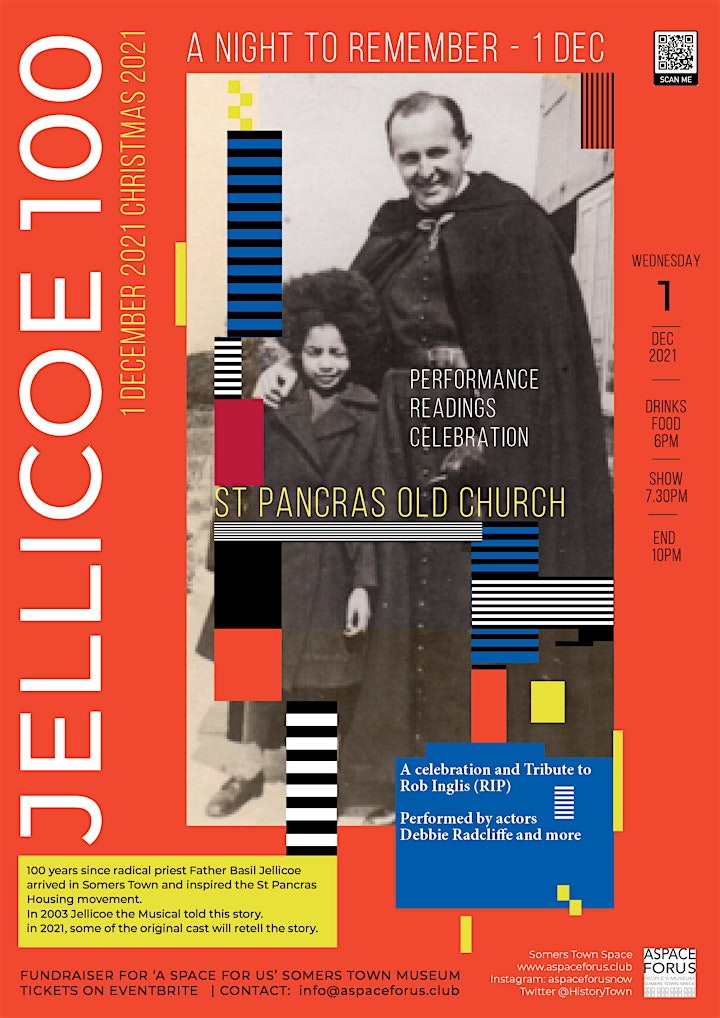 The story of a man who changed lives, who died young, came to a slum and inspired a movement.
JELLICOE100 is a night to remember of live theatre with a cast of 10 telling this story at the magical venue of the St Pancras Old Church, ending with a party with live music.
It's 100 years since radical priest Father Basil Jellicoe arrived in Somers Town and transformed the area, inspiring the St Pancras Housing movement, clearing slums and building community.
In 2003 'Jellicoe the Musical' told this story, directed and produced by actor/ director Rob Inglis, who passed away this year. This is a tribute to his work as well as an anniversary, so this is a 'historic' event.
The event will open at 6pm with a chance to mingle over drinks, food and music, with a Christmas atmosphere and mulled wine at this beautiful venue.
At 7.30pm the show will begin by a professional group of actors, including some of the original cast.
As well as song from the Pearly Queen of St Pancras, we end with a party with Blues band Honey B Mama & Friends!
Archivist Malcolm Holmes helped research the historical context to the original production.
This is a a fundraiser for A Space for Us a new museum to record this important social history.
Truly, a night to remember.
Performers include some of the original cast, and others with a strong affinity to Somers Town, such as star of TV and stage, Cleo Sylvestre, with her band Honey B Mama & Friends, African Drumming from Nkabom as well as the Pearly Queen of St Pancras.
Event details
Doors open 6pm Social Food and Mulled wine / drinks (on donations).
Performance 7.30pm Jellicoe100 story live theatrical performance
Live music 8.45pm - Cleo Sylvestre's band Honey B Mama & Friends
10 pm Close
Organiser of Jellicoe 100: Performance & Tribute
Somers Town Space is creating a People's Museum! Run by insiders in inner london NW1 with a passion for history of 'Radicals,reformers and rebels'. We've 4 publications, events, Pop Up Museums,  street festivals and events
Please support us and donate to help us in our efforts to preserve heritage here - find ot more and support us here 
Next Publication: Journeys
Order on www.aspaceforus.club
somerstownhistory@gmail.com
Facebook or Twitter.