Description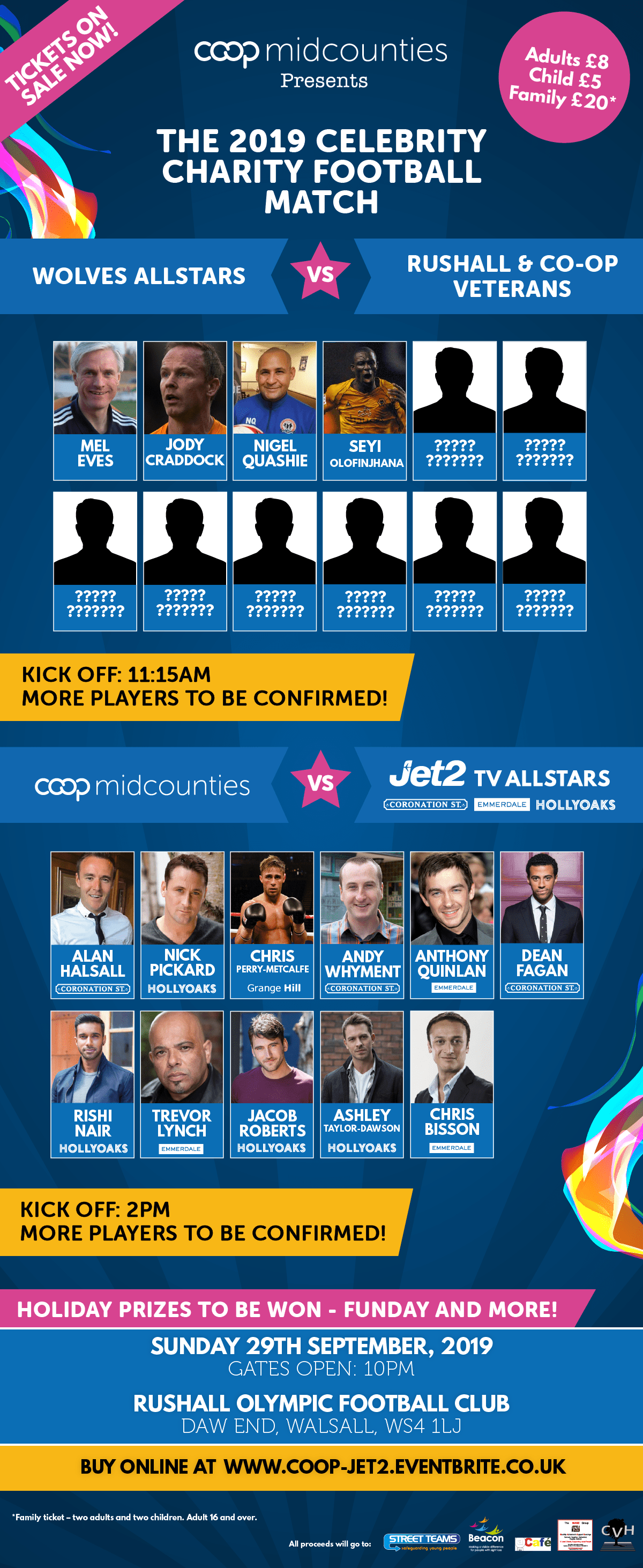 With special performances, prize giveaways and competitions – our Celebrity Charity Football Match is going to be bigger and better. This year the stakes are even higher!
Midcounties Colleagues will be taking on a host of stars from the 'JET2 TV Allstars', so get ready for the match day you've all been waiting for.
But it's a Sunday Funday with a difference, as all proceeds will go to a host of various West Midlands charity partners; Street Teams, Alz Café, The MASE Group and Codsall Village Hall, Just Straight Talk & White House Cancer Support. So, whether it's the day-to-day running or a more significant goal of the charity, the money raised from the match will help make a huge difference.

Just Announced - WOLVES ALLSTARS vs RUSHALL & CO-OP VETERANS
Not only will you get the chance for a meet and greet with your soap star favourites at our Celebrity Charity Football Match. But we are pleased to announce football legends from the Wolverhampton Wanderers will also be joining us on the day! The Wolves Allstar team will go head-to-head with a combined team from Rushall Olympic Football Club and the Midcounties Senior Team. With Wolves stars like Mel Eves, Jody Craddock, Nigel Quashie and Seyi Olofinjhana! Stay tuned! - More players to be announced.

General Terms & Conditions
Tickets cannot be transferred, exchanged, or refunded once purchased. Only original tickets will be accepted. The Midcounties Co-operative will not be responsible for any lost, stolen or damaged tickets. The Midcounties Co-operative has the right to cancel the event at any time. In the case of event cancellation ticket holders will be given the opportunity to either donate the cost of their ticket to The Midcounties Co-operative chosen charity partner or will be offered a full refund, no other compensation will be given. The Midcounties Co-operative reserve the right to make significant changes to the event at any time which may include a change in venue, time or date. By attending the event, attendees accept that they have a duty to take reasonable steps to ensure their own safety, taking into account any personal medical conditions. Vehicles are parked at the owners' risk. We take no responsibility for damage caused to any vehicle using the car park and no guarantee is given as to the security of guests' vehicles in the car park or any contents. Unnecessary noise or behaviour likely to cause annoyance to other attendees is not permitted and The Midcounties Co-operative has the right to remove people from the event without prejudice and in this instance no refund will be offered. Family tickets permit entrance for up to 2 adults and 2 children or 1 adult and up to 3 children. Child age is 15 or under and children must be accompanied by a responsible adult. www.midcounties.coop

Photography Conditions
Unless it is expressly prohibited, ticket holders are permitted to take photographs and recordings at the event provided that these are solely for private use and are not sold or used for any commercial or public purpose. By accepting these conditions, you acknowledge that The Midcounties Co-operative may on request have access to photographs taken and video footage captured by you and request that certain photographs and/or footage are deleted if they are deemed to be offensive to or infringe the privacy of other guests and/or staff. The Midcounties Co-operative have the right to capture photographs and video footage on the day which will be used for commercial purposes. Entry to the event is deemed acceptance of these Photography Conditions, and you therefore agree that The Midcounties Co-operative or any authorised party may use such images in perpetuity in any promotional, advertising or publicity material in any format whatsoever. You further agree that copyright of these materials rests with The Midcounties Co-operative or such authorised party (as the case may be).