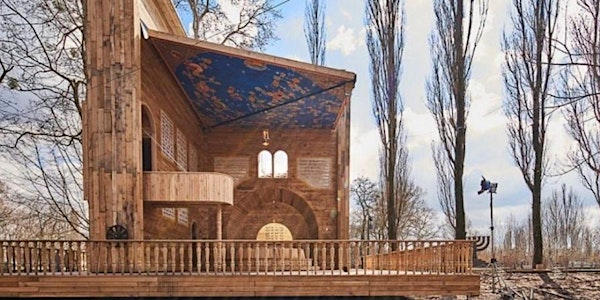 Jewish Heritage in Ukraine: Buildings, Monuments, Museums and Libraries
Location
King's Building - King's College London
Strand
London
WC2R 2LS
United Kingdom
A round-table introducing the rich field of Jewish heritage in Ukraine: buildings, monuments, museums, artefacts, and library treasures.
About this event
Researchers, teachers and library/museum professionals working in the Ukraine will join this hybrid event remotely to offer an introduction to the rich field of Jewish material heritage in Ukraine. Much of this vast treasure trove is acutely endangered by the present war. Come and hear about the amazing work by our Jewish Studies colleagues working under conditions of war to safeguard and document Jewish heritage.
The round-table is organised jointly by the British and Irish Association of Jewish Studies (BIAJS) and the Jewish Historical Society of England (JHSE) and will take place during this year's BIAJS conference at King's College London.
When registering, you will be able to choose between two options:
1) attendance in person of the event and the following conference reception (registration closes on Tuesday 5 July, 5pm). Location: King's College London, Safra Lecture Theatre (Ground Floor, King's Building, Strand Campus)
2) attendance online only (registration closes on Monday 11 July, 5pm).
Programme:
Jewish Heritage in Independent Ukraine: Discovery, Study, Preservation and Presentation - Thirty Years of Experience and Challenges
Eugeny Kotlyar (Kharkiv State Academy of Design and Arts)
Jewish Heritage and Diversity in Lviv
Sofia Dyak (Center for Urban History, Lviv)
Judaica in Lviv: Underestimated Heritage
Maksym Martyn (Lviv Museum of the History of Religion)
Ukraine's Hebraica Collections in International Perspective
Vitaly Chernoivanenko (Vernadsky National Library of Ukraine; President, Ukrainian Association for Jewish Studies)
Judaica Objects in Ukrainian Museums
Nadia Ufimtseva (National University of Kyiv-Mohyla Academy)
Interlocutors: Mia Spiro (University of Glasgow) and Eva Frojmovic (University of Leeds)
Chair: Eva Frojmovic