Description
Welcome to JGB Day
29 October 2016 - Birmingham City University

J.G. Ballard day is an academic conference in celebration of and appreciation for all things Ballardian. It is an inclusive multidisciplinary event open to any enthusiast, fans of dystopia, literature and the merely curious. You are invited to join us to deliver a talk or presentation, attend discussion and reading groups or simply bathe in the alterity and dismal realities depicted by J.G. Ballard's work.
JGB Day is the second conference in a growing series of specialised author events and was born out of the success of Philip K. Dick Day, which was hosted by Nottingham Trent University for the past several years, and which debuted at Birmingham City University in April 2016.

These events are coordinated by Dr Thomas Knowles and Charlotte Newman of Birmingham City University.
For more information: https://jgbday.wordpress.com/
JGB Day is a free event, but please register your place on Eventbrite.
---
'J. G. Ballard and the Natural World'
'Is there such a thing as authentic "Nature" these days? Or is it now merely an adjunct to the electronic media, almost a TV gimmick? Is it rapidly turning into a theme park?'
J.G. Ballard, Time Out Magazine, September 1987
J. G. Ballard's fictions famously explore the meeting point between the inner world of the psyche and the outer realm of 'reality'. Ballard called this convergence 'inner space', a dimension which, in a Romantic echo, is half perceived and half created. This one-day, interdisciplinary symposium seeks to understand the importance of Ballard's works as we enter into (or continue on in) the age of the Anthropocene. What do Ballard's vivid depictions of flora and fauna, or their disturbing absence, have to say to a world that is obsessed with images of plant and animal life, but is destroying the same at an unprecedented rate? How do Ballard's landscapes, transformed by human mismanagement and/or the imagination, speak to concerns about our rapidly changing climate? What hope does the power of the imagination, central to so much of Ballard's writing, offer in terms of anthropogenesis – and what dangers might it disguise?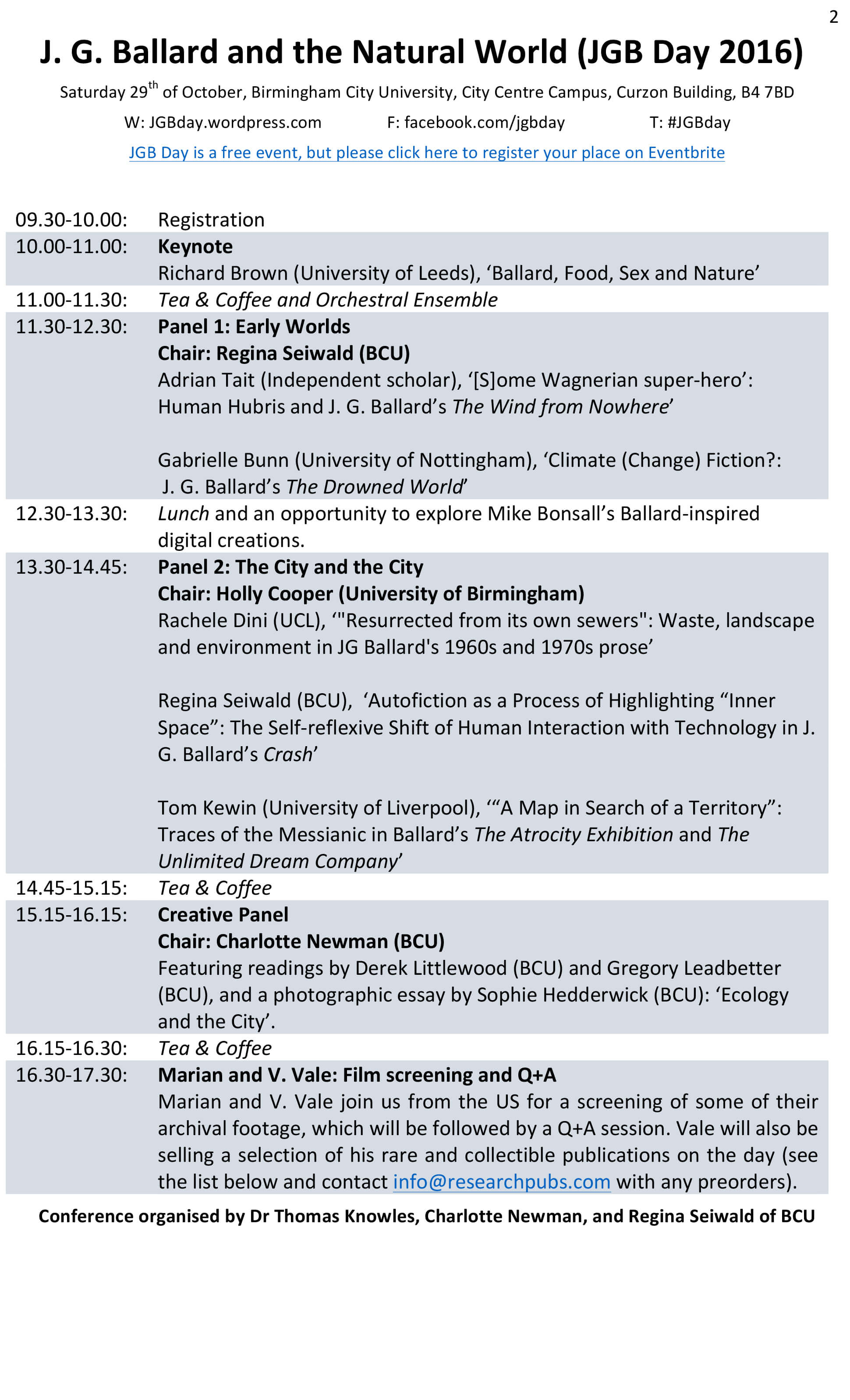 Schedule is subject to change*