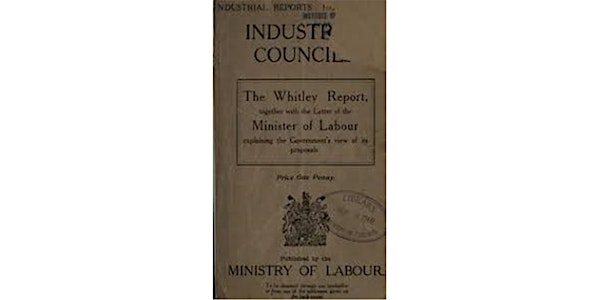 JH Whitley Lecture 2018 - Emily Hobhouse and the feeding of 'enemy' childre...
Event Information
Location
University of Huddersfield
Queensgate
Huddersfield
HD1 3DH
United Kingdom
Description
JH Whitley Lecture 2018 - Emily Hobhouse and the feeding of 'enemy' children after the First World War: uncovering a Whitley connection - Lecture by Dr Rebecca Gill, University of Huddersfield
The early years of the twentieth century saw rising industrial conflict with the labour movement demanding some form of self-government in industry. At a time of revolution abroad, there was a growing recognition amongst liberal thinkers of the day that some form of accommodation had to be found between Capital and Labour. J.H. Whitley (Liberal MP for Halifax and Deputy Speaker of the House of Commons, 1911-21) called for a "social revolution" to avert a Russian-type political Revolution. The economic historian R.H.Tawney felt that industrial peace was only possible through some form of industrial democracy akin to political democracy. For Tawney, wartime industrial reorganisation and increased production could not occur without worker consent. For Whitley, industrial democracy was essential to make the country a more equal place for soldiers returning from the horrors of war. In the event, the Engineering strikes of May 1917, prompted the Lloyd George coalition government's appointment of the 'Whitley Commission of Inquiry into Industrial Unrest'. It was chaired by J.H.Whitley whose name became synonymous with the First Report's recommendations for a triple structure of 'permanent' joint committees of workers and managers at national, district and works level for settling pay and conditions. Intended for the private sector, the Whitley recommendations for joint conciliation were extended to state employment and indeed came to form the major mechanism for managing public service industrial relations throughout the century.
The lecture will be delivered by Dr Rebecca Gill, University of Huddersfield
In 1919 the relief worker and pacifist Emily Hobhouse established a school feeding scheme in Germany to protest the British blockade of German ports and to ameliorate child malnutrition. In this lecture, Dr Rebecca Gill will draw on her work for the Emily Hobhouse letters project to explore Hobhouse's work in the aftermath of the First World War and uncover her connections with the Whitley family in Halifax.
*The lecture begins at 6.00pm, with refreshments available from 5.15pm. The lecture will take place in the University's Buckley Lecture Theatre situated in the Researcher Hub which can be found on our Campus Map HERE.
**The lecture is free to attend but please note that places are limited so please register your attendance via the green button above.**
Date and time
Location
University of Huddersfield
Queensgate
Huddersfield
HD1 3DH
United Kingdom